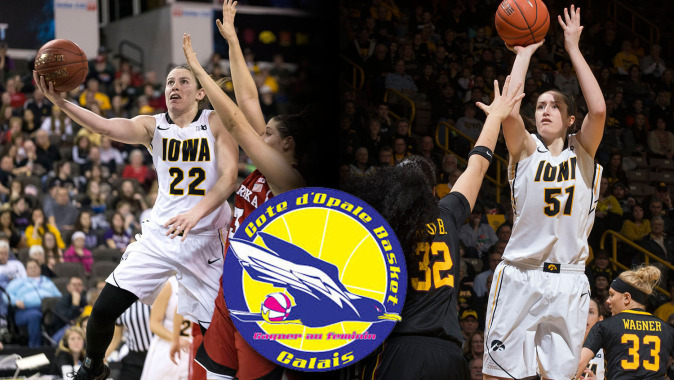 July 15, 2015
Editor's Note: The following first appeared in the University of Iowa's Hawk Talk Daily, an e-newsletter that offers a daily look at the Iowa Hawkeyes, delivered free each morning to thousands of fans of the Hawkeyes worldwide. To receive daily news from the Iowa Hawkeyes, sign up HERE.
By JIL PRICE
IOWA CITY, Iowa — University of Iowa graduate Bethany Doolittle has experienced France twice before. Once with her parents on a two-week vacation in high school and again with her Hawkeye teammates on the program's foreign tour as a freshman.
This summer she will make her third trip, this time as a professional women's basketball player.
"It's exciting," said Doolittle. "I didn't know that I wanted to play professionally at the beginning of my collegiate career, but as I got closer to the end I realized I didn't want to stop playing. There is no other time in my life I could do this.
"It's cool to be able to do two things I love, play basketball and travel, and get paid for it."
The 6-foot-4 center, who took four years of French foreign language at Hill-Murray High School, inked a nine-month contract with Cote d'Opale Basket Calais, a team located in the northern town of Calais, France, just over the English Channel.
Doolittle will hop an airplane out of Minneapolis on Aug. 11 to join the team, which will begin its season in late September, early October. It is a life experience Doolittle is looking forward to, but she won't be going through it alone.
Fellow Hawkeye graduate and current WNBA professional for the San Antonio Stars Samantha Logic passed over a slew of offers from other teams for the opportunity to play with Doolittle again.
"I don't think (playing together again) ever crossed our minds because there are so many different leagues and countries with teams," said Logic. "Going overseas for the first time and knowing someone, especially someone you played with and have known for the last four years, is so much fun. There will be an immediate comfort level for us on and off the court.
"I don't think this opportunity is guaranteed to happen again, so that was more important than potentially making more money or playing for a better team."
"When (Sam) came over and told me that she was going to sign with them I was excited," said Doolittle, who signed her contract first. "We get along, we've been together for four years, and that will be good for us on and off the court.
"We know each other's games, so it will be nice to play with somebody that we're comfortable with. We know how we play, so it will be a smooth transition."
Both Doolittle and Logic, who also studied the French language in middle school and at Racine J.I. Case High School, are excited for the opportunity to play with one another on the court again and know their chemistry will have immediate benefits. The COB Calais coaches agree.
"I know they've watched a lot of our Iowa games and might be taking some ideas from how we play basketball here," Doolittle said. "They're excited to have two players who are already comfortable with each other, and that's one of the reasons they wanted us both to come play for their team."
While Logic is preparing for her professional opportunity overseas with a WNBA regular season, Doolittle has remained in Iowa City to train. In addition to being a player/coach in Game Time League each Wednesday in North Liberty, Doolittle has continued to work out in Carver-Hawkeye Arena.
Whether it's lifting with the team's strength and conditioning coach Gabby Quiggle, putting shots up in the practice facility, or getting advice from the Iowa coaching staff, everyone has been on board and ready to offer her support.
"It has been great," Doolittle said about her summer training experience. "I brought my offseason workouts from the coaches in France to Gabby and we've been working off of that. She has been great helping me with that.
"All the Iowa coaches have been supportive, and think I will have a good time over there. They know it's right up my alley."
UI associate head coach Jan Jensen, who played professionally for BTV-Wuppertal in Germany from 1992-1993, has offered some quality advice to Doolittle and Logic as well.
"She said it's all about basketball over there because it's your job, but also make sure to take time for yourself," Doolittle said. "Get to know the culture and do some activities that aren't basketball related."
Doolittle and Logic are the first Hawkeyes to play professionally overseas since Morgan Johnson inked a contract in 2013 to play professionally in the Czech Republic.
"We're getting paid to play the sport we love in a different culture," Logic said. "We're going to gain so much from this experience and a lot of people don't get this opportunity. We're going to take full advantage of it.
"There are going to be so many opportunities for us to travel and see things we've never seen before. It's a blessing that we get to play professionally, and we get to do it together."