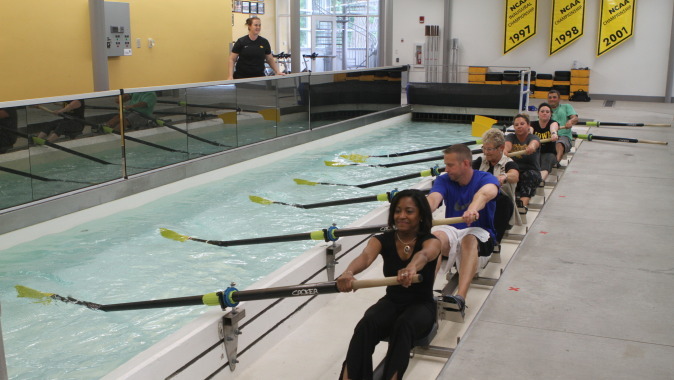 July 24, 2015
By JIL PRICE
Editor's Note: The following first appeared in the University of Iowa's Hawk Talk Daily, an e-newsletter that offers a daily look at the Iowa Hawkeyes, delivered free each morning to thousands of fans of the Hawkeyes worldwide. To receive daily news from the Iowa Hawkeyes, sign up HERE.

Photo Gallery
IOWA CITY, Iowa — Many offices on the University of Iowa campus take the time in the summer to bond together and refocus before the rapidly approaching 2015-16 academic year. UI Student-Athlete Academic Services is no exception.
Liz Tovar, associate athletics director for student-athlete academic services, wanted to do something out of the ordinary. On July 22, the office of 12 traded dress clothes for athletic gear and headed to P. Sue Beckwith Boathouse for a rowing experience.
"Rowing is a true team sport," Tovar said. "We as a team and as a staff want to be in sync with one another so we can do what is best for our student-athletes. Rowing is a great analogy for that.
"As a staff we're continuing to grow together, learn about one another, and identify strengths and areas of improvement. What I liked about today was that we had to follow and pay attention to what the person next to you is doing and work together with one another."
The idea was suggested and then pitched to Tovar by UI rowing assistant coach Jeff Garbutt, who explained the benefits the sport could have on a group looking to grow as a unit.
Garbutt and fellow assistant coach Julie Quoss spent more than an hour working with the group of novice rowers. Academic services began with the basics in the erg room on rowing machines before moving into the tank room for a simulated on-the-water experience. The cool-down included a tour of the program's $7 million facility, built in 2009 on the bank of the Iowa River.
It was an eye-opening experience for all involved.
"It's a lot harder than what I expected," Tovar said. "Getting into the tanks and having an example of the sport was perfect. We had some great coaches in Julie and Jeff. We're glad that they invited us over and took the time to do this."
"When I see these girls rowing on the river in the mornings, I'll know what amazing strength and concentration they have," said Peggy Crull, the assistant to the director. "Getting into the action today gave me a whole new perspective. I'm amazed at the focus you have to have from day one to when I see them on the river."
The opportunity to share their sport and provide a glimpse of what it's like to be a Hawkeye rower, was also rewarding for Garbutt and Quoss.
"It was a great experience," Garbutt said. "It's always nice to show off our facilities and give people a snapshot of what our student-athletes go through in the course of a practice. The people at Gerdin know what they go through academically, but today they got to see the other side of what we do.
"The main goal was to get everyone to work together in a different environment. By the end, we were starting to see glimpses of that."
Tovar and others expressed their gratitude after completing their team-building activities, and walk away from the experience with a new, refreshed perspective.
"We learned how to have fun, which is something I always encourage our staff to do," Tovar said. "We don't have to be serious all the time.
"We're also so busy giving student-athletes instruction that we need to learn how to receive instruction from someone. What I saw today was, regardless of what you bring to the table, we all have to be willing to listen and learn from other people."