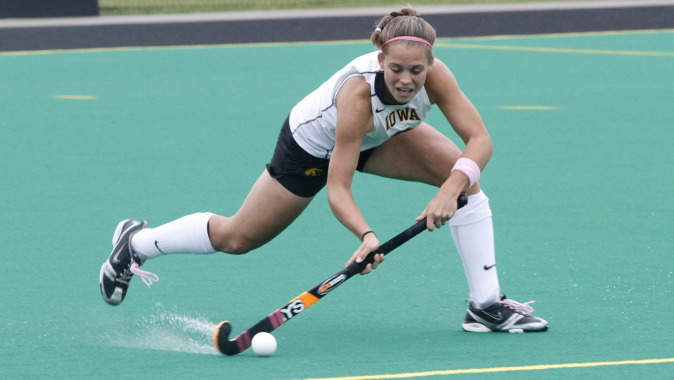 July 27, 2015
IOWA CITY, Iowa — University of Iowa head field hockey coach Lisa Cellucci announced the addition of Jessica Barnett to her staff on Monday, July 27. Barnett, a native of North Vancouver, Canada, will serve as a volunteer assistant coach.
Iowa's 2012 and 2013 Female Athlete of the Year, Barnett is a two-time All-American and a three-time All-Big Ten, All-Region, and Big Ten All-Tournament team selection. She served as a team captain during her junior and senior seasons and was a three-time team MVP and Big Ten Player of the Week honoree. Barnett was a four-year starter for the Hawkeyes from 2009-12. She started all 77 career games played, scoring 28 goals, while dishing out six assists and tallying 62 points. She helped the Hawkeyes earn back-to-back NCAA Tournament appearances in 2011-12.
The former Hawkeye standout also brings national team experience, earning 41 international caps while playing for the Canadian Senior National Team from 2012-2014. Barnett was selected for every tour while competing for the team, earning third at the Pan American Cup in 2013 and first at World League Round 1 in 2014. She was also part of the squad that participated in the 20th Commonwealth Games in Glasgow, Scotland in the summer of 2014.
"Jess is a wonderful addition to our coaching staff," said Cellucci. "She was one of the greatest student-athletes to play for our program and during her time as a Hawkeye she represented her teammates, coaches, and herself in a first class manner. She has high integrity and clearly emulates the standards and values that have built the tradition of excellence within the Iowa field hockey program."
Barnett graduated from the University of Iowa in 2013 with bachelor's degrees in communication studies and sports studies.