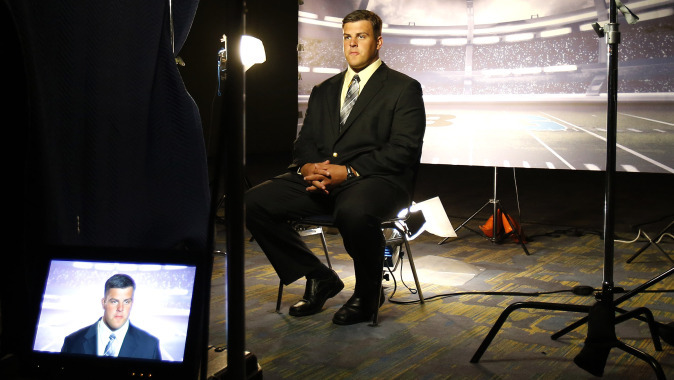 Aug. 31, 2015
Editor's Note: The following first appeared in the University of Iowa's Hawk Talk Daily, an e-newsletter that offers a daily look at the Iowa Hawkeyes, delivered free each morning to thousands of fans of the Hawkeyes worldwide. To receive daily news from the Iowa Hawkeyes, sign up HERE.
By DARREN MILLER
hawkeyesports.com
CHICAGO — For a 23-year-old college student, there are already plenty of dates that stick out in the life of Austin Blythe.
The Williamsburg, Iowa, native is preparing for his final season of college football by representing the University of Iowa at the Big Ten Football Media Days at Hyatt Regency McCormick Place.
Blythe returns to center on the Hawkeye offensive line after stints at both guard positions. He is named to the Outland Trophy (nation's top interior lineman) and Rimington Trophy (top center) preseason watch lists.
"It's motivation, but at the same time it feels like everybody and their dog is on those lists," Blythe said. "But it is better to be on the list than not. If you're any kind of competitor and you're on a list for an award, you want to win it and that's your goal."
As for milestone dates:
On the evening of Feb. 19, 2011, Blythe pinned Zach Bauer of Dallas Center-Grimes in 5 minutes, 31 seconds to win his third individual Class 2A state wrestling title.
"Wrestling helped me a tremendous amount (as a football player), especially with hand placement and being disciplined with keeping my elbows in and my center of gravity low," Blythe said. "It also helped me bend at my knees and not at my hips and waist."
Sept. 1, 2012, was another landmark day for Blythe. He started his first game for the football Hawkeyes (at right guard) and Iowa defeated Northern Illinois, 18-17, at Soldier Field. After starting 35 collegiate games, he is back in the middle of the line, where he is most comfortable.
"I like playing center. It might be in my nature, but getting on guys as fast as possible is fun and it is what I like to do," Blythe said. "The center makes line calls. I will call out the (defensive) front and where the middle linebacker or the ID linebacker is. That tells the guard and tackles what combination they will block. A lot of responsibility falls on the center and it has been fun."
From third grade on, there were three constants in Blythe's life. Sports and family were two of the biggest. He calls himself an outcast among Blythes because of his college choice.
When it comes to higher education, the Blythe family is synonymous with Central College in Pella, Iowa. Blythe has had two uncles, an aunt, his father, two brothers, and two cousins graduate from Central. His mother started college there, and a younger brother and two cousins are currently students there.
"There is some good lineage of Blythes who have gone to Central and graduated from Central," he said. "I feel like the Ugly Duckling, but Central is a great school."
The other constant in Blythe's life — since approximately 2001 — is a friendship with a girl named Kiley Ritchie. Kiley's father, Curt, was Blythe's high school football coach. On May 16, 2015, Blythe added another significant date to his life. It was the day he and Kiley married.
"Kiley is here this week supporting me and that's just the kind of person she is," Blythe said. "She is very supportive and I wouldn't expect anything less when the season comes around. She understands the time commitment because she has been around it with her dad coaching football. I'm blessed to be married to a girl like Kiley."
Like Blythe, UI head coach Kirk Ferentz married into a football family. Ferentz's father-in-law, Gerry Hart, played football at Notre Dame and Army, and officiated in the NFL for 10 years.
"They have known each other for a long time and fortunately he married into a coaching family. She knows the routine," Ferentz said. "Austin has had a tremendous summer, so that has been really neat."
Blythe will have another opportunity to create milestone memoirs Sept. 5 when the Hawkeyes open the season against Illinois State inside Kinnick Stadium.