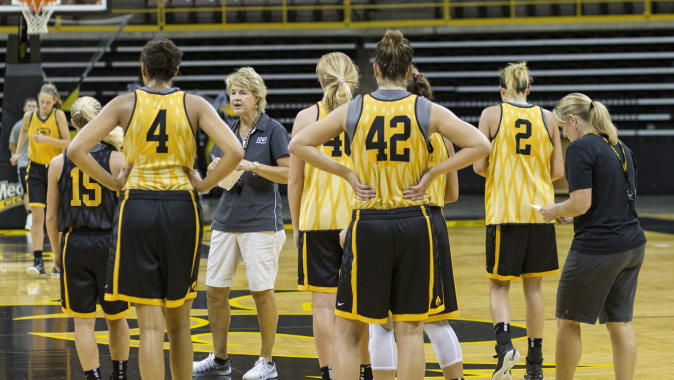 Aug. 11, 2015
Editor's Note: The following first appeared in the University of Iowa's Hawk Talk Daily, an e-newsletter that offers a daily look at the Iowa Hawkeyes, delivered free each morning to thousands of fans of the Hawkeyes worldwide. To receive daily news from the Iowa Hawkeyes, sign up HERE.
By JIL PRICE

Photo Gallery
IOWA CITY, Iowa — After pushing one another in 10 days of practice, the University of Iowa women's basketball team is ready to have fun on its #ItalianTour.
The group, comprised of four freshmen, four sophomores, three juniors, and three seniors, has the opportunity of a lifetime for many people. The Hawkeyes will have 11 days abroad to enjoy a new culture, take in the sights, and learn about one another on and off the basketball court.
"This is more fun now," 16th-year head coach Lisa Bluder said. "We play three games, but don't even practice there. You can't get the courts.
"We travel all the way over there, we're going to have more fun than basketball because basketball came in these last 10 days. The players worked extremely hard and have done a great job."
Each student-athlete is looking forward to something different, but all are in agreement on one thing — they can't wait to share this experience with their teammates.
"I'm looking forward to spending time with my teammates and getting closer as a team," freshman forward Tagyn Larson said. "It's going to be fun to do all the sightseeing with them. I'm most excited to see Rome; I always see it in movies, and it looks beautiful."
"I've never been (to Italy) and it's so beautiful," senior forward Claire Till said. "Going with this group of girls is going to be so much fun. I'm excited for all of it, touring, the history, beautiful buildings, shopping, and food. We get to do a little bit of everything."
Bluder and her staff enjoy the foreign trip experiences together with the team also.
"To me it's more about the experience of being together," Bluder said. "Watching their amazement when they walk into the Sistine Chapel, watching them sit down to an unbelievable meal, or struggling with an Italian menu and seeing what they get at the end of it all. Those are the things, to me, that are fun."
A typical day on the trip will include sightseeing in the morning and early afternoon, followed by free time to do some extra exploring and enjoy authentic Italian cuisine.
The Hawkeyes are also scheduled to play three games in the evening, challenging Dream Team Italian Select on Aug. 14, Asd Pallacanestro Muggia on Aug. 18, and TK Hannover on Aug. 19.
Junior guard Ally Disterhoft, a team-elected co-captain with senior forward Kali Peschel, sees the benefits of sightseeing and playing in the exhibition games. The entire trip is a valuable opportunity for the team to set the tone for its 2015-16 season.
"We're only playing three games there, so that's not a ton of basketball," Disterhoft said. "A lot of our chemistry is going to come from the bonding we do off the court.
"We've spent hours with each other on the court this summer with the practices we've been given. I think it's starting to come together, but we want to keep reinforcing what we're trying to do here. We want to play unselfish basketball, play for each other, and play hard all the time."
Bluder echoes Disterhoft and knows the bonds they create as a group will be invaluable for her youthful Hawkeye squad.
"It's all about forging bonds," Bluder said. "Building that chemistry is important in the winter. We're getting that built early on this trip with such a young team."
Fans can keep up with the Hawkeyes throughout their #ItalianTour at hawkeyesports.com. Each day, student-athletes will chronicle their experiences through blog posts, photo galleries, and video content.
To access additional exclusive coverage, follow @IowaWBB on Twitter, like Iowa women's basketball on Facebook, and follow @IowaWBB on Instagram.