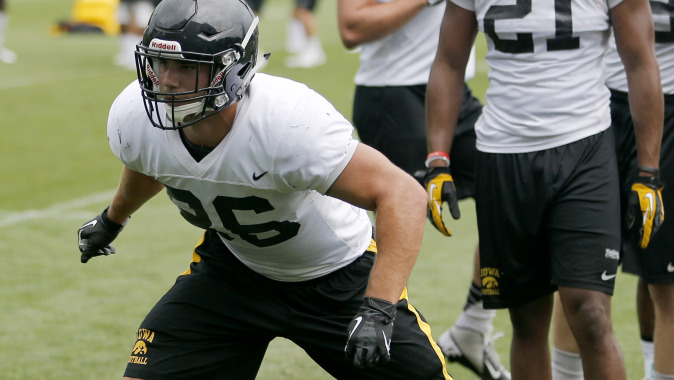 Aug. 19, 2015
Editor's Note: The following first appeared in the University of Iowa's Hawk Talk Daily, an e-newsletter that offers a daily look at the Iowa Hawkeyes, delivered free each morning to thousands of fans of the Hawkeyes worldwide. To receive daily news from the Iowa Hawkeyes, sign up HERE.
By DARREN MILLER
hawkeyesports.com
IOWA CITY, Iowa — Not all of the 118 student-athletes on the University of Iowa football roster are returning All-Big Ten performers or find their names on preseason Watch Lists.
But all 118 play crucial roles in the success of the program, especially fifth-year senior linebacker Cole Fisher.
In three seasons with the Hawkeyes, Fisher has played in 31 games with no starts. He has made nine career tackles — eight coming last season and four of those during a 48-7 win over Northwestern.
Why then, during spring camp and before fall camp, is Fisher one of the first names out of linebacker coach Jim Reid's mouth? Back in April, Reid discussed flexibility among the linebacking positions.
"You haven't heard much about Cole Fisher," Reid said. "He's a special teams player and is extremely valuable in our program."
What makes the senior from Omaha, Nebraska, so treasured? First is his versatility. He has played and knows all three linebacker positions. He is also on all special teams.
Reid said it is "a must" to have Cole Fisher-prototypes on the roster if a team wants to be a winner. But the 6-foot-2, 236-pound Fisher is not content to be pigeon-holed as a special-teamer.
"Cole is providing great leadership and is fighting for a starting spot," Reid said. "I have a lot of respect for him. I have always liked him because he has always worked hard and has elevated his game now in terms of football IQ. He has done a tremendous job."
| | |
| --- | --- |
| | "I take it one day at a time and you have to focus on you, not worrying about how the other guys are doing. You need to make sure you know you're doing all you can do to earn that spot." |
Fisher, a three-time letterwinner, is listed as sophomore Ben Niemann's backup at outside (Leo) linebacker. Another senior, Travis Perry, backs sophomore Josey Jewell in the middle. At Will linebacker are sophomore Bo Bower and freshman Aaron Mends.
With three sophomore starters, Fisher's experience and leadership are a must for the Hawkeyes. His growth as a team leader developed because he kept a positive attitude and embraced playing on special teams.
"Like everyone else, I'm looking to get the starting position," Fisher said. "If that doesn't happen, I'm trying to help the team any way I can."
One team Fisher is almost guaranteed to make annually is Academic All-Big Ten. He has already been there three times and the structural civil engineering major appears a lock for a fourth.
"I'll be graduating this semester and starting my master's at the same time," Fisher said. "It has been quite an up and down joy ride. My goal would be to work on the structural integrity of buildings or bridges. Those two interest me quite a bit."
For now he is contributing to making a solid foundation of the Hawkeye defense. A year ago Iowa ranked second among 14 Big Ten schools in pass defense (175.9 yards per game), sixth in rushing defense (168.3), and sixth in total defense (344.2).
"I take it one day at a time and you have to focus on you, not worrying about how the other guys are doing," Fisher said. "You need to make sure you know you're doing all you can do to earn that spot."
Fisher's father, Todd, and older brother, Sean, played football for Nebraska; a younger brother, Clay, is a redshirt freshman defensive back for South Dakota. Back issues derailed a fourth Fisher sibling's baseball career.
The Hawkeyes return to the Kenyon Outdoor Football Practice Facility today for fall camp practices 16 and 17. The season opener against Illinois State is in 17 days (Sept. 5).