Sept. 4, 2015
By DARREN MILLER
hawkeyesports.com
IOWA CITY, Iowa — David Porter knows a little about accountability. He wants the current University of Iowa football players to understand the importance of taking ownership of their team, too.
Porter played on offensive lines for head coaches Hayden Fry (1998) and Kirk Ferentz (1999-2002). He was a member of teams that won three, one, three, seven and 11 games. In 2001, the Hawkeyes won the Alamo Bowl, in 2002 they finished the regular season with nine straight wins and earned a berth to the Orange Bowl.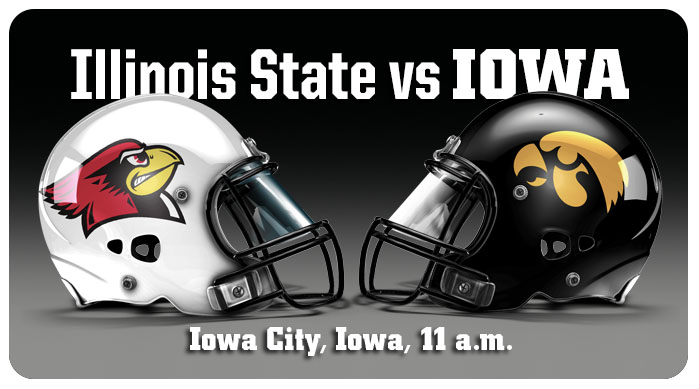 "By the time David was a senior, we had a really good football team and David was an outstanding player for us," Ferentz said. "That is one of the best (offensive) lines I have ever been around. It was an outstanding group of guys who collectively played very well."
Porter is the first honorary captain of the 2015 season. He works as a commercial and residential real estate broker in Chicago, where he lives with his wife and two daughters. Porter addressed Hawkeye players and staff Friday afternoon in the Stew and LeNore Hansen Football Performance Center.
While Porter talks often about the 2002 team that won 11 of 13 games, he sees as much potential on the 2015 Hawkeye roster.
"Anybody on scholarship on an NCAA football team is athletic and everybody is going to work hard," Porter said. "But a lot of people lose sight of being accountable.
"It is a special program here. It's not just athletically based, it's academically based, too. They run a clean program and they are producing good talent to go to the NFL, but more importantly, they are producing responsible human beings."

David Porter
UI football honorary captain
"If I accept subpar behavior from you, then I'm accepting it from me, because we are family. That was the difference in 2002. People talk about how we worked hard and had all these great athletes. I guarantee, on average, you guys are about as fast as we were, you are about as strong as we were, you are about as tall as we were. You have about as much talent as we had. But we held ourselves accountable. We didn't accept excuses."
That attitude produced one of the greatest seasons in school history. For Porter, the highlight was a 34-9 victory at No. 8 Michigan on Oct. 26, 2002.
"I have never heard 100,000 people be so quiet," Porter said of the crowd in Michigan Stadium that day. "When we got back here, we had an escort of people lined up on the streets from the airport to Iowa City. It was amazing."
Porter will accompany the Iowa captains to the center of the field for Saturday's pregame coin toss against Illinois State. He will also be with the Hawkeyes in the locker room before and after the game, and on the sidelines during the contest.
He reminded the Hawkeyes that they have one opportunity to have this particular season with this particular group of teammates.
"You need to take advantage of that," he said, before reciting a motto used by his Hawkeye offensive lines. "It's not about having the right call, it's about making the call right."
Porter expects a magical feeling when he is introduced before the game, not unlike the first time he swarmed onto the Kinnick Stadium turf. His affection to the UI and the football program has never waned.
"It is a special program here. It's not just athletically based, it's academically based, too," Porter said. "They run a clean program and they are producing good talent to go to the NFL, but more importantly, they are producing responsible human beings."