Sept. 14, 2015
Game Notes in PDF Format

THIS WEEK
The University of Iowa football team hosts Pitt on Saturday at 7:12 (CT) at Kinnick Stadium. Tickets are available at the UI Athletics Ticket Office.
THE RECORDS
Iowa is 2-0 after opening the season with a 31-14 home win over Illinois State and a 31-17 win at Iowa State. The Hawkeyes were 7-6 last season, earning a trip to the 2015 TaxSlayer Bowl. Iowa was 4-4 in Big Ten play and 3-2 in nonconference games last season.
Pittsburgh (2-0) opened the season with a 45-37 home win over Youngstown State, before winning 24-7 at Akron last weekend. The Panthers were 6-7 last season, including an appearance in the Lockheed Martin Armed Forces Bowl.
THE SERIES
The series is tied at 3-3 following Iowa's 24-20 victory at Pitt last season. Iowa also defeated the Panthers in 1951 (34-17) and 2011 (31-27), both in Iowa City. The Panthers won in 1931 (20-0) in the first-ever meeting in Iowa City. Pitt also claimed home wins in 1952 (26-14) and 2008 (21-20).
COACHING RECORDS
Kirk Ferentz is in his 20th year as a college head coach and his 17th year as Iowa's head coach. His career record is 129-106 and he is 117-85 at Iowa. He is the 12th Big Ten Conference coach to win 100 games.
Pat Narduzzi is in his first year as a college head coach, with a record of 2-0. He most recently was the defensive coordinator at Michigan State for eight seasons (2007-14), and has also been an assistant coach at Rhode Island, Northern Illinois, Miami, Ohio, and Cincinnati.
BEATHARD EARNS WEEKLY HONORS
Junior quarterback C.J. Beathard has been named co-Offensive Player of the Week by the Big Ten and one of eight "Stars of the Week" by the Manning Award. Beathard led Iowa to a 31-17 win at Iowa State on Sept. 15, completing 15-of-25 attempts for 215 yards and three touchdowns with no interceptions. He also rushed 10 times for 77 yards, including runs of 44 and 57 yards. His scoring strikes covered three, 14, and 25 yards, with the 25-yard score giving Iowa the lead with 2:14 remaining in the fourth quarter. The Big Ten weekly honor is the first for Beathard, who becomes the first Hawkeyes to win the offensive honor since former WR Marvin McNutt, Jr., following a win over Indiana in 2011.
BLACK AND GOLD SPIRIT GAME
Fans are asked to help stripe Kinnick Stadium in the annual Black and Gold Spirit game. Fans with tickets in even-numbered sections are asked to wear gold. Fans with tickets in odd-number sections, as well as all UI students, are asked to wear black.
IOWA/PITT
? Iowa ranks second in the Big Ten with nine sacks. Six different Hawkeyes have at least one sack. Pitt has allowed seven sacks through two games.
? Saturday is Pitt's first visit to Kinnick Stadium as a member of the ACC. Pitt was playing at Kinnick Stadium on Sept. 17, 2011, the day the news broke of the Panthers moving from the Big East to the ACC.
? Pitt was victim to Iowa's largest comeback in school history when the teams last met in Kinnick Stadium in 2011. The Hawkeyes trailed 24-3 with 3:11 left in the third quarter, but rallied to score 28 points the last 16:16 to win 31-27.
? Iowa and Pitt both have one Heisman Trophy award winner in school history. Iowa halfback Nile Kinnick won the award in 1939, and Pitt running back Tony Dorsett won the award in 1976.
? Iowa Coach Kirk Ferentz attended Upper St. Clair High School in Pittsburgh (He was born in Royal Oak, Mich.). Ferentz served as a graduate assistant offensive line coach at Pittsburgh during the 1980 season. That Pitt team (coached by Jackie Sherrill) finished with an 11-1 record and a No. 2 national ranking.
? Pitt Coach Pat Narduzzi was Michigan State's defensive coordinator from 2007-14. Iowa was 4-3 against Michigan State from 2007-14, averaging 21.9 points per game.
IOWA VS. ACC
Iowa holds an all-time record of 7-11 (.389) against current members of the Atlantic Coast Conference. Three of Iowa's seven wins are against Pitt (3-3), three are against Syracuse (3-1), and one was against Georgia Tech (1-0) in the 2010 Orange Bowl. Iowa is winless in four games against Miami (Fla.), and three games against NC State.
THE POWER OF THREE
The Hawkeyes are trying to improve to 3-0 for the first time since 2009, and the sixth time under Kirk Ferentz. Iowa finished 11-2 the last time it started the season 3-0. The 2009 Hawkeyes won their first nine games, finished 11-2 overall, and won the 2010 FedEx Orange Bowl. Iowa has advanced to a bowl game every season it has started 3-0 (2001, 2003, 2006, 2008, 2009).
NO YARDS, NO TOUCHDOWNS FOR YOU
The Hawkeyes have allowed 98 yards rushing and zero touchdowns through two games. Iowa is one of only five schools in the country to perform the feat (Boston College, Rutgers, Duke, and Kansas State). The Hawkeyes are allowing just 1.78 yard per carry (10th nationally and No. 1 in the Big Ten). Iowa also leads the Big Ten and ranks eighth nationally in rushing defense (49 ypg). Iowa did not allow a rushing touchdown in the first three games in 2014 before Pitt recorded two rushing touchdowns in the fourth game of the season.
FLIRTING WITH 100
Junior QB C.J. Beathard gained 111 yards but lost 34 yards rushing against Iowa State on Sept. 12. His net gain of 77 yards threatened his career-high of 82 set at the 2015 TaxSlayer Bowl. The last Iowa quarterback to rush for 100 yards in a single game was Butch Caldwell, who ran for 109 yards on 12 attempts against Michigan State on Nov. 24, 1973 in Iowa City.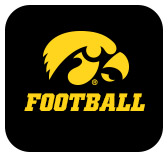 ANF WALL OF HONOR
University of Iowa All-American and Outland Trophy winner Robert Gallery will be honored at Saturday's football game as this year's inductee into the America Needs Farmers Wall of Honor. Gallery, who grew up on an 800-acre farm near Masonville, Iowa, will be introduced on the field prior to kickoff. The ANF Wall of Honor recognizes student-athletes in the sport of football at the UI who exemplify the tenacity, work ethic, and character of the Iowa farmer, qualities that have helped Iowa remain one of the leading agricultural states in the nation. The ANF Plaza is located in the northwest corner of the Kinnick Stadium concourse. Previous honorees include Casey Wiegmann (2012), Jared DeVries (2013), and Bruce Nelson (2014).
ROOKIE TACKLES MAKING THE GRADE
Iowa starting tackles LT Boone Myers and RT Ike Boettger entered 2015 with one combined career start (Boettger started as a second tight end against Wisconsin in 2014). The sophomores replace a pair of NFL lineman — 2014 Outland Trophy winner LT Brandon Scherff (Washington Redskins) and RT Andrew Donnal (St. Louis Rams). Iowa rushed for 210 yards in its season opener and 260 yards in Week 2 against Iowa State. The offensive line has allowed three sacks through two games. Myers joined the program as a walk-on and was put on scholarship prior to the 2014 season. He saw action in four games last season. Boettger joined the team as a tight end but was moved to offensive line in 2013. He saw action in seven games as a redshirt freshman in 2014.
FIND THE NFL-ER
Since 1999, Kirk Ferentz's first year as UI head coach, the Hawkeyes have had a future NFL player start on the offensive line in every season. In each of the last eight years, an eventual NFL first-round draft pick started on the offensive line. Brandon Scherff, selected by the Washington Redskins fifth overall in 2015, was Iowa's left tackle from 2012-14. Riley Reiff, selected 23rd overall by the Detroit Lions in 2012, started at left tackle from 2010-11. Bryan Bulaga, selected 23rd overall by the Green Bay Packers in 2010, started at left guard in 2007 before moving to left tackle in 2008-09. From 2005-06, Baltimore Ravens All-Pro Marshal Yanda shared time at tackle and guard for the Hawkeyes. Mike Elgin, a seventh round selection of New England, was Iowa's starting center in 2004. Pete McMahon, drafted by Oakland in 2005, was Iowa's right guard in 2003. Oakland's first round pick in 2004, Robert Gallery, was Iowa's left tackle from 2001-03. Eric Steinbach (Cincinnati) started at guard for Iowa from 2000-02, and Bruce Nelson (Carolina) was a four-year starter from 1999-02. Both players were second round draft picks in 2003.
PAULSENS ARE A FAMILIAR FACE
Freshmen Landan and Levi Paulsen are the sixth set of twins to play football at the University of Iowa. The offensive linemen from Woodbury High School in Northwest Iowa join the company of Leo and Lloyd Jensvold (1929-30), Harold and Herbert Shoener (1946-47), Kent and Kevin Ellis (1977-80), Aaron and Evan Kooiker (1992), and Shane and Shaun Prater (2008). The Paulsens are one of three sets of brothers on Iowa's 2015 roster, joining DB Kevin Ward and OL Ryan Ward, and OL James Daniels and RB LeShun Daniels.
TURN ON THE LIGHTS
Iowa hosts Pitt on Saturday at 7 p.m. (CT). It is the first of two night games on Iowa's 2015 home schedule, marking the first time in program history Iowa plays two night games at Kinnick Stadium. The Hawkeyes host Minnesota on Saturday, Nov. 14, at 7 p.m. Both games are televised on BTN (BTN2GO). Iowa has not played a night game at Kinnick Stadium since entertaining Penn State in October, 2012. Iowa has hosted 10 evening games in Kinnick Stadium, with five of those starting after 7 p.m. Iowa is 6-4 in night games in Kinnick Stadium. Iowa has wins over Northwestern (2011), Penn State (2010), Michigan (2009), Syracuse (2007), Arizona State (2003), and Northern Illinois (1999), and losses to Penn State (2012), Ohio State (2006), Iowa State (2002), and Miami, Florida (1992).
FERENTZ SECOND IN LONGEVITY
Kirk Ferentz enters his 17th season as Iowa's head football coach and ranks second in longevity among FBS head coaches. Ferentz is first among Big Ten coaches and nationally ranks behind Virginia Tech's Frank Beamer (28). Ferentz is tied for second with Bob Stoops of Oklahoma.
FERENTZ AMONG TOP 10
Head coach Kirk Ferentz has 117 wins as a member of the Big Ten Conference, the ninth most in conference history. He has 68 Big Ten wins, also the ninth most in conference history. He is 1-of-8 coaches to rank among the top 10 in both categories. The others include Woody Hayes (OSU), Amos Alonzo Stagg (CHI), Bo Schembechler (MICH), Hayden Fry (IOWA), Robert Zuppke (ILL), Lloyd Carr (MICH), and Barry Alvarez (WIS). Ferentz also has six bowl wins as a member of the Big Ten, tying Fry and Carr for No. 2 all-time. Only Alvarez has more (9).
58 AND COUNTING
The Hawkeyes have played 58 consecutive games without a missed or blocked PAT, the longest streak of any school in the nation. Iowa has converted on 176 consecutive PATs during the streak.
HAWKEYE HISTORY
Iowa has played 1,195 games since beginning football in 1889. Iowa's overall record is 615-541-39 (.530). That includes a 387-213-16 (.641) record in home games, a 228-328-23 (.413) record in games away from Iowa City, a 306-366-25 (.457) mark in Big Ten games and a 270-177-15 (.600) record in Kinnick Stadium.
Kirk Ferentz RADIO SHOW
Iowa Coach Kirk Ferentz is featured on "Hawk Talk with Kirk Ferentz" each week beginning Wednesday, Sept. 2. The 90-minute radio call-in show is hosted by Gary Dolphin, the play-by-play voice of the Iowa Hawkeyes. The show airs each Wednesday evening at 6:30 p.m. from Carlos O'Kelly's in Iowa City.
PURCHASE TICKETS
Tickets remain for all six Iowa home games. Tickets can be ordered online at hawkeyesports.com, by calling 1-800-IAHAWKS, or in person at the UI athletics ticket office located in Carver-Hawkeye Arena.
ALL ABOARD TO KINNICK STADIUM!
The Hawkeye Express, the passenger train that transports fans from Coralville to Kinnick Stadium, is once again available for fans traveling to Kinnick Stadium on Iowa Football game days. The Hawkeye Express enters its 12th season. Adults can ride the train for $12, round trip, while children (12-and-under) ride for free. Tickets can be purchased in advance at the UI Ticket Office or on game day at the Hawkeye Express depot located near the boarding ramp. Media credentials are accepted as well. Free parking is located in lots near the Comfort Suites and Coral Ridge Mall. Fans can begin boarding the train three hours prior to 11 a.m. kickoffs, and four hours prior to the start of afternoon and night games. Return trips begin at the start of the fourth period and run 90 minutes after the game. The Hawkeye Express is owned by the Iowa Northern Railway Company and operates on the Iowa Interstate Railroad.
FIRST TIME STARTERS
The Hawkeyes have used eight first time starters. RB LeShun Daniels, Jr., LT Boone Myers, DT Nathan Bazata, DT Jaleel Johnson, LB Cole Fisher, LB Ben Niemann, and SS Miles Taylor all started the season opener. TE Jameer Outsey made his first career start against Iowa State.
REMOVE THE REDSHIRT
Three true freshmen played in the 2015 season opener: OL James Daniels, WR Jerminic Smith, and WR Adrian Falconer. Daniels is the first true freshman to play offensive line since Bryan Bulaga in 2007. Daniels joined the Iowa program last spring and participated in spring practice.
NEXT GAME
Iowa remains home for its final nonconference game, hosting North Texas at 2:30 p.m. (CT) on ESPNU. Pitt travels for its third straight road game, visiting Virginia Tech.