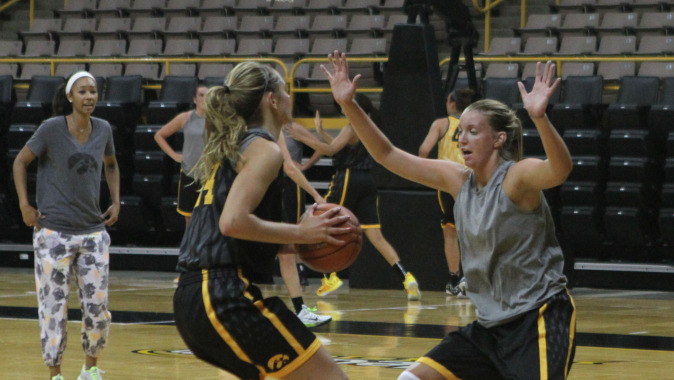 Sept. 14, 2015
Editor's Note: The following first appeared in the University of Iowa's Hawk Talk Daily, an e-newsletter that offers a daily look at the Iowa Hawkeyes, delivered free each morning to thousands of fans of the Hawkeyes worldwide. To receive daily news from the Iowa Hawkeyes, sign up HERE.
By JIL PRICE
IOWA CITY, Iowa — College athletics is a family affair for freshman forward Tagyn Larson.
Larson's father, Keith, played football and basketball at Augustana College, her mother, Heidi, played volleyball at Montana State, and her siblings, Cody (basketball) and Wagner (volleyball), suited up at South Dakota State.
Larson continues the tradition, but did not become a Jackrabbit like her siblings. She instead signed her National Letter of Intent to play basketball at the University of Iowa.
"I wondered if I should I go to South Dakota State (like my siblings), but there was something about Iowa," Larson said. "I had to be here; it was the best fit for me.
"It's such an honor, I feel blessed to be here. I haven't gotten used to it yet, but it's awesome to be here playing in the Big Ten Conference for Iowa."
The program's continued success, family atmosphere, and experienced coaches drew the Sioux Falls, South Dakota, native to the Hawkeye program. After visiting, Larson knew it was the only place for her.
"I chose Iowa because the coaches and the team were so great," she said. "It was a family-oriented atmosphere. After my visit, I found myself comparing other schools to what Iowa had and nothing was ever better."
Larson, a four-time all-state, all-city, and all-conference honoree, had an outstanding prep career at Roosevelt High School. She set three school records on the court, including career blocks, blocks in a game, and career rebounds.
Now in college, Larson is looking to contribute any way she can. Seen as a small forward or guard in the Iowa system, she is willing and ready to do the dirty work and help continue the team's success.
"In college I want to continue rebounding as best as I can and be ready to do the dirty work," Larson said. "By rebounding and having solid defense, I'm hoping to have an impact on the team."
Larson spent the summer in Iowa City training with her new teammates. She also gained early exposure to the Hawkeye system, playing three exhibition games in Italy and running through 10 practice days in August.
The experience was invaluable for Larson, who believes the trip was beneficial for the entire squad, especially the freshman class.
"The trip was helpful," Larson said. "Having those practices helped us freshmen get the system down and feel more comfortable going into the season. There is still work to be done, we don't know everything, but I feel more comfortable than I would if we didn't have the Italian Tour."
Larson and Iowa will begin the 2015-16 regular season inside Carver-Hawkeye Arena in 60 days. The Hawkeyes, who advanced to the Sweet 16 a year ago, are looking to secure their ninth-consecutive trip to the NCAA Tournament.
"Being able to go play basketball every day with my teammates has been a great experience," Larson said. "I have so much passion for the game, and I love being a Hawkeye."