Sept. 18, 2015
B. Greenwood Photo Gallery

By DARREN MILLER
hawkeyesports.com
IOWA CITY, Iowa — For years under head coach Kirk Ferentz, honorary captains have stirred and inspired University of Iowa football teams on the eve of home games with fiery speeches and memories of the past.
Brett Greenwood did all that and more Friday without saying a word.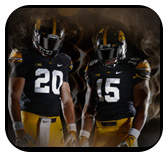 Every Hawkeye fan knows Greenwood's story. A walk-on from Pleasant Valley (Iowa) High School, he worked his way to becoming a two-time second-team All-Big Ten Conference free safety. During his final game at the UI, Greenwood led the team with 11 tackles and an interception in the end zone as the Hawkeyes upset No. 12 Missouri, 27-24, in the 2010 Insight Bowl.
On Sept. 9, 2011 — five days before his 24th birthday — Greenwood collapsed while working out in his high school weight room. He suffered an anoxic brain injury caused by heart arrhythmia.
Brett's father, Dave, shared a story that most Hawkeyes didn't know.
After Greenwood was stabilized, he was air-lifted to the University of Iowa Hospitals and Clinics in Iowa City. He was in a coma for a month. A collection of specialists performed a battery of tests and they arrived at a conclusion.
Ten doctors gathered with the Greenwoods and delivered the prognosis. According to Dave, this is what they said:
"First of all, Brett will never see again. The second thing they guaranteed us was that he would never walk or have any mobile skills. Thirdly, they said when Brett does come out of the coma he will not be the same Brett that you knew, he will be a totally different person."
"The moral of the whole story is we never give up whether it is in life or its football. You never know the outcome unless you give everything you have, every second, every play, every down."

Dave Greenwood
Father of Brett Greenwood
Because of that, the doctors recommended that Greenwood be taken back to his home in Bettendorf, have a feeding tube removed, and let "nature take its course."
The medical experts underestimated Greenwood's strength and determination. Dave and his wife, Michele, did not follow doctor's orders, opting instead of more than 6,000 hours of rehabilitation.
"Today Brett can see as well as any of us," Dave said. "His physical and walking skills have been tremendous — it has taken a long time, we are on four years now and growing. When Brett came out of his coma, he is absolutely the same person he was before the accident, except for one thing: Brett rarely said anything before he got hurt. It was yes, no, and I'm hungry. That was about it. Now he talks all the time and we can't get him to shut up."
Greenwood's former high school rival-turned-teammate Pat Angerer also addressed the Hawkeyes on Friday. After a four-year NFL career with the Indianapolis Colts, Angerer returned home to Bettendorf. He assists with Greenwood's rehabilitation whenever he can.
"Tomorrow you're not getting led out by a random guy," Angerer told the team. "Brett is the epitome of the Tigerhawk and what this program is made of. They told him to pull the plug and quit, but he and his family kept fighting. They said he would never walk and tomorrow he is going to lead you guys on the field."
Angerer couldn't resist razzing his friend. Both Bettendorf (Angerer's school) and Pleasant Valley (Greenwood's school) are members of the Mississippi Athletic Conference. On Friday Angerer referred to Greenwood as a "walk-on from Bettendorf."
"He wanted to go to Bettendorf," Angerer joked.
Angerer wasn't Greenwood's only teammate in attendance Friday. Also present were Tony Moeaki, A.J. Edds, and Jeff Tarpinian.
Iowa's trademark swarm prior to the game against Pittsburgh promises to be slower than usual, but much more emotional. Greenwood, Angerer, and strength and conditioning coach Chris Doyle will begin on the goal line and continue to the 30-yard line. Greenwood will join the Hawkeyes for the national anthem and accompany team captains to midfield for the pregame coin toss.
"The moral of the whole story is we never give up whether it is in life or its football," Dave said. "You never know the outcome unless you give everything you have, every second, every play, every down."