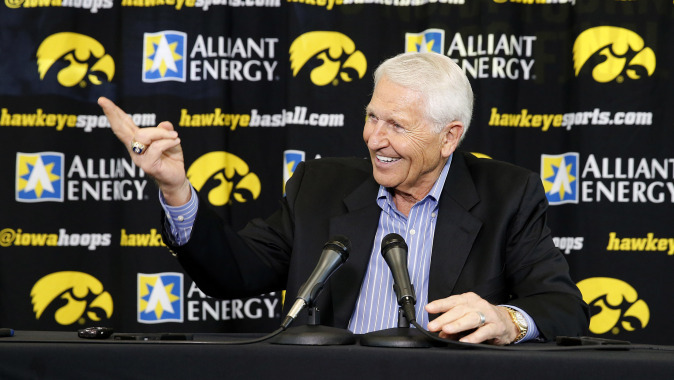 Sept. 19, 2015
By MATTHEW WEITZEL
hawkeyesports.com
IOWA CITY, Iowa — "Iowa fans are one of a kind when it comes to all sports."
Those are the words of former University of Iowa men's basketball coach Lute Olson, who has returned to Iowa City this weekend for a reunion with former players, coaches, and support staff from the Olson era (1975-83).
"I have a lot of great memories from Iowa, it was a fun time," said Olson, a Hall of Famer. "My time here was special. I'm eager to see some of the new places on campus this weekend."
Former Hawkeye Mike Gatens (1974-76), along with assistant to the director of athletics Mark Hankins, and former UI assistant athletic trainer and travel coordinator John Streif helped spearhead the Olson reunion, which features more than 20 former players.
Olson arrived in Iowa City Friday afternoon and watched the 2015-16 edition of the Hawkeyes workout in Carver-Hawkeye Arena before ending the night with a social with all the former players and staff at head coach Fran McCaffery's house.
"It's great having coach Olson back after being away so long, and that it means so much to him to want to come back," said Gatens. "A lot of times coaches leave and it doesn't mean that much to come back, but he had a lot of great players that he recruited and coached. When I asked him if he would come back if I could get a bunch of players back he said, 'absolutely.'"
Olson is Iowa's second all-time winningest coach, compiling a 168-90 record in nine seasons and guiding the Hawkeyes to five NCAA Tournaments, including a Final Four, and a Big Ten championship.
Olson's best player while at Iowa was two-time All-American Ronnie Lester. Olson reflected back on his recruitment of Lester and Iowa's 1980 Final Four squad yesterday with the local media.
"Ronnie was a wonderful get for us," said Olson. "I loved was the way he played. He was a team guy, and as quick as any guy that size I had seen. I'm not sure why a lot of others were not looking at him, but I am glad they weren't.
"We had high caliber young men, led by a great leader, in Ronnie. That was a great team, and fun team to coach."
Assistant coach Kirk Speraw played for Olson in 1978 and 1979 is thrilled to have his former coach back in Iowa City.
"It's great for all of us from that era, and certainly former players and staff, to have coach Olson back on campus," Speraw said. "It was a tremendous time in Iowa basketball history. He's been a great mentor to me. It's great for him to come back and for us to spend some time with him."
Olson closed Friday's news conference confirming what many feel when visiting Iowa City.
"Once a young man visits here, they feel that no matter who they meet, the people really care about the student-athletes," said Olson.