Box Score
Sept. 19, 2015
Final Stats | Notes | USATSI Photo Gallery

| Photo Gallery

By JAMES ALLAN
hawkeyesports.com
IOWA CITY, Iowa — Senior Marshall Koehn drilled a 57-yard field goal — the second-longest in University of Iowa football history — as time expired to send the Hawkeyes to a 27-24 "walk-off" victory over Pittsburgh on Saturday night in front of 63,636 fans in a striped Kinnick Stadium.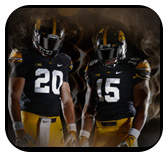 "It looked like a Rob Houghtlin moment," said UI head coach Kirk Ferentz. "When he looked over at our bench, it looked like he was pretty confident."
Koehn lined up for the game-winner, and fired off his first attempt, but the play was whistled dead when Panthers' head coach Pat Narduzzi called a timeout to ice the Hawkeye placekicker. The kick was 5-7 yards short. Koehn's second attempt was a no-doubter, splitting the uprights with distance to spare. It was Koehn's seventh consecutive make and his fourth of the season.
"He had a practice shot," said Ferentz. "He knew what was going on, so he didn't put it all into it."
The kick tied the Kinnick Stadium record held by Arizona's Lee Pistor (1977). Tim Douglas is the Iowa record holder, connecting on a 58-yard field goal at Illinois in 1998.
1st
2nd
3rd
4th
Final
0
7
10
7
24
3
14
0
10
27
Stat Comparisons
First Downs
15
22
Rushing Attempts-Yards
27-55
29-105
Passing Yards
227
258
Passing (Comp.-Att.-Int.)
21-31-2
27-40-1
Total Offense
58-282
69-363
Punts-Avg.
4-39.2
5-46.2
Fumbles-Lost
0-0
0-0
Penalties-Yds
3-35
5-50
Time of Possession
27:18
32:42
3rd-Down Conversions
4-of-13
7-of-15
4th-Down Conversions
2-of-3
0-of-0
Pittsburgh Statistical Leaders
Passing
Comp.
Att.
Yds.
TD
Nate Peterman
20
29
219
2
Rushing
Carries
Yds.
Avg.
TD
Darrin Hall
14
38
2.7
0
Receiving
Rec.
Yds.
Avg.
TD
Tyler Boyd
10
131
13.1
1
Defense
Solo-Assists
Total
Sacks
Int.
Jordan Whitehead
7-8
15
0
0
After giving up 13-play, 75-yard scoring drive that saw Pittsburgh tie the game at 24 with less than a minute remaining, the Hawkeyes executed in their two-minute offense. Junior Desmond Kingmisplayed the kickoff, but redeemed himself with a 27-yard to the Iowa 30.
"It looked like it could be disastrous when the ball squirted down there," said Ferentz. "It could have been a bad deal, but Desmond did a great job of getting the ball back out to the 30.
"It's kind of ironic. Our two-minute drill this week in practice was awful. We were three downs and out. The defense did a great job, but we didn't do so well offensively. Fortunately, we saved it for tonight. It was a little bit better execution."
Junior quarterback C.J. Beathard started the drive with a 12-yard rush to the 42 before connecting with tight end Henry Krieger-Coble for four yards to the 46. Beathard then scrambled seven yards up the middle into Pitt territory.
On third-and-1- from the 47, Beathard tucked the ball and ran a third time, gaining eight yards to the Pitt 39 before calling a timeout with two seconds remaining to set up Koehn's heroics.
"C.J. played a super game," said Ferentz. "He had full control, and did a wonderful job. We were hoping the ball to Tevaun would have been ruled a completion, but C.J. got it on the next play and we were at least in a makeable distance.
"We would have liked to have been a little closer, but what a job by Marshall… just a fantastic effort on his ball. To keep his composure the way he did."
Iowa finished with a 363-282 advantage in total offense. The Hawkeyes had 105 yards rushing on 29 carries, and had three rushing touchdowns. Beathard completed 27-of-40 for 258 yards with one interception, senior Jordan Canzeri had 79 yards — 49 rushing with two touchdowns and seven catches for 30 yards.
Iowa's defense took away the run, forcing Pitt to the air. The Panthers had 55 yards rushing on 27 attempts, but quarterback Nate Peterman kept them in the game, completing 20-of-29 attempts for 219 yards and two scores. Wide receiver Tyler Boyd had 10 catches for 131 yards, including the game-tying touchdown in the fourth quarter.
Senior Cole Fisher paced the defense with a career-high 12 tackles, while senior Jordan Lomax had 11 stops. King had eight tackles, including a tackle for loss, and two interceptions.
The Hawkeyes led 17-7 at the half before Pittsburgh seized the momentum in the third quarter. The Panthers cut the lead to a touchdown with 10-play, 45-yard drive on their first possession of the third quarter. The drive ended with a 48-yard field goal by Chris Blewitt.
Pittsburgh's defense tied the game on the ensuing possession. Iowa picked up two first downs and moved the ball to midfield before the drive stalled. The Panthers' Ryan Lewis blocked a Dillon Kidd punt before Pat Amara, Jr., recovered and scampered 28 yards for the score to tie the game at 17.
The Hawkeyes offense did what it needed to on its first drive of the fourth quarter, moving 80 yards over 11 plays to take a 24-17 lead. Beathard connected with Jacob Hillyer for a big play to jumpstart the drive — a 32-yard gain to the Pitt 37.
Iowa converted a third-and-3 with a 6-yard Beathard scramble and overcame a holding penalty that set up a first-and-20 from the 34. Beathard found Canzeri for a 17-yard gain on a screen pass to pick up the first down before hitting Matt VandeBerg for 12 yards to the 1 on the next play. Two Canzeri runs later — the second being a 1-yard touchdown run — gave Iowa a 24-17 lead with 6:04 to play.
Pittsburgh had an answer, using a 13-play, 75-yard scoring drive to tie the game at 24. The Panthers converted a fourth-and-3 with a 5-yard completion to Boyd and a fourth-and-15 with a 19-yard pass to tight end J.P. Holtz to the Iowa 8. Boyd caught the 8-yard touchdown on a comeback route to tie the game with 52 seconds left.
Iowa led 10-0 in the first quarter, taking advantage of a pair of Pitt turnovers. Junior Desmond King intercepted Peterman on the Panthers' first two series — the second coming in the end zone following an extended Pitt drive.
"Desmond got us off to a great start," said Ferentz. "We threw one (interception), but we fought back from it. C.J. just kept playing."
Koehn provided the game's first scoring, nailing a 43-yard field goal on Iowa's second possession. The Hawkeyes used an 81-yard drive, needing just five plays, to extend the lead to 10-0 early in the second quarter. Senior Tevaun Smith had a 51-yard reception to start the series, and Beathard scrambled in for a touchdown from 9-yards out.
Pittsburgh's defense halted Iowa's momentum by forcing a turnover deep in Iowa territory. On third-and-6 from the Iowa 33, Beathard targeted Hillyer, but the ball was underthrown and intercepted by Terrish Webb, who returned the pick 23 yards to the Iowa 15. The Panthers scored on a 15-yard pitch and catch from Peterman to Scott Orndorff to cut the deficit to 10-7.
Iowa extended its lead to 17-7 just before the break with a 12-play, 74-yard drive. Beathard completed five passes for 55 yards on the drive and had a quarterback sneak for six yards to convert a third down. Canzeri got the final 11 yards on two rushes, which included a 4-yard touchdown run with 44 seconds remaining in the half.
The Hawkeyes are 3-0 for the first time since 2009 with North Texas coming to Kinnick Stadium on Sept. 26 for the nonconference finale. Game time is set for 2:30 p.m. (CT).