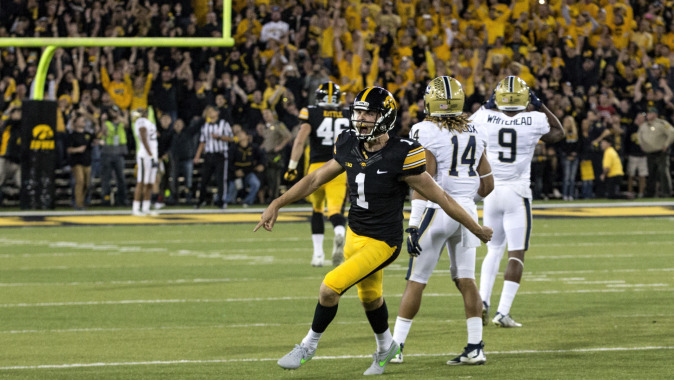 Sept. 21, 2015
IOWA CITY, Iowa — University of Iowa kicker Marshall Koehn has been named Big Ten Conference Special Teams Player of the Week for his performance in Iowa's 27-24 win over Pittsburgh Saturday night.
The Big Ten honor is the first for Koehn (6-foot, 200-pounds), a senior from Solon, Iowa (Solon HS). He is the second Hawkeye to earn the honor this season (QB C.J. Beathard vs. Iowa State). He is the first Iowa kicker to earn the special teams award since Mike Meyer was recognized following a 19-16 double overtime win at Michigan State in 2012.
Koehn delivered the winning margin again Pittsburgh as he booted a 57-yard field goal as time expired. The kick ties the Kinnick Stadium record for longest field goal (Lee Pistor, Arizona, 1977) and ranks as the second longest in Iowa history (58 yards, Tim Douglas at Illinois, 1998). With a 52-yard kick in the 24-20 win at Pittsburgh in 2014, Koehn how has two of the longest nine field goals in Iowa history. It is the first walk-off field goal for Iowa football since Rob Houghtlin connected from 41 yards to win the 1986 Holiday Bowl.
Along with the game-winning kick, Koehn had started the scoring in the contest with a 43-yard field goal in the first quarter to give the Hawkeyes a 3-0 advantage. Koehn has made all four of his field goal attempts in helping Iowa to three straight wins, with those kicks covering 40, 49, 43, and 57 yards.
Koehn has made seven straight field goal attempts over the last seven games, dating back to the Illinois game a year ago when his only miss bounced off the upright. He had made 15 of his last 16 field goal attempts and all 50 of his career PAT kicks. Koehn has 98 career points, needing just two points to become the 36th player in school history to score 100 points.
In addition to scoring nine points against Pitt, Koehn also had the first punt attempt of his career, a 64-yard kick that pinned the Panthers at the 4-yard line. He also averaged 64.4 yards on kickoffs, recording four touchbacks in five kicks.
Iowa (3-0) entertains North Texas (0-2) Saturday (2:32 p.m., ESPNU) in Kinnick Stadium. Tickets are on sale for Iowa's five remaining home games, and are available online at hawkeyesports.com, by calling 1-800-IA-HAWKS, or in person at the UI athletics ticket office located in Carver-Hawkeye Arena.