Sept. 22, 2015
By JAMES ALLAN
hawkeyesports.com
IOWA CITY, Iowa — The University of Iowa football team is an overwhelming favorite to move to 4-0 Saturday with North Texas coming to Kinnick Stadium, but UI head coach Kirk Ferentz cautions that games aren't won on paper.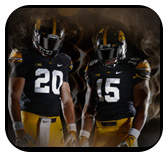 During the 2009 season the Hawkeyes were a heavy favorite over Arkansas State. Iowa had a 4-0 record following a 21-10 victory over fourth-ranked Penn State when the Sun Belt Conference foe made its way to Iowa City. The Hawkeyes escaped that Oct. 3 day with a 24-21 win.
"That was supposed to be a one-sided game," Ferentz said Tuesday in the Stew and LeNore Hansen Football Performance Center. "We got out of there with a three-point win and it didn't come easy.
"That is the nature of college football. Everybody has good, dangerous players. You give up a blocked punt, a punt return, turn it over, throw a pick at the wrong time — all of those types of things — you find yourself in a bad situation.
"(Regardless of who you play) it's still about preparing the way you have to prepare and get ready to play your best football."
Ferentz says the Hawkeyes have learned each step of the way in the 3-0 start — being ready to go in the opener and handling Illinois State, winning a close road game at Iowa State before being the last one standing a physical battle against Pittsburgh.
"Those are all learning experiences," said Ferentz. "You learn from everything, but we prefer to learn from a win."
The Mean Green, a team that is 0-2 with losses at Southern Methodist (31-13) and versus Rice (38-24) — stand between Iowa's first 4-0 start since 2009. Although it is the first meeting between the two schools, North Texas has familiarity with the Iowa program.
UI graduate and former Hawkeye assistant coach Dan McCarney is in his fifth season as head coach, and his starting quarterback, Andrew McNulty, is an Iowa City native.
"I have a tremendous amount of respect for Dan as a person and football coach," said Ferentz. "What he has done since he left here is well-documented. He knows how to get a team ready. He brought a heavy underdog (to Iowa) in 1998 and did a great job in that football game. That's got our full attention."
Ferentz was asked about his relationship with McCarney during their stint together on Hayden Fry's staff.
"Being line coaches, there was a natural camaraderie," said Ferentz, who served as the offensive line coach, while McCarney coached the defensive line. "We had a lot of good experiences. For seven straight years not one coaching spot changed on our staff, so we had great stability and became very good friends."
Ferentz says the relationship changed when McCarney went to Wisconsin in 1990 as defensive coordinator before ending up as head coach at Iowa State in 1995.
"Cats don't like dogs, right?" said Ferentz. "It's natural, we're not going to be buddy-buddy… that's just how it goes, but we've always been friends. Just like (Wisconsin's) Barry (Alvarez) and I have been friends. When you compete against each other, there is a different feel to things. I much prefer it when those guys are not working somewhere where we're diametrically opposed to each other."
Ferentz says Hawkeyes are working their way back to full strength. Senior defensive end Drew Ott and junior running back LeShun Daniels, Jr., aren't yet 100 percent, but they're moving in the right direction.
"Every day we're moving away from Saturday is a good thing," said Ferentz. "They're both practicing right now on a limited basis. They're not 100 percent, but hopefully by Saturday they'll be close to it, if not there. The big thing is not to go backwards, so we'll just keep pushing forward."
Saturday's game will kick off at 2:36 p.m. (CT) and be televised on ESPNU. Tickets are available by calling (800) IA HAWKS or visiting hawkeyesports.com.