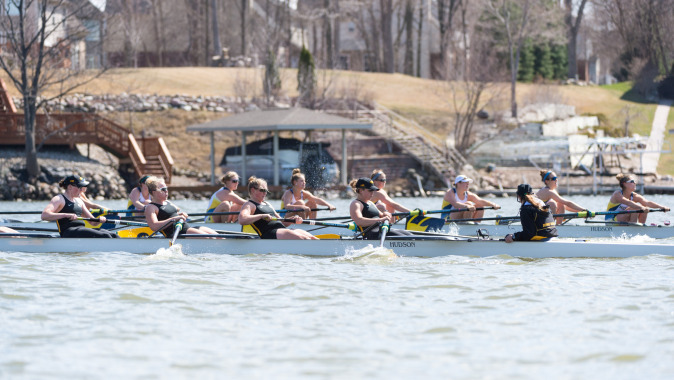 Sept. 22, 2015
Editor's Note: The following first appeared in the University of Iowa's Hawk Talk Daily, an e-newsletter that offers a daily look at the Iowa Hawkeyes, delivered free each morning to thousands of fans of the Hawkeyes worldwide. To receive daily news from the Iowa Hawkeyes, sign up HERE.
By JIL PRICE
IOWA CITY, Iowa — After training together for several weeks, the University of Iowa rowing team is ready to test the waters and rise to the occasion throughout a stiff fall competition slate.
"We're doing well," third-year head coach Andrew Carter said. "Our depth continues to improve, we've had amazing retention from last year's group, and we're in a good spot.
"Each year we've seen expectations rise. I don't know that any of them have met those expectations yet. They have their minds on national relevance and that is becoming more normal in their heads."
Achieving national relevance begins with experience on the water against top opponents, and the fall is littered with opportunities for Iowa to do just that.
The Hawkeyes open their six regatta fall schedule this Saturday at the Head of the Des Moines in Des Moines, Iowa. The crews will have their first measuring stick of the fall, facing strong opponents, including Big Ten foe Minnesota. The Golden Gophers finished fifth at the Big Ten Championship last season, edging Iowa by nine points.
Iowa returns to Iowa City for another challenge against Indiana on Oct. 2-3. The Hoosiers have earned NCAA Championship bids and finished 11th nationally the last two seasons.
The Hawkeyes conclude their fall slate with a pair of regattas from Oct. 17-18. Iowa's 1V8 and 1V4 crews will attend the historic Head of the Charles in Boston, Massachusetts, where they will face national teams from the U.S., Germany, and Netherlands, and top NCAA programs from the Big Ten, Ivy League, Pac-12, and ACC.
"We have a couple of entries at the Head of the Charles, and it has been a long time since Iowa has done that," Carter said. "That is about laying foundations and setting platforms that the program can move forward from. That revolves around each woman on the roster, their level of preparation, and where she stands going into the next step, which is far more important."
Other Hawkeye crews will be in action at Kansas on Oct. 17, where they will compete at a level higher than usual.
"Kansas will provide tough racing because we'll be sending our second and third varsity groups to compete against first and second crews," Carter said. "It's a great stage for them with a bar set high because they won't be racing their direct peers. It will be a good opportunity to see how they fare against the upper crews from those schools."
Carter is excited to see how the fall season play out and knows it will be a valuable experience for every student-athlete on the roster.
"The fall is not so much wins and losses, but to iron out and have a deeper understanding of where every woman on the roster stands as we move forward and prepare for our primary season in the spring," Carter said.
To access more information on the Head of the Des Moines Regatta, including the racing schedule and spectator viewing information, visit headofthedesmoines.org.