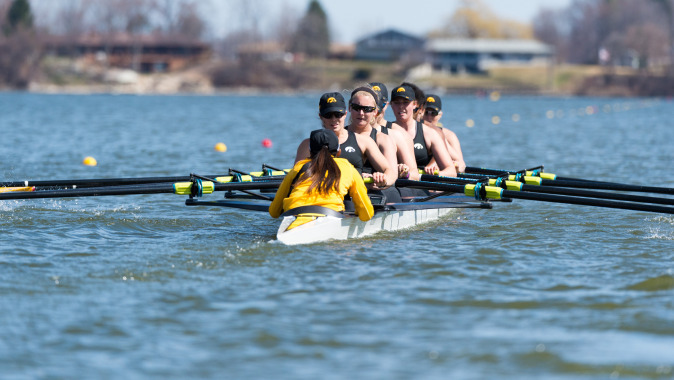 Sept. 24, 2015
IOWA CITY, Iowa — The University of Iowa rowing team opens its fall season at the 32nd Annual Head of the Des Monies Regatta this Saturday, Sept. 26. Competition will take place on a three-mile stretch of the Des Monies River.
"It's exciting to get another year started," third-year head coach Andrew Carter said. "This is an opportunity to see where each individual on the team stands and to see where we should go moving forward."
The Head of the Des Moines Regatta is one of the oldest and continuously held rowing competitions in the midwest. The Hawkeyes have boats racing in the Collegiate Women's 8+ at 10:25 a.m. (CT), Collegiate Women's 4+ at 1:05 p.m. (CT), Collegiate Women's Novice 8+ at 2:05 p.m. (CT), and Collegiate Women's 2- at 3:15 p.m. (CT).
The regatta is full of quality competition, and will give Iowa its first opportunity to face a Big Ten opponent.
"We have the added bonus that Minnesota will be there because we haven't had that caliber to race at the Head of the Des Monies Regatta since I've been here," Carter said. "Getting near them, or let alone in front of them is a big deal.
"I feel good going in that the women are in good shape, and I am excited to see how this weekend turns out."
For more information on the Head of the Des Monies Regatta, including spectator information and course maps visit headofthedesmoines.org. Live stats are also available on the rowing page at hawkeyesports.com.