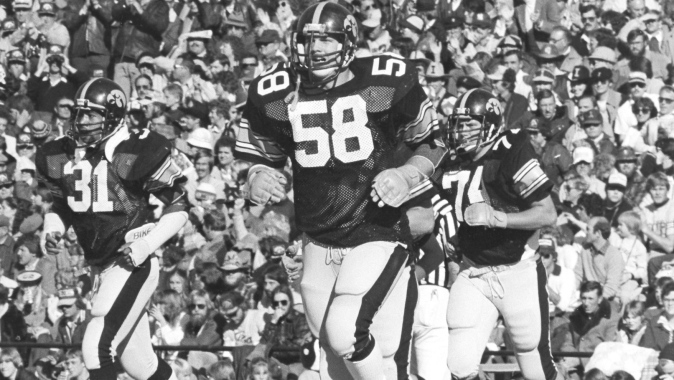 Sept. 24, 2015
IOWA CITY, Iowa – – A trio of former University of Iowa defensive linemen who helped the Hawkeyes to a share of the 1981 Big Ten title, will serve as honorary captains Saturday as Iowa hosts North Texas in Kinnick Stadium (2:32 p.m., ESPNU). Those players include Pat Dean, Mark Bortz, and Jim Pekar.
Those three linemen helped Coach Hayden Fry turn the program around, as the Hawkeyes posted an 8-4 record in 1981 and earned a spot in the 1982 Rose Bowl. The trio also played for defensive line coach Dan McCarney, the current North Texas head coach.
Bortz was a four-year letterman from 1979-82 and was named to Iowa's All-Time Team in 1989. He earned first team All-Big Ten honors as a junior and senior, and was a second team All-American in his final season. Bortz was a team captain as a senior and completed his career by helping Iowa to a Peach Bowl win over Tennessee. He was selected for the East-West Shrine game following his senior season and after recording 231 career tackles.
Bortz, a native of Pardeeville, Wisconsin, was drafted by the Chicago Bears in the 1983 NFL Draft and enjoyed a long and successful career in the NFL (1983-94). He made the move from defense to offense and was named to the Pro Bowl in 1988 and 1990. The Bears won the Super Bowl following the 1985 season as Bortz made 13 playoff appearances with Chicago. He played in 171 games for the Bears, starting 155 of those contests.
Dean, a native of West Islip, New York, was a standout nose guard for the Hawkeyes from 1978-81. He amassed 266 career tackles and currently ranks 24th in career stops. Dean earned second team All-Big Ten honors as a junior and was first team as a senior. He was named a second team All-American in his final season while concluding his Hawkeye career in the 1982 Rose Bowl.
Pekar was a two-year letterman (1980-81) in the defensive line after joining the Iowa program from Ellsworth, Iowa Community College. The native of Cudahy, Wisconsin, earned All-American honors at Ellsworth. He recorded 23 tackles in his junior season before recording 47 tackles, including seven tackles for loss, in helping the Hawkeyes earn a share of the 1981 Big Ten title. His son, Peter, is currently a sophomore tight end with the Hawkeyes.
The trio will accompany the Iowa captains to the center of the field for Saturday's pregame coin toss. They will also be with the Hawkeyes in the locker room before and after the game.
Tickets are available for Saturday's contest, online at hawkeyesports.com, in person at the UI Athletics Ticket Office in Carver-Hawkeye Arena, or by calling 1-800-IAHAWKS.