Box Score
Sept. 26, 2015
Final Stats | Notes | USATSI Gallery

| Photo Gallery

By JAMES ALLAN
hawkeyesports.com
IOWA CITY, Iowa — The University of Iowa football team scored a season-high 35 points… in the first half. It was that kind of day inside Kinnick Stadium.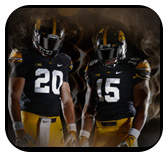 The Hawkeyes had 340 yards of total offense in the first half — 488 for the game — and scored two defensive touchdowns en route to a 62-16 victory over North Texas. The 62 points are the most for the program since 2002 and tie the high water mark of the Kirk Ferentz era.
Most importantly, Iowa is 4-0 for the first time since 2009. The Hawkeyes open Big Ten Conference play next weekend at Wisconsin.
"We're very pleased for our football team," said Ferentz. "It was another positive step forward for our team and to finish September 4-0, we're pleased about that. The team showed up ready to play and I am pleased about finishing this game and month in a strong fashion. We'll turn our sights toward Big Ten play as we get going tomorrow."
The Hawkeyes finished with a balanced attack, gaining 210 rushing yards on 43 carries, while completing 19-of-22 passes for 278 yards and two touchdowns. Junior C.J. Beathard was 15-of-15 for 254 yards and two scores in the first half; he finished 18-of-21 for 278 yards.
"You can't do any better than that," said Ferentz. "He had good help along the way. The receivers did a great job, and it was good to see other guys getting involved — George Kittle and to get Jake Duzey back out there. It was good to get other guys involved."
Iowa had both 100-yard rusher and a 100-yard receiver for the second time this season.
1st
2nd
3rd
4th
Final
0
13
3
0
16
14
21
13
14
62
Stat Comparisons
First Downs
22
23
Rushing Attempts-Yards
45-183
43-210
Passing Yards
173
278
Passing (Comp.-Att.-Int.)
17-43-2
19-22-0
Total Offense
88-356
65-488
Punts-Avg.
8-47.4
3-42.0
Fumbles-Lost
1-1
2-2
Penalties-Yds
8-62
4-24
Time of Possession
28:15
31:45
3rd-Down Conversions
7-of-21
6-of-9
4th-Down Conversions
2-of-3
0-of-0
North Texas Statistical Leaders
Passing
Comp.
Att.
Yds.
TD
Andrew McNulty
14
36
137
0
Rushing
Carries
Yds.
Avg.
TD
Jeffrey Wilson
14
74
5.3
0
Receiving
Rec.
Yds.
Avg.
TD
Carlos Harris
5
43
8.6
0
Defense
Solo-Assists
TOTAL
Sacks
INT.
James Gray
7-4
11
0
0
Senior Jordan Canzerifinished with 115 rushing yards on 22 carries and scored four touchdowns, tying the school record. He is the sixth player to accomplish the feat and the first since Shonn Greene in 2008. Senior Tevaun Smith had four catches for a career-high 115 yards with one score. Eight different receivers had at least one reception.
Defensively, Iowa had two interceptions returned for touchdowns and limited North Texas to 356 yards. The defense had three sacks, and four tackles for loss. Senior Cole Fisher and sophomore Josey Jewell tied for the team-high with nine tackles. Jewell and sophomore Bo Bower returned picks for scores.
"We played a heck of an Iowa football team today," said North Texas head coach Dan McCarney. "I put Iowa in my top 25 last Sunday, and I'm sure going to do it again tomorrow. The physicality of the team is fundamentally sound from the playmakers, returners, punters, kickers, and a tremendous quarterback that knows how to execute.
"They are a complete football team from what I can see."
Iowa made a statement early, jumping out to a 14-0 lead in the opening quarter. The Hawkeyes marched down the field on the game's opening possession going 70 yards on seven plays. Canzeri had a 29-yard rush on his second carry before scoring from 16-yards out on his fourth attempt. He had 55 yards in the series.
Junior Desmond King set up the Hawkeyes' second scoring drive with a 38-yard punt return to the North Texas 26. Iowa needed just two plays — a 16-yard pass to Jacob Hillyer and a 10-yard Canzeri run — to push its advantage to two touchdowns.
The Mean Green took advantage of Iowa's first turnover — a Canzeri fumble — to break on to the scoreboard with a 38-yard field goal from Trevor Moore early in the second quarter. The Hawkeyes followed with two touchdowns in a 1:37 span.
King followed the field goal with a 40-yard kickoff return to the Iowa 41 before Beathard led the Hawkeyes on a 59 yard drive, needing just three plays. Junior George Kittle caught a 43-yard touchdown pass — the first of his career — on a wheel route to give Iowa a 21-3 advantage.
After Iowa's defense forced a three and out, Beathard connected with Smith for the longest Iowa play since 2013. On first-and-15 from the 19, Beathard hit Smith in stride for an 81-yard touchdown strike, pushing Iowa's lead to 28-3.
North Texas cut the lead to 28-6 with a 38-yard field goal from Moore following a 54-yard drive with 7:54 left in the half. Twenty-one seconds later, the score was 28-13.
After taking over on its own 20, Iowa fumbled a pitch from Derrick Mitchell, Jr., to Matt VandeBerg on a botched reverse. Sir Calvin Wallace recovered for the Mean Green at the 6, and North Texas scored on a reverse pass from Carlos Harris to Chris Loving on the next play.
Iowa regrouped with Beathard leading the team on an 80-yard scoring drive. Beathard connected with two of his tight ends — Kittle for 19 yards to the Iowa 43 and Henry Krieger-Coble for 12 yards — to the 3. Canzeri scored from three yards out for his third score of the day to make the score 35-13.
North Texas opened the second half with a 15-play, 61-yard scoring drive, which ended in a 31-yard Moore field goal. The Hawkeyes scored the final 27 points.
Canzeri capped off a 50-yard scoring drive with his fourth touchdown, finding the end zone from 1-yard out with 45 seconds remaining in the third quarter. The lead expanded to 48-16 on UNT's next series, when Jewell jumped an Andrew McNulty pass and returned the interception 34 yards for the score. It was the first pick of Jewell's career.
Iowa's offense found the end zone for the final time midway through the fourth quarter with Tyler Wiegers under center. The redshirt freshman handed the ball to the duo of Mitchell, Jr., and Akrum Wadley 10 times for 83 yards. Wadley got the final two carries, including a score from 2-yards out to push the lead to 55-16.
With Iowa's defensive reserves bending, allowing the Mean Green to drive deep into Hawkeye territory, Bower ended the drive with an interception and subsequently accounted for Iowa's final points of the day. He intercepted UNT back-up quarterback Josh Greer at the Iowa 12 before returning the pick 88-yards for the score, pushing the Iowa lead to 62-16 with 2:47 to play.
Iowa (4-0) heads to Madison to open the Big Ten season on Oct. 3.
"Nothing changes for us, every step is important," said Ferentz. "It's cliché, but the trip is to keep our focus where it needs to be in that regard. It's excited to play in conference play, there's something that's special.
"I don't think we'll have any problem motivation our team because we know it's going to be a big challenge going up there."