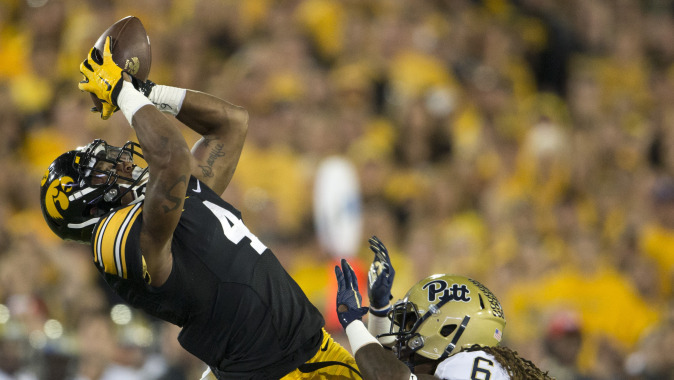 Sept. 26, 2015
By DARREN MILLER
hawkeyesports.com
IOWA CITY, Iowa — University of Iowa senior wide receiver Tevaun Smith (Toronto, Ontario) led the Hawkeyes last season in receiving yards (596) and ranked second on the team with 43 receptions. After the first three games of 2015, Smith has eight catches for 120 yards and one touchdown.
How do you feel now that all eyes are on the University of Iowa wide receivers?
We have a chip on our shoulder and we're hungry. We're going to do whatever we can to make plays and block for the running backs. There is no pressure on us, we're just hungry guys ready to work.
You're the leader of the group this season.
I have gained more of that leadership role, so I have to step up and make sure I'm in front doing what the coaches want and leading by example. That's one thing that I take pride in. It's me working hard and stepping up and doing what I have to do.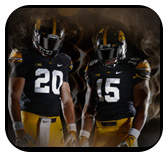 Are there guys on the roster turning heads throughout camp and the first two games?
There are a few of them. A lot of them have speed — the Texas boys have speed. A lot of them ran track. All five are all good, so who knows who isn't getting that redshirt.
What were some of your summer highlights?
I tried to do that little Odell (Beckham) catching thing. On my own I have been trying to get better and do whatever I have to do to have a successful senior year.
I went out to Chicago a couple times and had fun, but other than that, I didn't do much other that staying here and work out.
How important was it for you to stay in Iowa City and work toward the 2015 season?
I do it every year. I'm a long way from home (Toronto, Ontario), so there aren't many opportunities I get to go home. Being able to stay here is always a plus because you have a full facility. Most of the guys were here, too, s you have guys to work out with. It is a plus when you stay on campus.
Do you publically share your individual goals for the season?
Not really. My goal is to contribute to the offense and do whatever I have to do to have the team win. If that's 10 catches a game or one catch a game — whatever I can contribute, as long as we win, I'm fine with it.
Coach Kennedy talked about your growth as a wide receiver. Where have you seen the most improvement in your game?
When I first got here I didn't look like I knew what I was doing. Going into my senior year now, it is a lot of film and a lot of work of the field. That is what got me here now: working hard, asking questions and learning from the older guys helped in the past.
How hungry is this team?
We're pretty hungry. We didn't have a successful season last year, so guys are fired up about this fall. I am, and we have a lot of seniors that are trying to come out strong. We don't want to have that bitter taste in our mouth like we did last year.
You have been with wide receivers coach Bobby Kennedy for two years. What's it like playing for him?
(Smile) He loves his wife. They are always going on vacations and he always has stories about him and his wife. She gets mad that he's at the (Stew and LeNore Hansen Football Performance Center) a lot and he lets us know that. He likes to rub it in our face that he's with us more than his wife. That's the fun part of football. I know he loves being with us. Now he has a little puppy, so he has a friend at home now whenever his wife is kind of mad at him.