Sept. 29, 2015
By JAMES ALLAN
hawkeyesports.com
IOWA CITY, Iowa — Saturday's Big Ten Conference football opener between the University of Iowa and No. 18/19 Wisconsin will be a no-fear-dodging contest.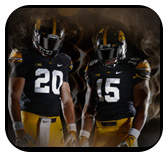 "It's going to be one of those tough, hard-nosed physical football games," UI head coach Kirk Ferentz said Tuesday during his weekly news conference in the All-American Room in the Stew and LeNore Hansen Football Performance Center.
"They've prided themselves on (being physical) for some time and done very well at it, and our better teams have done the same thing. It should be a great contest."
Iowa travels to Camp Randall Stadium for an 11:01 a.m. (CT) kickoff. The game will be televised to a national audience on ESPN with Steve Levy, Brock Huard, and Shannon Spake on the call.
The Hawkeyes are in Madison for the first time since 2009. Iowa claimed a 20-10 victory that season, which happens to be the Badgers' last defeat in a trophy game in rivalry contests against Iowa, Minnesota, and Nebraska.
Iowa is 4-0 for the first time since 2009, having posted home wins over Illinois State, Pittsburgh, and North Texas, and an Iowa Corn Cy-Hawk Series road win at Iowa State. It's a road environment that Ferentz believes can benefit the Hawkeyes.
"We got good training three weeks ago when we traveled on the road," said Ferentz. "There are a lot of tough environments in our league, and playing across our state, that's a tough place to go, too. It's a high-voltage experience.
"I am glad we have a tough road game under our belts, but it really gets down to concentration and being focused on what's going on out on the field."
The Hawkeyes will have to contend with a Badger defense that has been nearly flawless since surrendering 35 points in a season-opening loss to No. 3 Alabama on Sept. 5. Wisconsin (3-1) did not yield a touchdown in victories over Miami (Ohio) (58-0), Troy (28-3), and Hawai'i (28-0).
Ferentz knows what to expect of the Badgers on offense — a scheme that isn't complex, but very effective. Wisconsin is averaging 32.8 points and 408 yards of total offense with fourth-year starter Joel Stave under center.
"They create a lot of stress on you," said Ferentz. "If you load up in one area they're going to find it quick because they know their system and know when you're hurting them. Look back at the last couple of games with them, you're playing them well, playing them well, and then boom, they hit you with that one play.
"That's a characteristic of a good football team, and they've been successful at that for quite a while."
Ferentz believes the style and physicality of Iowa's game against Pittsburgh — a 27-24 Hawkeye win — will give the team an idea of what to expect against Wisconsin.
"The style of play will be very similar to what we played against Pittsburgh," said Ferentz. "We've been in a game like that, and we have an understanding of what the tempo is going to be. We have to increase it by X percent because of the way Wisconsin does it. They do it extremely well and have been so consistent." If the Hawkeyes are to be players in the Big Ten West Division race, Ferentz knows Saturday's game looms large.
"It you are going to be a contender, you're going to have to do well against Wisconsin," Ferentz said. "The last five years Wisconsin has played as well as anybody in our conference and certainly on the west side.
"They're all important, that's going to be our mindset. We're not going to let one game define our season."