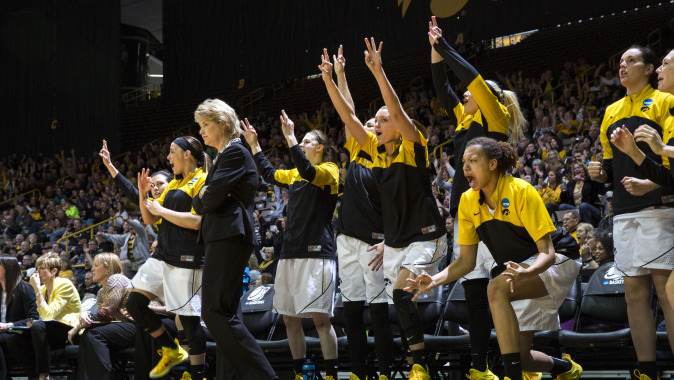 Oct. 3, 2015
Editor's Note: The following first appeared in the University of Iowa's Hawk Talk Daily, an e-newsletter that offers a daily look at the Iowa Hawkeyes, delivered free each morning to thousands of fans of the Hawkeyes worldwide. To receive daily news from the Iowa Hawkeyes, sign up HERE.
By JIL PRICE
IOWA CITY, Iowa — With three starting positions up for grabs following the exit of the highest scoring trio in school history, competition has been fierce on the University of Iowa women's basketball team.
The level of determination each player has to earn a coveted starting role has pushed the entire squad to improve and focus on their goals as a team. It's something 16th-year UI head coach Lisa Bluder has enjoyed seeing.
"We're a bigger and deeper team, so the competition has been fierce," Bluder said. "Everybody knows three starters have left our program and three spots are up for grabs.
"Every day we come to practice, people are playing at their very best. They have to come physically, mentally, and emotionally ready every day to compete to have a shot to start. When you're fighting like that for those positions, it raises our level of play and our level of competitiveness."
The Hawkeyes have embraced the new level of competition in the gym and have felt its benefits already on their team.
"There is a ton of opportunity right now," junior co-captain Ally Disterhoft said. "It's a great time to be a newcomer and that has upped the level of intensity in our practices. People are out there getting after it every single day and pushing each other.
"It's a friendly competition because at the end of the day, whoever ends up starting and fulfilling those roles we'll be happy for them. Right now it's all about proving yourself."
Eight underclassmen are poised to make an impact this season, including the 17th-ranked recruiting class of Tania Davis, Megan Gustafson, Tagyn Larson, and Hannah Stewart. The sophomore class of Chase Coley, Whitney Jennings, Christina Buttenham, and Carly Mohns is also rearing to go with added playing time up for grabs.
When combined with returning upperclassmen with NCAA Tournament experiences under their belts, including an All-Big Ten performer and two-year starter in Disterhoft and Kali Peschel, a weapon off the bench, positive things are on the horizon for the 2015-16 team with big goals.
"Last year was such a fun run and a lot of us got a taste of what it was like to play deep in the NCAA Tournament and make it to the Sweet 16," said Peschel. "That's our goal and where we want to be again. We want to win games, have fun, and make it a memorable year."
Iowa kicks off the regular season, hosting the Hawkeye Challenge inside Carver-Hawkeye Arena from Nov. 13-15. The Hawkeyes open with a 6 p.m. (CT) game against North Dakota and wrap up tournament play against Tennessee-Martin at 1 p.m. on Nov. 15.