Box Score
Oct. 3, 2015
Final Stats | Quotes | Notes | USATSI Photo Gallery

| Photo Gallery

By JAMES ALLAN
hawkeyesports.com
MADISON, Wis. — Make it 2-for-2 for the University of Iowa football team in trophy games… and more importantly, 5-0.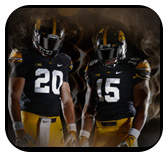 The Hawkeyes won a defensive fist fight to claim a 10-6 victory over No. 18/19 Wisconsin on Saturday afternoon at Camp Randall Stadium to hoist the Heartland Trophy for the first time since 2009. Iowa scored 10 points off four Badger turnovers to win a third straight encounter in Madison.
"It was one of those days where both defenses played really hard," said UI head coach Kirk Ferentz. "It was a true team win, and that's what you hope for. It gets down to how hard our guys played and how tough they played. They played right to the end."
The win moves Iowa to 5-0 for the first time since 2009, and the triumph is the program's first over a ranked opponent since 2011 and the first on the road since at Michigan in 2010. Wisconsin is 71-8 over the last 10 years at Camp Randall with three defeats coming against the Hawkeyes.
1st
2nd
3rd
4th
Final
0
10
0
0
10
3
0
3
0
6
Stat Comparisons
First Downs
14
21
Rushing Att.-Yds
40-144
34-86
Passing Yards
77
234
Passing (Comp.-Att.-Int.)
9-21-1
21-38-1
Total Offense
61-221
72-320
Punts-Avg.
5-41.2
4-31.0
Fumbles-Lost
2-1
3-2
Penalties-Yards
6-54
8-90
Time of Possession
29:14
30:46
3rd-Down Conversions
5-of-15
4-of-13
4th-Down Conversions
1-of-2
0-of-1
Wisconsin Statistical Leaders
Passing
Comp.
Att.
Yards
TD
Joel Stave
21
38
234
0
Rushing
Carries
Yards
Avg.
TD
Taiwan Deal
15
59
3.9
0
Receiving
Rec.
Yards
Avg.
TD
Dare Ogunbowale
4
43
10.8
0
Defense
S-A
Total
Sacks
Int.
Vince Biegel
2-7
9
1
0
"We live for games like these," said sophomore Ben Niemann. "It was awesome to come out with another trophy."
Iowa's 10 points are the fewest by any team to win at Wisconsin since the Hawkeyes score 10 points in a 10-6 victory in 1991.
The Hawkeye defense showed its stinginess throughout the game to the tune of forcing four turnovers and limiting the vaunted Wisconsin rushing attack. No hold was more important than on the Badgers' final drive with the game in the balance.
Following a three-play Iowa drive that used all of 19 seconds, Wisconsin started its final drive with 2:45 remaining from its own 47 yard line. The Hawkeyes forced an initial third-and-7, but quarterback Joel Stave found an opening to connect with Reggie Love for a 26-yard gain to the Iowa 24.
With no timeouts, Wisconsin ran for three yards on first down before running back Dare Ogunbowale dropped a second down attempt in the flat. Stave then connected with Troy Fumagalli for five yards to the 21 on third down, setting up a fourth-and-2.
Iowa elected to use a defensive timeout with a potential game-ending play in the balance. Stave targeted Fumagalli a second time, but Niemann deflected the pass to force the incompletion to give Iowa possession and set up a victory formation.
"I was teasing Phil (Parker) and the staff that I felt good at the end having them at fourth-and-2," said Ferentz. "If it had been fourth-and-15, I would have been worried. It was a great effort today… it took everybody."
"We take a lot of pride in the defense," said Niemann. "This offseason we worked hard to put ourselves in situations at the end of games like these to come out and get stops and wins. It was a lot of work in the offseason and camp, and we put ourselves in a good position to get a stop like this."
Wisconsin outgained the Hawkeyes, 320-221, in the contest, but Iowa's defense forced four turnovers. Fisher led the team with a career-high 14 tackles, including two tackles for loss and 1/2 a sack. Sophomore Josey Jewell had 10 tackles, junior Desmond King had nine stops and two interceptions, and Drew Ott had three tackles for loss and a forced fumble.
Offensively, senior Jordan Canzeri ground his way to his third 100-yard rushing output, running for 125 yards on 26 attempts. Junior quarterback C.J. Beathard completed 9-of-21 attempts for 77 yards with a touchdown — a 1-yard strike to junior tight end George Kittle. Junior Matt VandeBerg had six catches for 61 yards.
"Jordan did a great job," said Ferentz. "He is playing hard and is a tremendous senior player. Those were tough yards, there was nothing easy."
Wisconsin struck first, using a 12-play, 56-yard scoring drive on the game's first possession, which ended with a 46-yard field goal by Rafael Gaglione. Iowa's offense drove deep into Badger territory of its second possession of the first quarter, but ended with a turnover on downs, after the Hawkeyes elected to go for it on fourth-and-2 from the 8.
Both teams missed scoring opportunities early in the second quarter with Gaglione missing a 42-yard field goal wide right, and senior Marshall Koehn following suit with a miss from 27 yards out on the next series.
King and the Iowa defense helped Koehn atone for the miscue.
On second-and-6 from the Wisconsin 37, King intercepted Stave and returned it 15 yards to the UW 31. The Hawkeyes capitalized, grabbing a 7-3 lead with a five play scoring drive. Canzeri led off the series with a 19-yard burst to the 12 and a 6-yard run to the 6 before Beathard connected with VandeBerg for 3 yards to the 3.
After picking up a first down via a quarterback sneak, Beathard connected with Kittle off play action for a 1-yard touchdown pass with 2:59 remaining in the half. It was the first touchdown against Wisconsin in 215:03 — since the season opener against Alabama.
Ott forced the game's second turnover on the first play of Wisconsin's ensuing drive when he sacked Stave for a 10-yard loss and stripped him in the process, and Nate Meier recovered, giving Iowa possession at the 15. A delay of game penalty on third-and-4 derailed the drive, but Iowa pushed its lead to 10-3 on a 33-yard Koehn field goal.
Iowa forced its third turnover on Wisconsin's first drive of the second half on King's second interception of the contest — his fifth pick of the season — but the Hawkeyes gave it back when Beathard was intercepted by Michael Caputo to give the Badgers possession at its own 41.
Wisconsin went to its power rushing attack to move to the Iowa 24 before the Hawkeyes' defense stiffened. Gaglione accounted for the only points of the second half with a 46-yard field goal.
Iowa's defense had its back against the wall early in the fourth quarter when the Badgers' Joe Schobert ran down Beathard from behind and knocked the ball loose before recovering the fumble at the UW 27. Wisconsin moved into the red zone for the first time in the game, marching it down to the 4 before Iowa had a game-changing play.
On second and goal, Meier got push at the point of attack, forcing the Badger offensive lineman into Stave on the running back exchange. The handful was fumbled, and Iowa junior Faith Ekakatie recovered, giving the Hawkeyes possession at the 5.
Iowa (5-0, 1-0) returns to action Saturday, hosting Illinois at 11 a.m. (CT) on Homecoming at Kinnick Stadium.