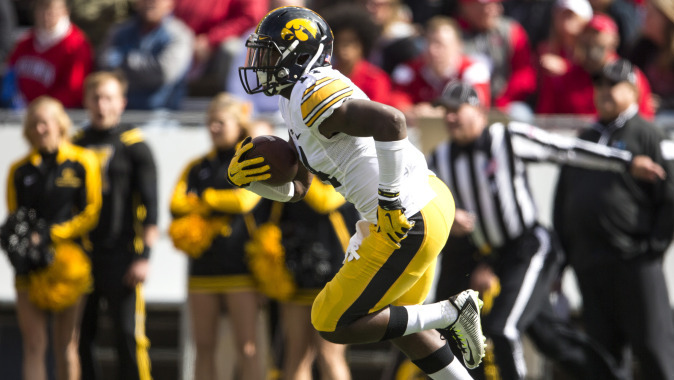 Oct. 5, 2015
Editor's Note: The following first appeared in the University of Iowa's Hawk Talk Daily, an e-newsletter that offers a daily look at the Iowa Hawkeyes, delivered free each morning to thousands of fans of the Hawkeyes worldwide. To receive daily news from the Iowa Hawkeyes, sign up HERE.
By DARREN MILLER
hawkeyesports.com
MADISON, Wis. — There is nothing like a good recipe: when it turns out the way you like, there is no need to fiddle with it. For the University of Iowa football team, a successful defensive formula calls for more than a little dash of Desmond.
Hawkeye junior cornerback Desmond King was cooking up big plays Saturday in Camp Randall Stadium and the menu included nine tackles, two pass breakups, and two interceptions. The main course was a Big Ten Conference-opening 10-6 win over the defending West Division champion Wisconsin Badgers.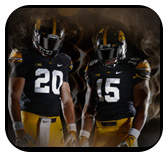 "For us to get better, our best guys and our most experienced guys have to play their best football," Ferentz said. "(King) is a great illustration of that. He played solid last year and he is clearly playing at a different level right now; he is opportunistic with the picks, doing a good job in the return game, and he is playing hard in coverage."
Oh yes, return yards. To spice things up even more, King added 80 return yards against Wisconsin — 65 on three kickoffs and 15 on two interceptions.
If you want to get really cute, you could say the 5-foot-11, 200 pounder from Detroit was Iowa's second-leading receiver against the Badgers. UI junior Matt VandeBerg caught six passes for 61 yards from quarterback C.J. Beathard while King caught two of Wisconsin quarterback Joel Stave's 38 attempts.
It is only the second Big Ten home opening loss for Wisconsin in the last 13 years and the Badgers fell to 71-8 at Camp Randall Stadium since 2004 with three setbacks coming to the Hawkeyes.
"It's an exciting win and a big accomplishment," King said.
| | |
| --- | --- |
| | "Everything is going well for me and the defense. I want to be a playmaker on the back end, be a leader and set an example to those out there with me." |
King led the team with three interceptions a year ago. He has five interceptions in 2015 and Saturday was his second multi-interception game (he also had two during a 27-24 win against Pittsburgh). Three of his picks this season were converted into two Iowa touchdowns and a field goal.
"Everything is going well for me and the defense," King said. "I want to be a playmaker on the back end, be a leader and set an example to those out there with me."
Wisconsin entered Saturday averaging nearly 33 points a game, but the Hawkeyes held them to two 46-yard field goals. Iowa forced four turnovers, a statistic King attributed in part to the return of senior defensive end Drew Ott.
"That's why we're getting our turnovers on the back end," King said. "When you have strong defensive ends like that to get around the edge, it causes trouble in their passing game."
Stave was also sacked twice and fumbled twice.
After the first month of the season the Hawkeye defense is tied for first in the Big Ten with seven interceptions and second in rushing defense, allowing 84.4 yards a game. Iowa is tied for fourth in quarterback sacks (16 for 118 yards), fifth in scoring defense (15.4 points per game), and sixth in total defense (299.8 yards per game).
Iowa's victory also snapped a nine-game Badger winning streak in trophy games.
"That's all that matters, to get the Heartland Trophy back," King said.
But to King, the win doesn't merit extra superlatives, especially from the national pundits.
"We have to keep playing as the season goes on. Everything is going to happen for a reason," he said.
The next opportunity is Oct. 10 in a Homecoming tilt against Illinois. The Fighting Illini are 4-1 overall, 1-0 in the Big Ten after scoring two touchdowns in the final 13:21 to defeat Nebraska, 14-13.