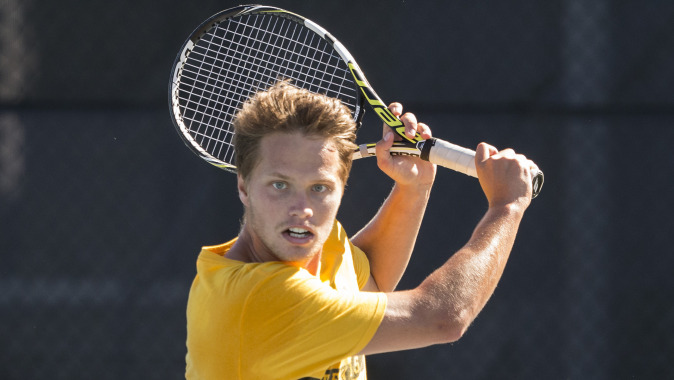 Oct. 5, 2015
TULSA, Okla. — University of Iowa men's tennis student-athlete Robin Haden dropped three of his singles matches Monday at the Saint Francis Health System ITA Men's All-American Championships, held on the Michael D. Case Tennis Center at the University of Tulsa. Haden's losses brought an end to the Hawkeye run at the tournament.
Haden competed against Loyola Marymount's Cristobal Rivera for his first match of the day. Despite losing the third round match, 4-6, 7-6, 3-6, Haden advanced to the qualifying bracket. He is the first Hawkeye to advance to the qualifying bracket since 2011.
In the first round of qualifying, Haden faced Konrad Zieba of Northwestern. Zieba won the match in two sets, 6-0, 6-1. The Hawkeye junior's final match of the day was in the consolation bracket, where he took on Lamar's Nikita Lis and fell in straight sets, 6-3, 6-4.
"Robin had a successful five days," said UI head coach Ross Wilson. "To get three wins and play six total matches against some tough competition in our first tournament will build confidence."
The men's tennis team will return to action Oct. 15-19, at the ITA Central Regionals in Fayetteville, Arkansas.