Oct. 6, 2015
By JAMES ALLAN
hawkeyesports.com
IOWA CITY, Iowa — The national ranking listed next to the University of Iowa football team shows the Hawkeyes are doing something right in 2015, but it doesn't mean much more than that heading into Week 6.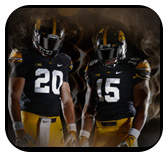 Iowa is ranked 22nd in The Associated Press and 23rd in the coaches' poll heading into Saturday's Homecoming matchup against Illinois (4-1, 1-0). It is the program's first AP ranking since 2010 — a span of 75 weeks.
"It feels good (to be ranked), but at this point, it doesn't really mean too much," said senior center Austin Blythe. "It means a lot more at the end of the season after all the games are played."
Junior quarterback C.J. Beathard doesn't think the ranking will affect the team's mindset because the unpredictability of college football (and UI head coach Kirk Ferentz) keeps the players grounded.
"We're handling (being ranked) well," said Beathard, who is undefeated in the first six starts of his Hawkeye career. "We have a level head on our shoulders.
"Coach Ferentz is making sure we don't get our heads too high. He has preached to us and we all know we are one game into Big Ten play. We still have seven Big Ten games left, so it's still too early to look at any picture now. We're focusing on the next game and taking it one game at a time. Hopefully we continue to win games."
The Hawkeyes needed a different formula to notch their fifth win — a 10-6 Big Ten-opening victory Oct. 3 at Wisconsin. Iowa's defense rose to the occasion, holding the Badgers to two field goals to pick up an Iowa offense that was grounded to the tune of 221 yards.
"It showed a lot of fight in us and our willingness to win," said Beathard. "We feel like we can go out there and if the offense is struggling like it did (at Wisconsin) the defense will pick us up. Same thing goes if the defense struggles.
| | |
| --- | --- |
| | "We're handling (being ranked) well. We have a level head on our shoulders." |
"That shows how close we are as a team. We feel good and we have a lot of confidence and trust in each other."
The Hawkeyes look to run their record to 6-0 against a team coming to Kinnick Stadium on an emotional high. Illinois scored two fourth quarter touchdowns, including the game-winner with 10 seconds remaining, to rally past Nebraska, 14-13, on Oct. 3.
"They're an improved team this year, especially defensively," Blythe said of an Illinois team that Iowa defeated 30-14 last season in Champaign. "They do a lot of things better and are coming off an emotional win, so they're going to be ready to go."
Illinois' defense has sparked the turnaround. After ranking outside the top 100 a season ago, the Fighting Illini are 21st in total defense (303.4 yards per game) and 23rd in scoring defense (17.8 points). Illinois has forced 10 turnovers in five contests.
"They're a more disciplined, better fundamentally sound group," said Blythe. "They're another high-effort group, and we have to finish plays."
Ranking or no ranking, Beathard is making sure the Hawkeyes are staying in the present.
"It doesn't matter who we're playing, we have to stay grounded," he said. "Anybody can beat anybody in this league; there is no game you can overlook. We've seen that in college football this season.
"We've done a good job so far, but there is so much more we can do. We can't get complacent. We have to continue to get better because the sky is the limit for us."
Saturday's game is set for an 11:01 a.m. (CT) kickoff, and will be televised live on ESPNU. Tickets are available through the Iowa Athletics Tickets Office at (800) IA-HAWKS or on hawkeyesports.com.