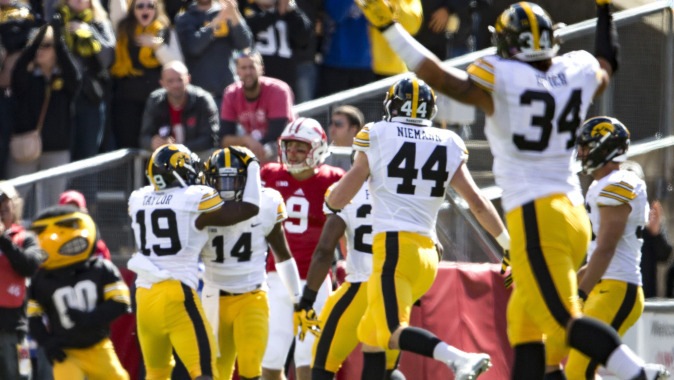 Oct. 7, 2015
IOWA CITY, Iowa — University of Iowa defensive back Desmond King has been named the Jim Thorpe Defensive Player of the Week for his performance in Iowa's 10-6 win at Wisconsin Saturday. He was earlier named the Big Ten co-Defensive Player of the Week.
The Jim Thorpe Award was established in 1986 and is named after history's greatest all-around athlete, Jim Thorpe. Thorpe excelled as a running back, passer and kicker on the offensive side of the ball, but also stood out as a defensive back. In addition to his legendary performance on the football field, Thorpe played professional baseball and won Olympic gold medals in the decathlon and pentathlon.
King (5-foot-11, 200-pounds), is a junior from Detroit, Michigan (East English Village HS). He led Iowa's defensive effort in the win at Wisconsin as the Hawkeye defense held the Badgers to two field goals in snapping Wisconsin's 10-game home winning streak. King's first interception, and 15-yard return, led to the only touchdown in the game as Iowa took a 7-3 advantage.
King recorded his second interception at the Iowa 11-yard line to stop Wisconsin's opening drive of the third quarter. It marks the second time in five games (Pittsburgh) that King has recorded two interceptions. King becomes the first Hawkeye with multiple multi-interception games in a season since Tyler Sash in 2009.
King also had five solo tackles, four assists and two pass break-ups against the Badgers. On special teams, King had three kick returns for 65 yards.
King leads the Big Ten in both interceptions (five) and passes defended (nine), and is tied for the national lead in interceptions. His five interceptions are the most for a Hawkeye since Brett Greenwood had five in 2010. He also ranks second in the Big Ten in kickoff returns (22.5) and is averaging 18.7 yards on seven punt returns. He is fifth on the team with 29 tackles.
The Jim Thorpe Award watch list is chosen by a screening committee who compile a list of 30-50 players. The list is not final, and players who have outstanding seasons are added as the season progresses. The Thorpe Award Winner is selected from three finalists and will be announced at The Home Depot College Football Awards on Thursday, Dec. 10, 2015, on ESPN.
The Jim Thorpe Award is a member of the National College Football Awards Association (NCFAA), which encompasses the most prestigious awards in college football. The 21 awards boast 699 years of tradition-selection excellence. Visit NCFAA.org to learn more.
Iowa (5-0, 1-0) entertains Illinois (4-1, 1-0) Saturday (11 a.m., ESPNU) in Kinnick Stadium. Tickets are on sale for Iowa's four remaining home games, and are available online at hawkeyesports.com, by calling 1-800-IA-HAWKS, or in person at the UI athletics ticket office located in Carver-Hawkeye Arena.