Oct. 10, 2015
Iowa 29, Illinois 20 Photo Gallery

By DARREN MILLER
hawkeyesports.com
IOWA CITY, Iowa — Next Man In became Next Young Man In on Saturday as the University of Iowa football team improved to 6-0 with a 29-20 win over Illinois.
True freshman wide receiver Jerminic Smith and true freshman offensive linemen James Daniels made crucial contributions on a day when the Hawkeyes became bowl eligible for a 14th time in 15 seasons.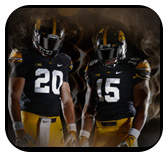 Smith caught four passes for 118 yards, all in the first half. His first three receptions — of 14, 46, and 49 yards — moved the chains. He also had a 9-yard grab.
"It felt great," Smith said of making his first collegiate catch. "I'm just doing my job and this game will give me confidence. I will keep working hard and hopefully keep doing well."
Smith has played in all six games, but with an injury to senior Tevaun Smith, the younger Smith has been asked to step up quicker than usual.
"You have to start somewhere and to have a little success is great, too," UI head coach Kirk Ferentz said.
Jerminic started the Big Ten Conference opener at Wisconsin (a 10-6 Hawkeye victory), and despite his inexperience, he was a third-down target several times for quarterback C.J. Beathard.
"He's a good receiver, we know that," Berthard said. "He has a lot of good skills: he's fast and he has good hands. He is young, but he's a good player. With Tevaun out he has to step up and I think he is doing a good job."
| | |
| --- | --- |
| | "It felt great. I'm just doing my job and this game will give me confidence. I will keep working hard and hopefully keep doing well." |
With youth come growing pains. Right before halftime, Smith got his hands on a pass from Beathard in the end zone, but couldn't hold on. Late in the game he dropped a slant pass on third down.
"It would have been great for him to get one more catch there at the end, but that's the next step," Ferentz said. "These are all positive experiences, and if we can go through some of those turbulent spots and still come out with a victory, I see that as a real positive as we go down the road."
Like Smith, Daniels has seen playing time this season, but he is on an accelerated pace with injuries to sophomore tackles Boone Myers and Ike Boettger. Daniels played left guard and right tackle Saturday as the Hawkeyes ran the ball 51 times for 278 yards.
"It is different because I was recruited as a center and then in camp they put me at guard," Daniels said. "Now I am starting to play tackle a little bit. It is kind of difficult, but I like it. Coach Ferentz wouldn't put me out there if he didn't think I could do it."
Ferentz calls it a great learning experience for Daniels, the younger brother of junior running back LeShun Daniels, Jr.
"I got asked how much (James has) played tackle. I said, probably not enough," Ferentz said. "He's done a little bit in practice, but with Boone out, we're getting a little bit thin."
Canzeri carried the ball a school-record 43 times and he didn't hesitate running through holes created by Daniels.
"He works so hard and it's awesome to see him contribute the way he has," Canzeri said. "Even though he is young, he has a great focus; even when he messes up he stays positive and knows it's the next play that is most important and he will get it done next time."
UI senior right guard Jordan Walsh also gave Daniels a passing grade.
"It didn't look like he skipped a beat," Walsh said. "He went out there, executed, and did his job."
Iowa returns to action Oct. 17 against Northwestern (5-1 overall, 1-1 Big Ten) at Ryan Field in Evanston, Illinois. The Hawkeyes have won their last two road games.