Oct. 15, 2015
By DARREN MILLER
hawkeyesports.com
IOWA CITY, Iowa — Now that the University of Iowa football team has a Twin-Pack of Paulsens, could the Crunch Package be far behind?
True freshmen Landan and Levi Paulsen have been side-by-side for 19 years, participating in everything from drama, to student government, to being an unstoppable backfield tandem.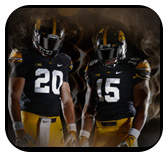 "In middle school football, whenever we scored touchdowns we always went for two because we didn't have a kicker," Levi said. "They put this package in and it was called the Crunch Package; I was tailback and Landan was fullback. We got two points every time."
The Paulsen's haven't approached Hawkeye offensive coordinator Greg Davis about the idea of implementing the Crunch Package…yet.
"Once this redshirt year gets over maybe that will be a possibility," Levi said with a laugh.
UI head coach Kirk Ferentz said the Paulsen brothers impressed the coaching staff when they attended camp a couple years ago.
"As we followed them we became more impressed," Ferentz said. "Both are diverse and active. They are hard-working guys that bring a lot of positive energy."
Diverse and active indeed.
At Woodbury Central High School, Landan and Levi participated in jazz band, concert band (Landan was two-time all-state on tuba, Levi played euphonium), drama, speech, baseball, track and field, wrestling, football, soccer until eighth grade, and student government (they were president and vice president all four years). Landan was salutatorian for the Class of 2015 with a 3.99 grade-point average (on a 4.0 scale).
Where they differ is academic pursuit. Landan is majoring in health and human physiology and kinesiology, Levi in interdepartmental studies of business and environmental studies. They share a dorm room in Mary Louise Petersen Residence Hall.
At first glance, it is difficult — if not impossible — to differentiate between the two. Landan (No. 68) is 6-foot-5, 290 pounds, Levi (No. 66) is also 6-5, 290. During practice, Levi wears a brace on his left arm because of an injury suffered in the 2015 Iowa Shrine Bowl. (Landan also participated in the game).
The Paulsen family has ties to both sides when it comes to the Iowa Corn Cy-Hawk Series. Landan and Levi's father, Dan, studied agriculture at Iowa State University while an older sister was a member of the University of Iowa Hawkeye Marching Band.
At one point in the recruiting process, Levi thought he would become a Cyclone…until he went on college visits.
"The people here are great and we got a long so much better with these guys," Levi said.
"We didn't have any preferences, but it fell together and we decided we were both going to the same place," Landan said.
The Paulsens were all smiles Tuesday after practice in Kinnick Stadium, but as you can imagine with twin brothers, that wasn't always the case. A few days before their first wrestling meet one season, Michelle Paulsen was cutting her sons' hair. Levi went first, then took a shower.
"I hear this blood-curdling scream with some cuss words. I have never heard my mom scream like that in my entire life," Levi said. "My mom was pointing at the back of Landan's head and there was a softball-sized bruise, a goose egg on the back of his head where I punched him in practice."
| | |
| --- | --- |
| | "We were so raw, now (offensive line) coach Brian (Ferentz) is teaching us how to take our steps, fit our pads, stay low, and run with blocks. Once you get (the speed of the game) down, you're going to fit in with the bunch." |
"That was the practice where I got punched in the back of the head and had two hyper-extended elbows from this dude right here," Landan said, pointing toward Levi.
Walls in the bedroom they share in their home in Moville are covered with brackets received after winning wrestling tournaments.
"Every one of them is covering a hole in the wall where we got in a fight or kicked a hole in a door," Landan said. "Mom hates when we talk about that stuff."
There have also been instances of brotherly love. As sophomores in 2013, both Landan (285 pounds) and Levi (220) qualified for the individual state wrestling tournament. Landan placed third, but Levi did not place.
"We had a mutual decision," Landan said. "Levi said `You're on a roll and I didn't do very well this year, so we'll keep you rolling.' I wrestled my junior year and gave that my best shot."
He was runner-up as a junior, then turned the reigns to his brother.
"You can wrestle senior year," Landan told Levi.
For the final two years of high school the twins took turns competing in 285-pound bouts. As juniors, Levi competed in the state dual tournament and Landan in the state individual tournament. They switched as seniors in 2015. Levi won the Class 1A individual state championship with a 5-1 decision over Joe Riker of Mount Ayr. Landan won by fall over Trenton McAtee of Clarion-Goldfield-Dows in his final match of the state dual tournament.
With the Paulsens anchoring both sides of the line last fall, Woodbury Central advanced to a Class A quarterfinal where they lost to eventual state champion Logan-Magnolia, 27-14. The game's tempo has picked up this season.
"We were so raw, now (offensive line) coach Brian (Ferentz) is teaching us how to take our steps, fit our pads, stay low, and run with blocks," Levi said. "Once you get (the speed of the game) down, you're going to fit in with the bunch."
No. 17 Iowa (6-0 overall, 2-0 Big Ten) makes its third road appearance of the season Oct. 17 against Northwestern (5-1, 1-1) on Ryan Field in Evanston, Illinois. The Hawkeyes have won three of the last four meetings, including 48-7 last season in Kinnick Stadium.