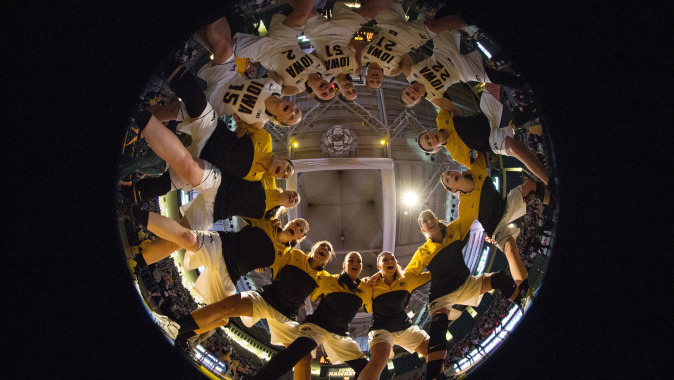 Oct. 27, 2015
Editor's Note: The following first appeared in the University of Iowa's Hawk Talk Daily, an e-newsletter that offers a daily look at the Iowa Hawkeyes, delivered free each morning to thousands of fans of the Hawkeyes worldwide. To receive daily news from the Iowa Hawkeyes, sign up HERE.
By JIL PRICE
IOWA CITY, Iowa — After reaching the Sweet 16 a season ago in one of the most memorable runs in program history, the University of Iowa women's basketball team is back on the hardwood working toward its ninth-straight NCAA Tournament berth.
While the roster looks different with eight underclassmen and the graduation of three starters, all of whom signed professional basketball contracts following their collegiate careers, the team-first culture remains constant and the intensity is the same.
"I don't think losing players changes your intensity," 16th-year UI head coach Lisa Bluder said. "It's something we try to build, it's a part of our culture, and it's something we don't have to recreate. Seven of our women returning were there every single day in practice. They were in the locker room every single time. They know what it takes.
"You have a culture that you establish in your program that continues to roll. We have to teach the freshmen that culture, but when you have somebody like Ally Disterhoft and Whitney Jennings leading you, you don't lose intensity."
Both Disterhoft, a 2015 preseason All-Big Ten selection by the coaches and two-year starter, and Jennings, who played in all 34 games as a freshman with 31 starts, were a part of the starting five a season ago and played integral roles in Iowa's 24th NCAA Tournament appearance. The Hawkeyes also welcome back their top player off the bench in senior Kali Peschel, who was the team's second-best 3-point shooter a year ago.
Each returner is passionate about the Hawkeye program and is determined to continue the team's NCAA Tournament run. That attitude is contagious and has quickly been inherited by the underclassmen through summer workouts, Game Time League competition, and the team's Italian Tour in August.
The highly-touted freshmen class, which was ranked No. 17 nationally by ESPN Hoopgurlz and boasts two Miss Basketball honorees in Tania Davis and Hannah Stewart, combined with a hungry sophomore class looking for more minutes has created a competitive environment and raised the bar for the Hawkeyes across the board.
Bluder loves to see the fight in her squad and believes it will benefit the program throughout the season. The Hawkeyes have the physicality, talent, and ability to turn heads.
"I feel like they're more boisterous and aggressive than last year's team," Bluder said. "Some of our younger players, like sophomore Carly Mohns, are more aggressive on the court than we have been in the past. I like that, especially when it benefits the rebounding and defensive aspects of the game."
Iowa hosts an exhibition contest against Upper Iowa in Iowa City at 2 p.m. (CT) on Nov. 8, before opening the regular season with the Hawkeye Challenge from Nov. 13-15.