Box Score
Oct. 31, 2015
Final Stats | Notes | USATSI Gallery

| Photo Gallery

By JAMES ALLAN
hawkeyesports.com
IOWA CITY, Iowa — The treat for the 10th-ranked University of Iowa football team on Halloween 2015 came in the form of four Maryland turnovers and a blocked punt in the Hawkeyes' 31-15 victory Saturday afternoon inside Kinnick Stadium.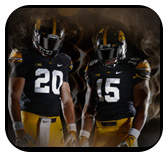 The win moves Iowa to 8-0 for the second time in program history (Iowa was 9-0 in 2009). The Hawkeyes are 4-0 in the Big Ten at the half way point of the league schedule, atop the West Division standings.
"This was another tough football game for our team to be involved in, and I am thrilled to get a good team victory," said UI head coach Kirk Ferentz. "I don't know how good we are as a football team, but our guys are playing hard and play together.
"I am proud of them to move to 8-0. It's a significant accomplishment; it hasn't been done an awful lot. With that being said, we're still halfway through the Big Ten… we have a lot of work ahead of us."
The game was won in the first half, when Iowa jumped out to a 21-0 lead after dominating the first 30 minutes. The Hawkeyes out-gained the Terrapins, 240-68, and ran 27 plays in Maryland territory. In contrast, Maryland ran one play on Iowa's side of the 50.
The script flipped in the second half. Iowa finished with a 293-241 advantage in total offense with Maryland's rushing attack finding its groove in the second half. The difference came via Iowa's 4-1 advantage in winning the turnover battle — along with a blocked punt — which the Hawkeyes converted into 21 points.
1st
2nd
3rd
4th
Final
0
0
0
15
15
7
14
0
10
31
Stat Comparisons
First Downs
15
18
Rushing Attempts-Yards
34-167
44-110
Passing Yards
74
183
Passing (Comp.-Att.-Int.)
11-23-3
12-23-0
Total Offense
57-241
68-293
Punts-Avg.
7-40.4
6-38.8
Fumbles-Lost
2-1
1-1
Penalties-Yds
8-72
7-53
Time of Possession
27:08
32:52
3rd-Down Conversions
1-of-10
6-of-16
4th-Down Conversions
1-of-1
0-of-0
Maryland Statistical Leaders
Passing
Comp.
Att.
Yds.
TD
Perry Hills
11
22
74
1
Rushing
Carries
Yds.
Avg.
TD
Perry Hills
19
104
5.5
0
Receiving
Rec.
Yds.
Avg.
TD
Taivon Jacobs
3
18
6.0
1
Defense
Solo-Assists
TOTAL
Sacks
INT.
Anthony Nixon
6-3
9
0
0
"We talk all the time about capitalizing — complementary football," said Ferentz. "If we do get a takeaway then we have to go try to convert it into points. Sometimes it just changes field position, but if you can get points, it's a big thing."
Iowa finished with 110 yards rushing for the game with sophomore Akrum Wadleyleading the way with 67 yards on 19 attempts with a touchdown. Junior LeShun Daniels, Jr., returned from injury to gain 60 yards on 13 carries with a touchdown, and redshirt freshman Derrick Mitchell, Jr., scored his first career touchdown.
Junior C.J. Beathard finished 12-of-23 for 183 yards through the air, spreading his completions to seven different receivers. Junior Matt VandeBerg caught three passes for 54 yards.
Sophomore Miles Taylor had a team-high eight tackles and had two of Iowa's four turnovers, recovering a fumble and intercepting his first career pass. Junior Desmond King recorded five tackles and had an 88-yard interception return for a touchdown, and senior Jordan Lomax had his second career interception.
Iowa's defense picked up senior Marshall Koehn after the placekicker missed a 45-yard field goal attempt on the Hawkeyes' first possession. Junior Greg Mabin forced a Brandon Ross fumble and Miles Taylor recovered, giving Iowa possession at its own 38.
The Hawkeyes capitalized, moving 62 yards over seven plays to take a 7-0 lead. Wadley ran for 20 yards on two attempts to start the drive before Beathard connected with Tevaun Smith for 21 yards to the 19. Daniels, Jr., covered the final 19 yards, which included a 1-yard touchdown run.
Taylor came away with his second turnover on Maryland's second possession, intercepting a Perry Hills pass off a deflection at the line of scrimmage. During the return, Ross knocked the ball loose and Maryland recovered at its own 32. It was Iowa's only turnover of the game.
Early in the second quarter, the Hawkeyes pushed their lead to 14-0, courtesy of an eight-play, 63-yard drive. On third-and-5 from its own 42, Beathard hooked up with VandeBerg on a post route to the Terrapin 35.
Iowa converted a fourth-and-5 on a Sean Davis pass interference penalty (on an attempt to Smith), and Wadley found the end zone two plays later, scoring on an 11-yard touchdown run, slithering his way through a hole and following blocks from seniors Macon Plewa and Jacob Hillyer to the end zone.
Senior punter Dillon Kidd swung the field position to set up Iowa's third touchdown in the final minute of the first half. Kidd stuck a pooch punt inside the 5, where the ball was downed at the 3. Iowa's defense kept Maryland pinned in the shadow of the goal line, forcing a punt.
The special teams came through again when redshirt freshman Aaron Mends came off the edge and got a hand on Nicolas Pritchard's punt, giving Iowa possession on the Terrapin 19 with 1:01 remaining in the half. The offense seized the moment, pushing the advantage to three scores at the break.
Iowa made up for a holding penalty on first down when Beathard found Hillyer for a 12-yard gain on a screen pass before connecting with tight end Henry Krieger Coble across the middle to the 2. On third-and-goal, Mitchell, Jr., found the end zone, pushing Iowa's lead to 21-0.
"The sequence at the end of the second quarter was illustrative of everybody working off each other," said Ferentz. "Dillon had a tremendous day punting the football, but he dropped it down there and the defense got a good stop.
"We got the tip on the punt and the offense took it and put it in the end zone. It was a good sequence to end that first half, and we were really happy about it."
After a scoreless third quarter, Maryland closed out a 64-yard drive with a touchdown early in the fourth quarter. Two 15-yard personal foul face mask penalties on Iowa defense fueled the drive. On first and goal from the 7, Hills floated a pass to Taivon Jacobs for a touchdown in the back of the end zone, cutting the deficit to 21-7.
The Terrapins attempted to catch Iowa off guard with an on-side kick, but freshman Adrian Falconer recovered, giving the Hawkeyes possession at the Maryland 45. Iowa managed points when Koehn connected on two field goals — from 44 and 49 yards; the first wiped out on an illegal formation penalty — to give Iowa a 24-7 lead.
Hills continued gouging the Iowa defense with his feet. The big play came on a 24-yard burst to the Iowa 25 and he followed by running 8 yards up the middle to the 12. The Terrapins went to the air on first-and 10, but Hills lofted a ball into space, where King snatched his nation-leading seventh interception before returning it 88-yards for a touchdown.
The interception return swung the momentum, stretching the Hawkeye lead to 31-7 with 7:38 remaining. It matched the team's longest of the season (Bo Bower vs. North Texas) and is tied for the seventh-longest in program history.
Maryland's Will Likely provided an answer, returning Koehn's kickoff 100 yards for a touchdown to cut the lead to 31-13 just 12 seconds later. Hills then converted the Terrapins' two-point conversion, making it a 16-point game.
"The kick coverage was less than impressive, but that will give us something to focus on," said Ferentz. "These guys have responded all season long, and I'm confident we'll be better next week in those areas."
The Hawkeyes' defense didn't allow another first down in the contest, and the Hawkeye offense utilized its rushing attack to wilt away the clock.
Iowa returns to action Nov. 7, traveling to Bloomington for a road game at Indiana.