Nov. 3, 2015
By JAMES ALLAN
hawkeyesports.com
IOWA CITY, Iowa — University of Iowa head coach Kirk Ferentz likens the initial College Football Playoff rankings to August preseason polls.
The first College Football Playoff rankings will be released Tuesday at 6 p.m. (CT) on ESPN.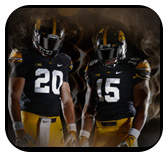 "They don't mean a lot right now," Ferentz said Tuesday during a news conference in the All-America Room of the Stew and LeNore Hansen Football Performance Center.
Ferentz pointed to last season's first CFP rankings when the top four teams were Mississippi State, Florida State, Auburn, and Ole Miss. Only Florida State maintained its positioning at season's end. Ohio State, the 2015 National Champion, was 16th in the initial poll.
"People spend a lot of time getting sucked into that conversation, not only with these polls, but the BCS stuff," said Ferentz. "They tend to get nailed pretty quickly soon thereafter. We're going to try to avoid both of those plights."
The Hawkeyes are focused on an Indiana team that is better than its 4-4 overall and 0-4 Big Ten record indicate. Iowa travels to Bloomington, Indiana, to face the Hoosiers on Saturday at 2:35 p.m. (CT) at Memorial Stadium.
"All you have to do is look at them in the Big Ten right now," said Ferentz. "They played Ohio State in their opening game and finished with a first and goal on the 6-yard line with a chance to score and tie the game. They came up short, but that was one heck of a football game.
"(On Oct. 24) they were trailing 28-26 at Michigan State (in the fourth quarter). They played a good game against an outstanding football team. They're coming off a bye week and we expect them to be rested and well-prepared."
Indiana brings a productive offense with a senior quarterback into the contest. Nate Sudfeld has completed 69.6 percent (55-of-79) of his passes for 772 yards over his past two games. He has eight touchdowns (seven passing, one rushing) and a 173.4 passing rating.
"(Sudfeld) knows how to operate that offense well," said Ferentz. "He can make all the throws you have to make and they have a good running team. Sometimes you play teams that are one dimensional, they're hardly that."
Alabama-Birmingham transfer running back Jordan Howard is second in the Big Ten with 787 yards, averaging 131.2 per game.
Defensively, Indiana's opponents have scored at least 22 points in all eight games. The Hoosiers have surrendered 34 or more points in five contests, and the unit is last in the Big Ten giving up north of 500 yards and 37.3 points per contest.
"They're a very aggressive unit," said Ferentz. "They have a lot of different looks and pressures and are not bashful about playing aggressively."
Indiana is sixth in the Big Ten, averaging 2.6 sacks per game and the team has forced 14 turnovers.
The Hawkeyes won't be back at full strength offensively with Jordan Canzeri expected to miss his second straight game with an ankle injury. The good news is LeShun Daniels, Jr., looked back to his early season form when he ran for 60 yards on 13 attempts with a touchdown in the 31-15 win over Maryland.
"We caught a break getting LeShun back," said Ferentz. "LeShun looked the way we hoped last Saturday, that was one of the positives of the game."
Ferentz was asked if he thought the late Norm Parker would love coaching this team.
"I go back to a quote he said in 2008; (Norm) looked at our team and said we have a lot of good players, it's not like we have a major superstar.
"If you talk about our defense, our whole football team, that's where we are. We have a bunch of guys that play well together. The collection of parts is probably more impressive than any one individual. That's the beauty of football."
It's a collection of players that has led Iowa to an 8-0 record for the second time in program history and a likely spot in the initial College Football Playoff rankings.
Saturday's game will be televised on ESPN with Mike Patrick, Ed Cunningham, and Dr. Jerry Punch on the call.