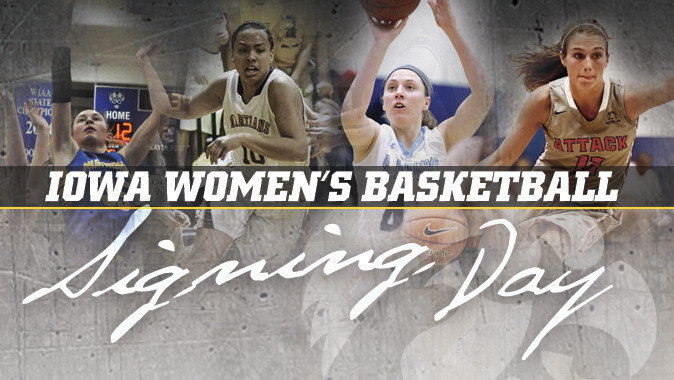 Nov. 11, 2015
IOWA CITY, Iowa — Bre Cera (Mukwonago, Wisconsin), Makenzie Meyer (Mason City, Iowa), Amanda Ollinger (Cedar Rapids, Iowa), and Alexis Sevillian (Goodrich, Michigan) have inked National Letters of Intent to play basketball at the University of Iowa, UI head coach Lisa Bluder announced Wednesday.
The class of four is ranked 18th nationally by Blue Star Basketball.
"We are excited about our 2016 recruiting class," Bluder said. "We have signed four tremendous athletes that also succeed academically and are all-around great young women. They will be wonderful additions to our Hawkeye family."
2016 Recruiting Class
Name
Pos.
Ht.
Hometown
Bre Cera
G
5-10
Mukwonago, Wisconsin
Makenzie Meyer
G
5-10
Mason City, Iowa
Amanda Ollinger
F
6-1
Cedar Rapids, Iowa
Alexis Sevillian
G
5-6
Goodrich, Michigan
Bre Cera
5-10, Guard
Mukwonago, Wisconsin ? Mukwonago High School
Cera, a 5-10 guard from Mukwonago High School in Mukwonago, Wisconsin, is a Blue Star Basketball Top 300 recruit, ranking as the 83rd-best prospect nationally.
The two-time first team all-state honoree has helped Mukwonago to a trio of top three conference finishes in her high school career, including a conference championship in the 2012-13 season. Cera guided her team to a state runner-up finish that year as a freshman, a semifinal appearance at state as a sophomore, and a regional berth as a junior. The two-time team captain has been named first team all-conference, first team all-area, and first team all-county in consecutive seasons.
Cera became Mukwonago's all-time leading scorer in February of her junior season. She averaged 17 points, five rebounds, three assists, and two steals per game that year. As a sophomore, Cera surpassed the 1,000 career points mark, was named Milwaukee Journal-Sentinel prep athlete of the week, and averaged 14 points, four rebounds, three assists, and two steals per game. She also owns the school record for points in a game with 37.
Bluder on Cera:
"Bre is a terrific defensive player, a hard worker, and unbelievable competitor. She makes her presence known on both ends of the court. Bre is a great athlete who has the versatility to play a variety of positions on the floor."
Cera: Why Iowa?
"I chose Iowa because it felt like home the very first time I visited. The coaches not only care about your basketball success, but also life outside of sports. The overall chemistry of the team and coaching staff is unmatched by any other program. Coach Bluder has led the program to consistent success year after year, which is an experience I want to be a part of. The style of play is a great fit and will allow for me to grow as a player. Playing in the Big Ten will allow for my family to be able to watch most of my games as well."
Makenzie Meyer
5-10, Guard
Mason City, Iowa ? Mason City High School
Meyer, a 5-10 guard from Mason City High School in Mason City, Iowa, is an ESPN HoopGurlz Top 100 recruit, ranking as the 83rd-best prospect nationally and the 23rd-best point guard.
The two-year captain, only the fifth player in Mason City history to join the 1,000 career point club, helped her team to state quarterfinals in 2015 and semifinals in 2013 at the 5A level, and a trio of conference co-championships. As a junior, Meyer averaged 20.5 points, 6.8 rebounds, 3.2 assists, and 2.3 steals per game. She was named first team all-conference, first team all-district, first team all-state, and to the Sports Spotlight Iowa High School Girls Basketball All State Team.
Meyer, the school record holder for points scored in a game with 36, garnered first team all-district, first team all-state, and Mason City Globe Gazette Player of the Year honors as a sophomore. The National Honors Society member also excels academically, earning Principle List and academic all-conference recognition.
Bluder on Meyer:
"Makenzie has the opportunity to play the point or the off guard for us. She controls the tempo, but also has a scorer's mentality. Makenzie was our first commitment from this class and got the ball rolling for us. She is a great player who has consistently competed at the highest level, not only within the state of Iowa, but nationally. We are excited to have another native Iowan in Makenzie."
Meyer: Why Iowa?
"Iowa has always been my dream school. I was raised a diehard Hawk fan. After I met the coaching staff and visited the campus, I was sold. It wasn't a tough decision."
Amanda Ollinger
6-1, Forward
Cedar Rapids, Iowa ? Linn-Mar High School
Ollinger, a 6-1 forward from Linn-Mar High School in Cedar Rapids, Iowa, is an ESPN HoopGurlz Top 100 recruit, ranking as the 90th-best player overall and 18th-best forward.
The two-time second team all-state and three-time all-metro and all-conference honoree most recently helped Linn-Mar to a runner-up conference finish, averaging 12.3 points, 4.8 rebounds, and 1.1 blocks per game as a junior. She also earned the team's top free throw percentage award, and is only the second player in program history to net six three-pointers in a game (joining Linn-Mar and Hawkeye women's basketball alum Jaime Printy).
As a sophomore, Ollinger averaged 18.6 points, 7.2 rebounds, and 2.3 blocks per game. She is also a standout volleyball player, who led the state in kills, kills per set, and kills in a season at the 5A level. The two-time team captain is a two-time all-state volleyball honoree.
Bluder on Ollinger:
"She is an all-around athlete that can play either forward position for us. Amanda is an excellent rebounder, but can also nail the open three. She runs the floor so well for a player her size and will beat people guarding her down the court or off the bounce. It's great to have another Iowa player on our roster, especially one from so close to Iowa City."
Ollinger: Why Iowa?
"I chose Iowa because it was the best fit for me. I loved the atmosphere of the campus and how close to home it was. I connected with the coaches immediately and wanted to be a part of the legacy that is Iowa basketball. There is a natural affinity to the Hawkeyes. There's no other place I could envision myself calling home."
Alexis Sevillian
5-6, Guard
Goodrich, Michigan ? Goodrich High School
Sevillian, a 5-6 guard from Goodrich High School in Goodrich, Michigan, is a Blue Star Basketball Top 300 recruit, ranking as the 91st-best prospect nationally. She has a familiar face on the Hawkeye roster in freshman Tania Davis, also a Goodrich graduate.
The two-time all-state, all-area, and all-conference honoree has guided Goodrich to three consecutive conference championships, two district and regional championships, and a state championship in 2013. As a junior, Sevillian started every game, registered 422 points, 94 rebounds, 62 steals, and 60 assists, and led her team to state semifinals and a 23-2 final record. She tallied 304 points in her sophomore season, helping Goodrich to a 22-3 mark.
Sevillian, a preseason all-state and Miss Michigan Basketball candidate, is a National Honor Society member. She also excels in track and field and was named an All-American in the shot put after placing third nationally in the event.
Bluder on Sevillian:
"It is unusual to sign two players from the same high school, but we did just that when Alexis committed to us from Goodrich High School, the same school that our current freshman Tania Davis attended. Alexis and Tania put on an amazing show in high school and they will continue to do that here at Iowa. Alexis is a great defensive player, who can also shoot the three. She has a tremendous work ethic and competes all the time. Her older sister, Keke, currently plays basketball at Penn State, so she knows Big Ten basketball."
Sevillian: Why Iowa?
"When I first visited campus, I instantly fell in love with the attentiveness of coaches and the friendliness of the girls on the team. Since then I have admired the family orientation of the program. I feel extremely comfortable, connected, and myself when I'm on campus or talking to a coach or teammate. Watching and following them over the last few years has been fun and exciting; I love their style of play. They're up tempo and a shooting team. There's evidence of chemistry on the court, and no selfishness. The team has had great success and that's something I want to be a part of. All the coaches are great, especially coach Bluder. She's so approachable, honest, and very understanding, but yet motherly. She has all the qualities I'm looking for in a coach. Academics play a part of my decision as well. I'll be majoring in pre-med to become a pediatrician. Iowa has one of the best medical programs, which was another plus of my choice to become a Hawkeye."