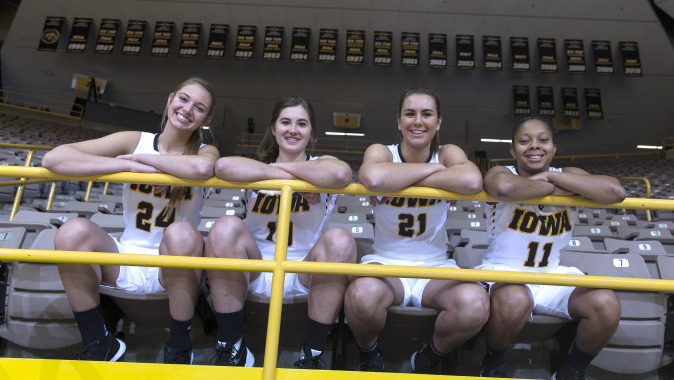 Nov. 11, 2015
Editor's Note: The following first appeared in the University of Iowa's Hawk Talk Daily, an e-newsletter that offers a daily look at the Iowa Hawkeyes, delivered free each morning to thousands of fans of the Hawkeyes worldwide. To receive daily news from the Iowa Hawkeyes, sign up HERE.
By JIL PRICE
IOWA CITY, Iowa — Playing in its first collegiate game in front of 3,614 fans inside Carver-Hawkeye Arena could have been nerve-wracking experience for a freshman class, but that was not the case for University of Iowa women's basketball newcomers Tania Davis, Megan Gustafson, Tagyn Larson, and Hannah Stewart.
The freshmen fit in well with their teammates and showed some of the reasons why they were the 17th-ranked recruiting class nationally in a 95-41 exhibition victory over Upper Iowa on Nov. 8.
"They responded well," 16th-year UI head coach Lisa Bluder said. "They were excited to put that uniform on for the first time, play in front of our fans, and feel what it's like to be an Iowa Hawkeye. It's good to give them that experience ahead of a real game, and they performed well."
Gustafson came off the bench and showed her athleticism inside on the block. The Point Wing, Wisconsin, native posted a double-double with 19 points and 11 rebounds in 20 minutes.
"What can you say about Megan coming out there in her first game and having a double-double? Said Bluder. "She's going to be going against bigger kids this year, but she certainly has the potential (to keep playing like this)."
Davis, who came off the bench to share point guard responsibilities with sophomore Whitney Jennings, put her speed and passing on display in 26 minutes. She scored 14 points, while adding a team-high seven assists and three steals.
"I thought Tania played well," Bluder said. "Her seven assists and some of the passes she made got an "oh wow" reaction from our fans. You never know when a freshman steps on the floor for the first time how they're going to react to the fans. She looked like a natural out there."
In nine minutes on the court, Stewart finished with four points and a rebound. The Minot, North Dakota, native shot 67 percent (2-for-3) from the floor and registered a block.
Larson, who logged 11 minutes on the court, scored two points and impressed Bluder with her shot selection. The Sioux Falls, South Dakota, native also added a block.
"Hannah ran the floor well, and that was exciting to see," Bluder said. "She got four points in the first half in transition, so that was fun.
"Tagyn did some good things as well. Every time she gets out there she's going to get more comfortable in her position. All the freshmen are going to be able to contribute at different times throughout this year."
Iowa hosts the Hawkeye Challenge inside Carver-Hawkeye Arena this weekend. The Hawkeyes take on North Dakota in season-opening action at 6 p.m. on Friday, before wrapping up tournament play against Tennessee Martin at 1 p.m. on Sunday.
"We're excited to get back to it," Bluder said. "You work so hard over the summer and you spend the whole month of October practicing, so it's exciting to get the ball rolling at home. I can't wait to see what happens with this team."