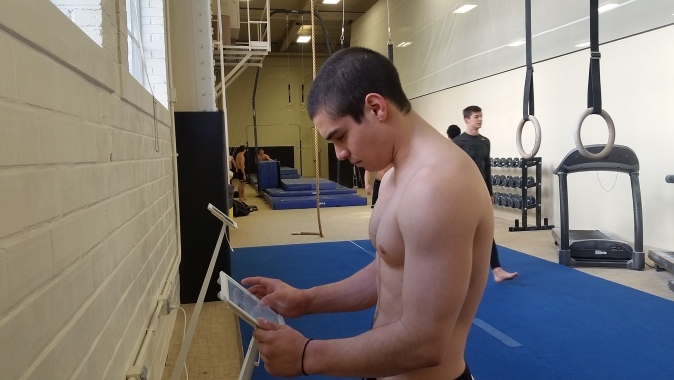 Nov. 11, 2015
Editor's Note: The following first appeared in the University of Iowa's Hawk Talk Daily, an e-newsletter that offers a daily look at the Iowa Hawkeyes, delivered free each morning to thousands of fans of the Hawkeyes worldwide. To receive daily news from the Iowa Hawkeyes, sign up HERE.
By JACK ROSSI
IOWA CITY, Iowa — To accompany its new training facility, the University of Iowa men's gymnastics team has added iPads to its training regimen.
Earlier this summer, the gymnastics team placed two iPads in its new facility. The idea, proposed by head coach JD Reive, has given gymnasts the ability to conveniently access a lot of information at once.
"The iPads hold all kinds of information," assistant coach Ben Ketelsen said. "It has our weekly training, our yearly training, men's gymnastics code of points, and depth chart. On a day-to-day basis the guys go to it for their individual assignments."
By using an electronic schedule, the team not only saves paper, but it allows for the coaches to instantly update the schedule.
"They help a lot," senior Matt Loochtan said. "It makes everything clear and concise. Everything is readily available. We're able to put notes in if we missed something in a routine and it will be on every iPad in the gym."
Transitioning to a more technologically-friendly method was easy for the coaches, who had already been using the devices on their own.
"We're Mac users," Ketelsen said. "JD and I were constantly using the Cloud to update training and update all of our communication. It made sense to have an iPad in the gym so the guys can use it like we do."
In addition to the standard iPads, Ketelsen keeps a mobile one with him in case somebody doesn't want to go across the gym to look up their assignment. The mobile iPad allows for users to record routines and access to YouTube, both of which are valuable resources when learning new skills.
"You can do slow-motion when taking videos (on the iPad)," Loochtan said. "You can video each other and see if you need to make any adjustments."
Ketelsen believes the new technology has made the gymnasts more accountable. Each Hawkeye knows exactly what they have to do to make the team better.
"We try to be as transparent and organized with our training as possible," Ketelsen said. "This is one way to put it all out there for them. We have minute-on-the-minute training laid out for the entire week. There are not a lot of programs doing that for their student-athletes.
"The next step in our facility is to brand it. We want some graphics and a locker room space so they can fill it with things they use every day."
The Hawkeyes will participate in the Black and Gold Intrasquad meet Dec. 5 inside the UI Field House (free admission), before opening their season at the Windy City Invitational on Jan. 17.