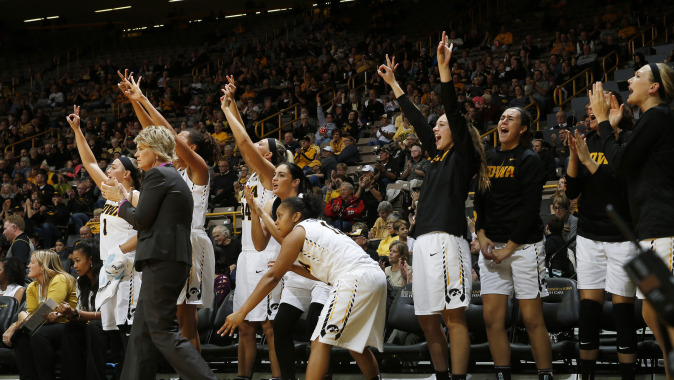 Nov. 17, 2015
Game Notes – Western Illinois

THE SETTING
The University of Iowa women's basketball team faces Western Illinois on Thursday, Nov. 19 at 7 p.m. (CT). The 23rd-ranked Hawkeyes are riding a 20-game win streak on Mediacom Court inside Carver-Hawkeye Arena.
Game 3 | Western Illinois (2-0) at #23 Iowa (2-0)
Date:
Thursday, Nov. 17 | 7 p.m. (CT)
Location:
Iowa City, Iowa | Carver-Hawkeye Arena
Radio:
1360 KMJM (Cedar Rapids)
Live Coverage:
GameTracker | Twitter Game Updates
All-Time Series:
Iowa leads, 7-2
GAME COVERAGE
? Brent Balbinot and Aaron Blau will call the action Thursday night.
? Balbinot is in his 12th season as Iowa's play-by-play voice.
? Blau, a former assistant director of athletic communications and women's basketball contact at Iowa, makes his debut as color analyst for the Hawkeyes.
?Fans can listen live on 1360 AM KMJM or online at hawkeyesports.com.
? A live video stream and live stats are also available online at hawkeyesports.com.
A LOOK AT THE LEATHERNECKS
? Western Illinois owns a 2-0 record, posting wins over Central Methodist (108-46) and SIU-Edwardsville (78-74).
? The Leathernecks were picked to finish fifth in the Summit League Preseason Poll. Senior guard Michelle Maher was a preseason second team all-conference selection. She averaged 9.2 points and 4.1 assists per game in 2014-15.
? As a team, Western Illinois is averaging 93 points per game. Four Leathernecks are averaging double figures in scoring, including freshman Taylor Higginbotham (21.0), sophomore Michelle Farrow (18.5), Maher (15.0), and senior Sophie Reichelt (12.5).
? The Leathernecks, comprised of one freshman, three sophomores, five juniors, and four seniors, are led by fifth-year head coach JD Gravina.
SERIES HISTORY
? Iowa leads the all-time series, 7-2.
? The Hawkeyes have won five consecutive games against the Leathernecks beginning in the 1981-82 season.
? The teams last played in 2011-12 in Iowa City, Iowa. The Hawkeyes won the game, 98-45.
? Western Illinois last defeated Iowa in 1980-81 in Macomb, Illinois, 83-81.
HAWKEYE CHALLENGE RUNDOWN
? Iowa won its annual Hawkeye Challenge, posting a pair of opening-weekend wins over North Dakota, 83-61, and UT Martin, 62-56.
? Junior Ally Disterhoft (MVP), senior Kali Peschel, and freshman Megan Gustafson were named to the all-tournament team.
? Iowa has gone undefeated in Hawkeye Challenge action since 2011, when the Hawkeyes fell to UNLV, 69-59.
? All 14 Hawkeyes logged minutes in opening-weekend action, contributing to the team's 2-0 start.
? The Hawkeye Challenge began in 1985, and Iowa has included the event in all but two seasons (1996, 2012) since.
? Iowa is now 51-7 all-time in the Hawkeye Challenge.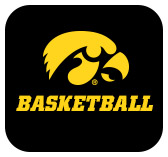 DISTERHOFT MAKES HISTORY
Junior Ally Disterhoft became the 34th player in Iowa women's basketball history to reach the 1,000 career points mark. The Iowa City, Iowa, native scored 20 points in season-opening action against North Dakota and surpassed the 1,000-point threshold with 11 points against UT Martin. The guard ranks 34th all-time in scoring at Iowa with 1,009 total points. Disterhoft, who is averaging 15.5 points per game, is 15 points from Tiffany Gooden, who is 33rd all-time in scoring with 1,024 career points (1994-98).
BIG START FOR A SENIOR
? After two games, senior Kali Peschel is nearly averaging a double-double statistically (12 points and 9.5 rebounds per game).
? Peschel got off to a hot start in the season-opener, tallying her second career double-double (13 points, 10 rebounds) with 52 seconds left to play in the first half. She ended the game with 17 points and 14 rebounds.
? The 6-1 forward owns a .471 field goal percentage (8-17), .400 3-point field goal percentage (4-10), and 1.000 free throw percentage (4-4).
? Peschel was named to the Hawkeye Challenge all-tournament team for the second time in her career after helping Iowa accomplish a tournament championship.
FRESHMEN IMPRESS IN DEBUT
? Freshman Megan Gustafson was named to the Hawkeye Challenge all-tournament team for her role in Iowa's 2-0 start.
? The Port Wing, Wisconsin, native came off the bench to record 12 points and seven rebounds in 23 minutes played in Iowa's season-opening win over North Dakota.
? The center scored in double figures for the second consecutive game with 10 points against UT Martin in 17 minutes played. Gustafson scored eight of her points in the second half.
? Freshman Tania Davis leads the Hawkeyes with eight assists after two games played in 2015-16.
? The Goodrich, Michigan, native provided a spark off the bench in Iowa's win over UT Martin. She reached double figures with 12 points for the first time in her collegiate career and added six rebounds.
? The point guard was steady with the offense, dishing out four assists in each Hawkeye Challenge game.
HOME SWEET HOME
With two wins opening weekend, the Hawkeyes extended their home win streak to 20 consecutive games. Thirteen home contests remain on the 2015-16 schedule, including nine against Big Ten opponents.
Iowa was one of 13 teams nationally to finish undefeated on its home court with an 18-0 mark last season, a program record for wins at home in a single season.
HAWKEYES REMAIN IN THE RANKINGS
Iowa maintained its preseason rank of No. 23 in the week two release of the USA Today Coaches Poll. The Hawkeyes continue to receive votes (10) in the Associated Press Top 25 Poll. The Hawkeyes, who appeared in the rankings each week in 2014-15, finished the season ranked 11th in the USA Today Coaches Poll and 18th in the AP Top 25 Poll.
Four Big Ten teams are included in the USA Today's Top 25, including Maryland (No. 6), Ohio State (T-No. 14), Northwestern (No. 22), and Iowa (No. 23). The Big Ten also has four representatives in the AP Top 25 Poll in No. 7 Ohio State, No. 8 Maryland, No. 20 Northwestern, and No. 23 Michigan State.
HAWKEYES SIGN 4 FOR 2016
? Bre Cera (Mukwonago, Wisconsin), Makenzie Meyer (Mason City, Iowa), Amanda Ollinger (Cedar Rapids, Iowa), and Alexis Sevillian (Goodrich, Michigan) inked National Letters of Intent to play basketball at Iowa in 2016 on Nov. 11.
? The class of four is ranked 18th nationally by Blue Star Basketball.
? Meyer, a 5-10 guard from Mason City High School in Mason City, Iowa, is an ESPN HoopGurlz Top 100 recruit, ranking as the 83rd-best prospect nationally and the 23rd-best point guard.
? Ollinger, a 6-1 forward from Linn-Mar High School in Cedar Rapids, Iowa, is an ESPN HoopGurlz Top 100 recruit, ranking as the 90th-best player overall and 18th-best forward.
? Cera, a 5-10 guard from Mukwonago High School in Mukwonago, Wisconsin, is a Blue Star Basketball Top 300 recruit, ranking as the 83rd-best prospect nationally.
? Sevillian, a 5-6 guard from Goodrich High School in Goodrich, Michigan, is a Blue Star Basketball Top 300 recruit, ranking as the 91st-best prospect nationally. She has a familiar face on the Hawkeye roster in freshman Tania Davis, also a Goodrich graduate.
SEASON TICKETS
Season tickets are on sale for the 2015-16 Iowa women's basketball season. General public season tickets are $100. UI faculty/staff can purchase tickets for $80. Senior tickets (50 and older) are also $80, while youth season tickets (18 or younger) are $25. UI students are admitted free to women's basketball games.
Tickets are available by visiting the ticket office at Carver-Hawkeye Arena, calling 1-800-IA-HAWKS, or online at hawkeyesports.com.
ON DECK
The Hawkeyes begin a five-game road swing with a 2 p.m. (CT) contest at UNI Sunday. Iowa heads to Austin, Texas, the following week for a Lone Star Showcase action, Nov. 26-28. The team plays three games in three days, challenging Wright State, George Washington, and Houston. Iowa wraps up its road stint with a B1G/ACC Challenge contest at Virginia on Dec. 2.