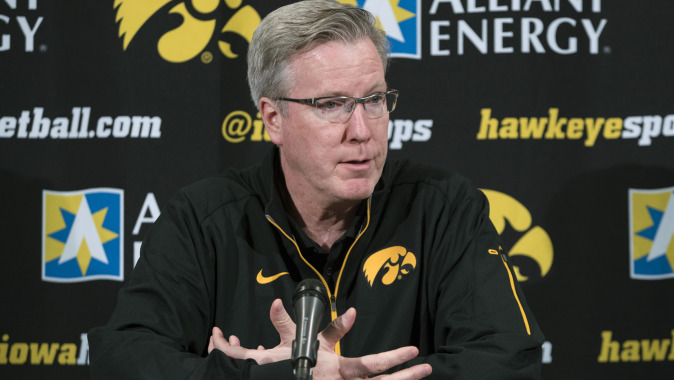 Nov. 17, 2015
By JAMES ALLAN
hawkeyesports.com
IOWA CITY, Iowa — Thursday's Gavitt Games matchup at Marquette will provide the University of Iowa men's basketball team with an early-season barometer.
"We're playing a meaningful game early in the season against another conference and style of play," UI head coach Fran McCaffery said during a Tuesday teleconference. "They're a well-respected program with a great coach and venue.
"We'll see where we are, what we need to work on, and what we're doing well."
Marquette has split its two games to open the regular season, falling 83-80 to Belmont in its season opener before downing IUPUI, 75-71, in overtime Nov. 16. The Golden Eagles have four players averaging in double figure with Henry Ellenson leading the way at 19.5 points per contest.
"He's a special player," said McCaffery. "Very few guys have the ball-handling and passing skills he has. He is a tremendous rebounder and can score from anywhere, but what separates him is his ability to push it on the break and essentially become the point guard at that size and stature. He's a handful."
McCaffery sees a Golden Eagle roster with a number of parts that could stretch Iowa's defense.
"They're a tough team to defend," he said. "They have two horses inside, and Ellenson's ability to play on the perimeter. They have some athletes, tweeners, guys that can push it, and big horses inside. They're going to stretch our defense in a lot of ways."
Thursday's game is Iowa's first road test after playing its first four games (two exhibitions and two regular season games) on Mediacom Court. McCaffery will lean on his veterans; a group that helped the Hawkeyes go 7-3 in true road games a season ago.
"We played well on the road last year and those guys were right in the middle of it, but two guys that were playing well aren't here," said McCaffery. "It puts more pressure on the returnees and the young guys.
"Our team, collectively, is a group that knows what we do well and individually, what each guy does well. I don't think you'll see guys trying to do too much and that's what typically happens on the road.
"The crowd gets into it and guys try to do too much. That's where experience will come in and having the experienced guys on the floor with the young guys will help, too."
McCaffery is optimistic junior guard Peter Jok will return to action in Milwaukee. Jok missed the Nov. 15 game against Coppin State after suffering an ankle injury in the season opener against Gardner-Webb.
"He's still a little sore, but he got some shots up (Monday) on his off day on his own," said McCaffery. "We'll probably go easy on him in practice (today), and barring in setbacks, he'll play."
Thursday's game will tip off at 8:15 p.m. (CT) from the BMO Harris Bradley Center. It will be televised on FSI with Brian Anderson and Stephen Bardo on the call.