Nov. 18, 2015
IOWA CITY, Iowa — University of Iowa linebackers coach Jim Reid has coached a number of talented athletes during his four decades in the game, but never a collective group who are as unselfish as this year's linebacker unit.
"I don't know if I have ever been around a group that has been more together and unselfish that this group," said Reid after Wednesday's practice at Kinnick Stadium. "From the youngest to the oldest player, they're an amazing group of young men.
"I've always felt that the best coaches are the guys who coach each other; this group epitomizes that."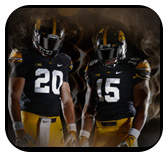 The unit's attitude and work ethic makes Reid's job an enjoyable one.
"It's a pleasure to meet with them every day," Reid said. "I love practice because they love practice and being around each other. They're playing good, sound, fundamental football. They're proud Hawkeyes."
Josey Jewell, Cole Fisher, and Ben Niemann stuff the stat sheets every week, but it's the non-starters who help boost this unit's growth and development.
"Travis Perry helps Josey every step of the way; in the meeting rooms and on the field," said Reid. "Bo Bower was a starter last year and does nothing in our meetings other than be positive and help Ben (Niemann). That's the unselfishness that allows you to reach another level of performance."
Iowa's defensive numbers have shined this season, ranking ninth in the country in rushing defense (104.6), 15th in total defense (314.2), 16th in scoring defense (18.4), and 30th in sacks (2.6) and red-zone defense (.783).
Jewell has registered double-digit tackles in four of the last six games to pace the Hawkeye tacklers. Reid said that Jewell has taken his game to another level this season.
"Good vision, anticipation, and high football IQ has made Josey a step faster," said Reid. "When you learn the game it allows you to play faster."
The Hawkeyes have been preparing for their next opponent, Purdue, this week. The Boilermakers average 353 yards of total offense, including 129 yards on the ground per game. Reid said Purdue has a physical offensive line, good skill and a quarterback who can hurt you a number of different ways.
"Purdue can put points on the board if you're sloppy and don't play good-hard football, because that's what they're playing right now," Reid said. "They're a lot of run-and-gun, and if you start leaning where you're not supposed to, they'll run it right up the middle at you. You have to remain focused on your keys and reads, and know the down and distances."
Reid said that the effort and execution in practice has been there and the team is focused on closing out the home portion of the schedule on a positive note.
"The guys are excited to play this game just as they've been excited to play in practice the last two months," said Reid.
Fisher and Perry will be two of 21 seniors honored before Saturday's game. Kickoff is set for 11 a.m. (CT) at Kinnick Stadium. Tickets are available by calling 1-800-IA-HAWKS, purchasing online at hawkeyesports.com, or at the UI Ticket Office located at Carver-Hawkeye Arena.