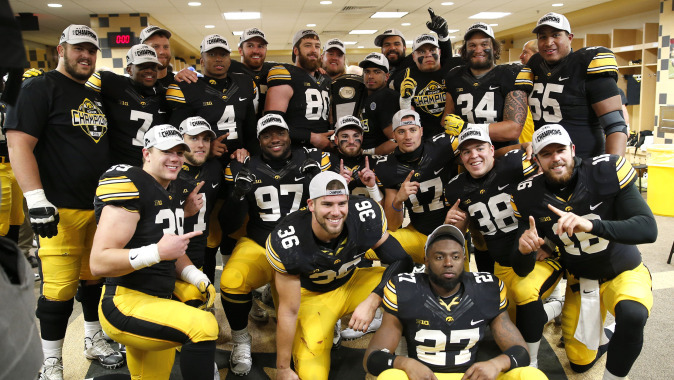 Nov. 22, 2015
Editor's Note: The following first appeared in the University of Iowa's Hawk Talk Daily, an e-newsletter that offers a daily look at the Iowa Hawkeyes, delivered free each morning to thousands of fans of the Hawkeyes worldwide. To receive daily news from the Iowa Hawkeyes, sign up HERE.
By DARREN MILLER
hawkeyesports.com
IOWA CITY, Iowa — A lot was riding on the outcome of a Senior Day football battle between the University of Iowa and Purdue on Saturday.
How fitting that a senior used the Hawkeyes' last official offensive play to put an exclamation point on a 40-20 win and secure the Big Ten Conference West Division title.
Once he broke through the line on his way to a 42-yard touchdown, UI senior running back Jordan Canzeri closed his eyes. His body was numb from spending more than three hours in 27 degree weather and when he crossed the goal line he refused to turn around in fear of seeing a penalty flag.
"Everything paused," Canzeri said.
And at the same time, everything became so clear: an 11-0 start to a season for the first time in school history, a trip to the Big Ten Conference championship game for the first time in school history, and a 7-0 record inside Kinnick Stadium for the second time in school history.
"It was an amazing feeling to finish off (my home career) like that," Canzeri said. "It couldn't go any better. I know as soon as I walk out of the gates of Kinnick it's going to finally hit me and it is something I will never forget. All the guys I am here with, the amount of work we put in, and it is now coming to this point, accomplishing exactly what we wanted to achieve."
Iowa's victory didn't come without overcoming a rough patch after jumping to a 20-0 lead. The Boilermakers used a short field to score their first touchdown, they turned an Iowa turnover into three points to cut the Hawkeye lead to 20-10 at halftime. After getting a defensive stop, Purdue tacked on another field goal to make it a one-possession game at 20-13. The Boilermakers rode momentum to Iowa's 34-yard line where they stalled and punted to the Hawkeye 9.
"A lot of little things along the way," UI head coach Kirk Ferentz said were needed for a momentum swing. A 15-yard pass completion to Henry Krieger-Coble, a 14-yard completion to George Kittle, a third-and-10 rush for 11 yards by quarterback C.J. Beathard, an 8-yard pass to Derrick Mitchell, Jr., and a 35-yard scoring strike to Kittle.
Eight plays, 91 yards: Iowa 27, Purdue 13.
| | |
| --- | --- |
| | "It is so awesome being on a team like this with guys that are so close. We stay positive no matter what comes our way. When we have success, we continue to work hard for more." |
"That was really big," Ferentz said. "That drive put us back where we needed to be."
It certainly helped put Iowa back on top of the West Division in the Big Ten Conference.
"I am going to remember coming out and accomplishing our goal," said Krieger-Coble, a senior who caught four passes for 76 yards and a touchdown. "We wanted to get it done (Saturday) and we accomplished that."
Beathard called that scoring drive into the wind a "team deal."
"We have done a good job as a team putting games together and playing tough as a team," Beathard said.
This team saluted a vital collection of 21 seniors prior to kickoff. Ferentz stresses that in order to win championships, seniors need to play their best.
"They're doing that," he added.
On this day, it was Canzeri with 95 rushing yards. Krieger-Coble and Tevaun Smith with four receptions apiece. The kicking and punting of Marshall Koehn and Dillon Kidd. Safety Jordan Lomax with 13 tackles, a forced fumble, and a pass breakup. Linebacker Cole Fisher and defensive end Nate Meier combining for 19 tackles. The list goes on…and so does the Hawkeye win streak.
So when things get shaky during the course of a game, the leaders on the team take the bull by the horns. That happened once again for the Hawkeyes against Purdue.
"We had to focus and get back to details and playing correct Iowa football," Lomax said. "Fundamental, sound, physical, tough, and playing with great discipline. Once we do that, nobody can create big plays on us. As long as we stay within our realm of playing Iowa football we should be fine."
One of the senior leaders is Canzeri, who finished the game with the aforementioned 42-yard scoring sprint. Since there wasn't an opposing white jersey close to him, there was one thought that crossed his mind before he crossed the goal line.
"Relationships," he said. "It is so awesome being on a team like this with guys that are so close. We stay positive no matter what comes our way. When we have success, we continue to work hard for more."
There will be at least three more opportunities for the Hawkeyes and their seniors: Friday against Nebraska in Lincoln, the Big Ten Championship on Dec. 5 in Indianapolis, and at least one bowl game to be determined.
"We're still going to stay focused, humble, and hungry," Canzeri said. "We won't take our foot off the gas."