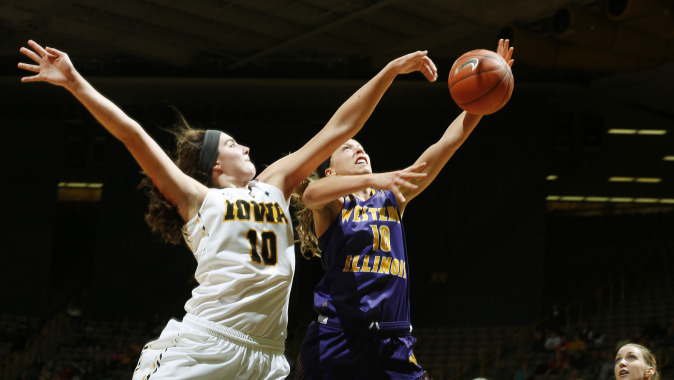 Nov. 26, 2015
Editor's Note: The following first appeared in the University of Iowa's Hawk Talk Daily, an e-newsletter that offers a daily look at the Iowa Hawkeyes, delivered free each morning to thousands of fans of the Hawkeyes worldwide. To receive daily news from the Iowa Hawkeyes, sign up HERE.
By JIL PRICE
IOWA CITY, Iowa — With the graduation of three-year starting center Bethany Doolittle, the University of Iowa women's basketball team had big shoes to fill in the paint.
UI head coach Lisa Bluder called on sophomore Chase Coley and freshman Megan Gustafson to fill the void and has been impressed with each player's early success.
"The consistency is a surprise," Bluder said. "We felt we had talent in Chase and Megan, but their consistency has been outstanding in these first four games. I like to have two different post players."
The dynamic duo has been a consistent force for Iowa offensively. Gustafson leads the Hawkeyes with a 73.1 field goal percentage, while Coley is shooting 50 percent from the floor. Both players average 5.3 rebounds per game. Together they have helped the Hawkeyes outrebound opponents by an average of 10 per contest.
Coley, an agile, crafty player with shooting range, is coming off the best game of her collegiate career. She led Iowa to a road win at Northern Iowa, posting her first career double-double with career best outputs in points (16), rebounds (14), assists (five), and blocks (blocks).
Gustafson, a physical force on the block, has been nothing short of impressive. She has scored in double figures in three of four collegiate games, was named to the Hawkeye Challenge All-Tournament team during the opening weekend, and netted 23 points in Iowa's overtime win against Western Illinois.
Both players have had individual successes, but both 6-3 centers credited each other for helping to reach their potential in game settings.
"I love seeing Megan do well," Coley said. "When she goes out there and makes moves, she does that to me in practice. She has made me better, and I've made her better, so seeing her out there having success is something we've done together.
"Megan is stronger than me, you can visibly see that. Every day in practice, I know she's going to push me and I am learning to hold my ground. It's a constant battle, and it makes us both better."
"It's fun playing with Chase," Gustafson said. "We play the same position, but we're different. She's agile, quick, and likes to reverse under the basket, while I like to stay on the block to be physical. Chase pushes me to be quicker on my feet and to play better defense, and I help her get stronger.
"Going against each other has benefitted both of us so far this season and it's going to continue to help us in our games at the Lone Star Showcase this week."
The Hawkeyes, who are amidst a five-game road swing, face Wright State, No. 20 George Washington, and Houston in Lone Star Showcase action from Nov. 26-28, in Austin, Texas.
Fans can watch each game on YouTube, listen live on Hawkeye All-Access, and follow live stats. Links are available on the women's basketball schedule page at hawkeyesports.com.