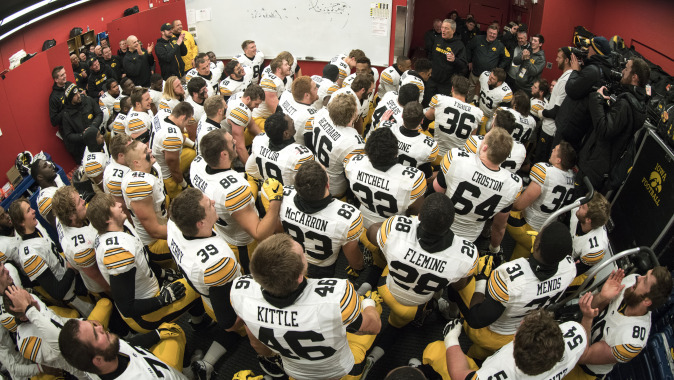 Nov. 28, 2015
Editor's Note: The following first appeared in the University of Iowa's Hawk Talk Daily, an e-newsletter that offers a daily look at the Iowa Hawkeyes, delivered free each morning to thousands of fans of the Hawkeyes worldwide. To receive daily news from the Iowa Hawkeyes, sign up HERE.
By DARREN MILLER
hawkeyesports.com
LINCOLN, Neb. — It's not that the University of Iowa hasn't had undefeated regular seasons in football, it's just that the Hawkeyes haven't had one since four years after the Allies and Germany signed the original armistice.
The year was 1922 when Iowa finished 7-0 after doing the same in 1921.
Warren Harding was president, a gallon of gas cost 25 cents, and the top teams in college football were Princeton, Cornell, and California.
So what's not to like about the 2015 Hawkeye team that is 12-for-12 this fall and heading to the Big Ten Championship on Dec. 5 in Indianapolis?
"I'm not sure what to say because I have never been around a team that has been 12-0," UI head coach Kirk Ferentz said.
Whatever Ferentz said to his student-athletes in January and in every meeting since is pure, motivational gold. But just when you thought everyone loved an underdog or a Cinderella story, some in the national media have groaned and squeaked, maybe because they're forced to cover one of the biggest stories in college football in late November in places like Iowa City, Iowa, or Lincoln, Nebraska, rather than Los Angeles or Miami.
"It is kind of entertaining and interesting," Ferentz said. "I don't know what we did. All we're doing is playing. It seems to me if you watch our team play, like football, and like camaraderie and teamwork…when you get teams like that, maybe that's when you get a chance to do something you're not supposed to do. I don't know why people wouldn't like that."
Perhaps they feel duped by their preseason prognostications that placed the Hawkeyes fourth in the Big Ten West, rather than third in America. Maybe they feel hoodwinked because they haven't researched strength of schedule as well as they could.
"We are 12-0 and we didn't plan our schedule," junior quarterback C.J. Beathard said. "We line up and face a different opponent each week and all we can go out and do is win each game and we have done that so far.
"Those talk show guys can say we're overrated, but were 12-0 and that's all you can say. They didn't expect us to win half the games we have won this season, but we have done just that."
| | |
| --- | --- |
| | "We're not trying to be pretty, we're just trying to be productive. Football is not gymnastics, there are style points in gymnastics. Here it's about having one more point than your opponent and trying to do it week after week. These guys are 12-for-12, they can't do any better than that." |
Not many remember (or grumbled) that in 1922 the Hawkeyes opened the season with shutout wins against Knox College and Yale. Eat your heart out, Colin Cowherd.
On a day when many were enjoying Thanksgiving leftovers, Ferentz showed that his current band of mostly two and three-star brothers were not leftovers at all, but hand-selected pieces of his Hawkeye master plan.
They continue to win with special players making special plays on 12 different game days. Pick an MVP from Iowa's 28-20 win over Nebraska in the Hy-Vee Heroes Game on Black (and Gold) Friday.
Was it senior running back Jordan Canzeri, who rushed for 101 yards and two touchdowns on his first three carries of the second half?
"We're a collective team, we're a unit, and we're solid because of how close we are and how willing we are to fight," Canzeri said. "We have all 11 guys working together rather than having a few individuals. It proves that hard work can get you somewhere. There is talk of us not having the five-star recruits, but when you have a whole team committed to one goal, working toward the same thing, and with everyone on the same page, things like this can happen."
Was the MVP freshman "Next Man In" defensive end Parker Hesse, whose 4-yard interception for a touchdown in the second quarter gave the Hawkeye the lead for good?
"Football is a team game and we epitomize that this year," Hesse said. "The way we handle ourselves, sometimes it is the offense that dominates, sometimes it's the defense. We have injuries and we have guys go down, but we keep chugging, play complementary football, and get the job done and get the W. That's all that matters."
Perhaps nothing says Iowa football more than whichever Bash Brother is in the game at fullback. Chances are he will not carry the ball. Or catch it. But he prides himself on racing full speed ahead and knocking the stuffing out of anything in his path.
"You buy into the team," said fullback Macon Plewa, who, in 815 plays this season, has two receptions and one rushing attempt. "Any role on this team is a great one, whether it is playing special teams or playing fullback. It's easy to buy in because we have a great thing going, great guys you want to play for, and the best coaching staff around. What else do you want?"
So if people want to nitpick about a three-point win here or a four-point win there, go right ahead. You won't offend Ferentz or his undefeated Hawkeyes.
"We're not trying to be pretty, we're just trying to be productive," Ferentz said. "Football is not gymnastics, there are style points in gymnastics. Here it's about having one more point than your opponent and trying to do it week after week. These guys are 12-for-12, they can't do any better than that."