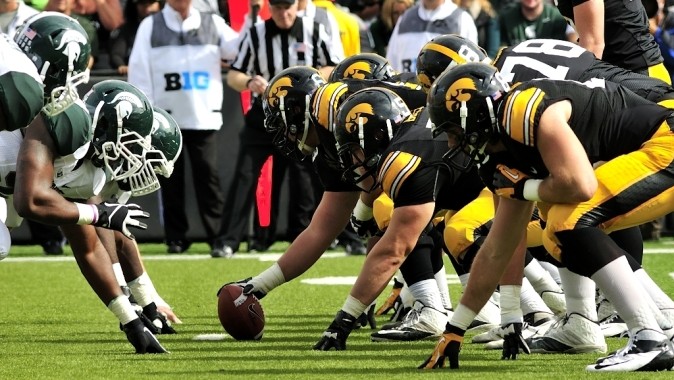 Dec. 1, 2015
Editor's Note: The following first appeared in the University of Iowa's Hawk Talk Daily, an e-newsletter that offers a daily look at the Iowa Hawkeyes, delivered free each morning to thousands of fans of the Hawkeyes worldwide. To receive daily news from the Iowa Hawkeyes, sign up HERE.
By MATT WEITZEL
hawkeyesports.com
IOWA CITY, Iowa — When the University of Iowa and Michigan State football teams meet Saturday for the Big Ten Championship, you can expect two teams who have mutual respect for each other to fight it out for a full 60 minutes.
Senior Austin Blythe, who has started 43 consecutive games on the offensive line, said these two teams embrace playing physical football.
"Both programs understand what they bring to the table and that it will be a 60-minute fight, or more if needed," said Blythe. "We pride ourselves in being physical and tough, and we expect that out of Michigan State as well. We're going to give it our best shot."
Four of the last seven meetings between the Hawkeyes and Spartans since 2007 have been decided by single digits, including two games won by Iowa in double overtime (2007 and 2012).
Both teams average nearly the same numbers offensively and defensively this season. Iowa's offense averages 404 yards, while Michigan State averages 399 yards. The Hawkeye defense yields 331 yards per contest, while the Spartans allow 349 yards.
"They do a lot of the same stuff we do," said quarterback C.J. Beathard. "They're a pro-style offense with lots of similarities to us in the offensive game."
Beathard, who is undefeated in 13 starts, added that he has been impressed with what he has seen of the Michigan State secondary on film.
"They have a lot of talent back there," Beathard said. "We know that we need to play our best football and play tough in order to beat them. We have a lot of respect for them. It's going to be a battle."
Saturday will be Iowa's first trip to the Big Ten Championship game, which originated in 2011, while this will be Michigan State's third visit to Indianapolis. Despite being a new experience for the Hawkeye players and staff, Blythe said the team will maintain the same mindset that has been successful throughout the regular season.
"We're going to prepare this week like we have every other week to prepare to face a good football team," said Blythe. "We will need to focus on doing our job and executing to the best of our ability."
Senior linebacker Cole Fisher calls the Spartans a dangerous team, who has been clicking all season. The team's second-leading tackler with 103 stops said he has been impressed with Spartan quarterback Connor Cook.
"He knows the offense inside-an- out," Fisher said. "He's accurate with his throws and will surprise you with his feet if you give him space."
Cook had some of the same adjectives to describe Iowa's signal caller on Monday.
"(C.J.'s) accurate and has a lot of confidence in his throws," Cook said. "He looks like a great leader, who rallies the troops. He doesn't make a lot of mistakes, protects the football, and makes big time throws in big time moments when they need them."
The right to hoist the Amos Alonzo Stagg Championship Trophy begins at 7:17 p.m. (CT) at Lucas Oil Stadium. The game is sold out and will be televised to a national audience on FOX.