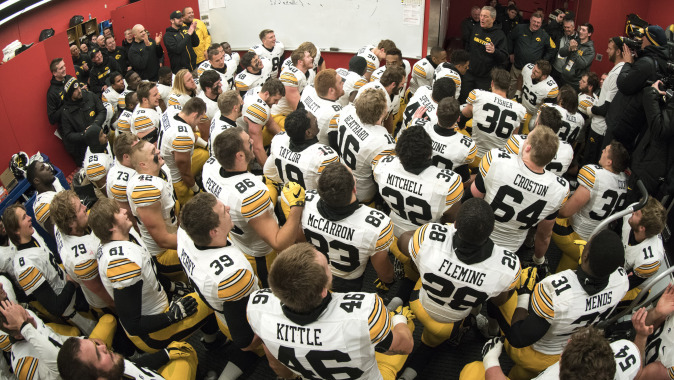 Dec. 1, 2015
IOWA CITY, Iowa — University of Iowa head coach Kirk Ferentz has been named the Dave McClain and Hayes-Schembechler Big Ten Conference Coach of the Year. The announcement was made Tuesday by the Big Ten Conference, along with league offensive individual award winners and the all-conference offensive teams.
Iowa senior offensive lineman Jordan Walsh was named first team All-Big Ten by league coaches. Junior quarterback C.J. Beathard and senior center Austin Blythe earned second team honors by both coaches and league media, while Walsh was on the media's second team. Senior running back Jordan Canzeri earned third team recognition from both coaches and media.
Junior wide receiver Matt VandeBerg and sophomore offensive lineman Sean Welsh received honorable mention recognition from both coaches and media.
"I'm honored to be recognized in a conference that has outstanding coaches throughout the league. The success of our season is the result of a lot of hard work by our entire coaching staff and every member of our football program," said Ferentz. "The Big Ten Conference has forever featured outstanding football coaches; I have great respect for the head coaches in the Big Ten and appreciate their acknowledgement of our accomplishments. I share this recognition with our staff, our players, and our great fans. I am grateful to the University of Iowa for providing the necessary support for our success."
The Hayes-Schembechler Coach of the Year voted on by Big Ten head football coaches and is named in honor of former Ohio State coach Woody Hayes and former Michigan coach Bo Schembechler. The Dave McClain Award is named in honor of Wisconsin's former head coach and is voted on by media representatives.
Ferentz previously earned Big Ten Coach of the Year accolades in 2002, 2004 and 2009, and becomes only the second mentor in Big Ten history to be honored in four or more seasons, joining Michigan's Bo Schembechler, who was honored in six different seasons.
In his 17th season at Iowa, Ferentz is tied for seventh in Big Ten victories (76) and ranks eighth in total wins (127). Ferentz has led Iowa to a school-record 12 victories this season, the fifth time the Hawkeyes have recorded 10 or more wins under his leadership.
Walsh, a native of Glendale Heights, Illinois (Glenbard West HS), has also been a constant for Iowa's offensive line. Walsh has started all 12 games at right guard and has 35 career starts.
Beathard, a native of Franklin, Tennessee (Battle Ground Academy), is 13-0 as Iowa's starting quarterback. This season he has completed 184-of-303 attempts for 2,354 yards and 14 touchdowns, with just three interceptions. He has also rushed for 285 yards and six touchdowns.
Blythe, a native of Williamsburg, has started 47 games for the Hawkeyes over the past four seasons, including 43 consecutive games. He also earned second team honors a year ago and was honorable mention in 2013.
Canzeri, from Troy, New York (Troy HS), leads Iowa in rushing and ranks fifth in the league with 964 yards and 12 touchdowns. He has totaled 2,053 career rushing yards, becoming just the 14th Hawkeye to rush for over 2,000 yards. He has surpassed 100 rushing yards in five games this season, including a career-best 256 yards in a win over Illinois.
VandeBerg, from Brandon, South Dakota (Brandon Valley HS), had a break-out season with 59 receptions for 625 yards and three touchdowns. His 59 catches rank seventh best in the Big Ten this year. He has 940 career receiving yards in three seasons.
Welsh, a native of Springboro, Ohio (Springboro HS), earned Freshman All-Big Ten recognition a year ago. He has started all 12 games in 2015 and has 21 starts in his two seasons. Welsh moved from his normal left guard position to start at right tackle in Iowa's impressive win at Northwestern.
Iowa (12-0, 8-0) has won a school-record 12 games this season, and plays Michigan State on Saturday in the Big Ten Conference title game. Kickoff is at 7:17 p.m. (CT) on FOX from Lucas Oil Stadium in Indianapolis.