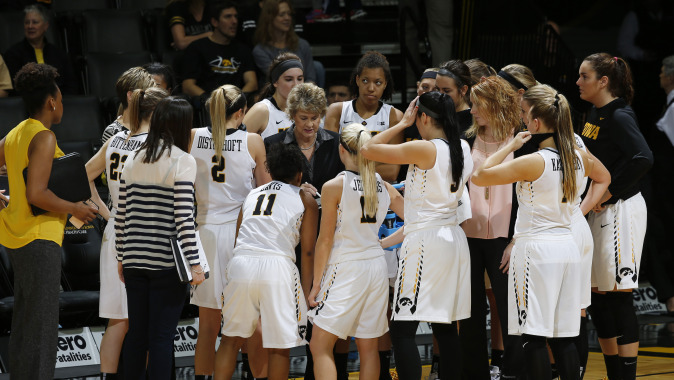 Dec. 2, 2015
Editor's Note: The following first appeared in the University of Iowa's Hawk Talk Daily, an e-newsletter that offers a daily look at the Iowa Hawkeyes, delivered free each morning to thousands of fans of the Hawkeyes worldwide. To receive daily news from the Iowa Hawkeyes, sign up HERE.
By JIL PRICE
IOWA CITY, Iowa — Head coach Lisa Bluder and the 24th-ranked University of Iowa women's basketball team have learned a lot about themselves through seven games this season.
The young squad, made up of four freshmen, four sophomores, three juniors, and three seniors, is working through a few early kinks, but is having early success, posting a 6-1 record heading into the fourth week of the regular season.
"With a young team, you're going to have some lumps and growing pains," Bluder said. "We have to learn to play together, trust the offense, and not force things. I know our team wants to play like that, we just need to get the experience to back that up. We will get there."
"There is still a lot of work to be done," said senior Kali Peschel. "It's a good thing for us that there is room for improvement. We haven't peaked yet and there is a lot to look forward to for this team."
The Hawkeyes got off to a 5-0 start for the first time since the 2010-11 season, a stretch that included the team's first road win of the year at Northern Iowa. Iowa topped the Panthers by 15 points, the largest margin of victory for the team in Cedar Falls since 1978-79.
Iowa continued its road swing at the Lone Star Showcase, playing three games in three days against strong opponents in Wright State, then-ranked No. 23 George Washington, and Houston. The Hawkeyes came away with a 2-1 record, and won their bracket based on a margin of victory tie-breaker.
"We learned playing three games in three days is not easy, but we scheduled that tournament to prepare for the Big Ten Touranment where you're hoping to play three or four games in as many days," Bluder said. "I'm proud of our team's effort through all of our games on the road."
The team has won both tournaments it has played in so far this season, starting with the Hawkeye Challenge the opening weekend.
"I've learned quite a bit, especially in this last stretch at the tournament in Texas," freshman center Megan Gustafson said. "It helped me push through the tired moments from playing three games in three days, and that will help me when we get to the Big Ten season and the Big Ten Tournament.
"Being together so much is going to help us with our team chemistry also. We're going to be able to build off of each other when we get tired. We can lean on each other and learn to talk and communicate when we're tired."
The Hawkeyes play their fifth consecutive game on the road Wednesday at Virginia. The Big Ten/ACC Challenge contest tips at 6 p.m. (CT) in John Paul Jones Arena in Charlottesville, Virginia. Iowa makes its return to Carver-Hawkeye Arena after a 17 day absence, hosting Robert Morris at 1 p.m. (CT) Sunday.
"We play our fifth-straight game away from Carver-Hawkeye Arena, which is an interesting challenge for our young players," Bluder said. "We're excited about playing Virginia in the Big Ten/ACC Challenge, but of course we're ready to be back home in Carver-Hawkeye Arena on Sunday."