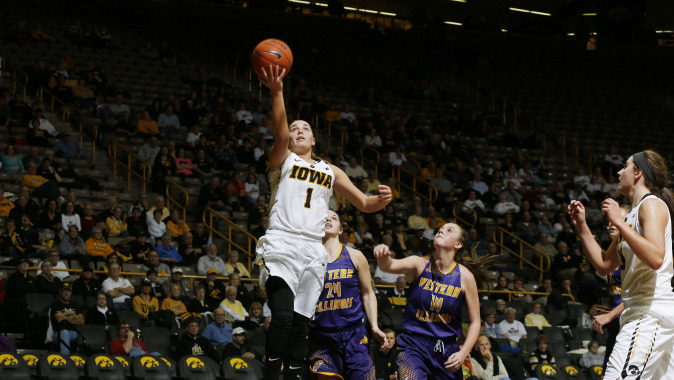 Dec. 4, 2015
Game Notes – vs Robert Morris

HOME AGAIN
Following a 17 day absence, which included five games in 10 days on the road, 24th-ranked University of Iowa women's basketball returns to Carver-Hawkeye Arena to host Robert Morris on Sunday. Tipoff is set for 1 p.m. (CT).
SUNDAY PROMOTIONS
? Fans who bring a new, unwrapped toy donation to the game, will receive a $2 off admission coupon. Collection bins will be located in each ticket lobby and donations will go to the UI Children's Hospital.
? Sunday is also Ugly Sweater Day. Fans who wear an ugly sweater to the game have a chance to win prizes, courtesy of Ragstock.
? Kids Zone will be available for young Hawkeye fans prior to tipoff.
GAME COVERAGE
? Hawkeye fans can watch the game live online on BTN Plus available at btn2go.com.
? Audio of the contest is also available through Hawkeye All-Access and on select Hawkeye Radio Network affiliates. Brent Balbinot and Kristi Faulkner will call the action.
? Balbinot is in his 12th season as Iowa's play-by-play voice.
? Links to video, audio, and live stats are available on the women's basketball schedule page at hawkeyesports.com.
SCOUTING ROBERT MORRIS
? Robert Morris, voted the preseason favorite to win the Northeast Conference for the third consecutive season, enters the game with a 4-3 record.
? As a team, the Colonials average 75.0 points per game. Preseason all-NCE honoree Anna Niki Stamolamprou averages 12.4 points and 7.3 rebounds per game to pace the team, while Mikalah Mulrain averages 10.7 points per game.
? Iowa is the first ranked opponent Robert Morris will face this season.
? The roster, made up of four freshmen, four sophomores, three juniors, and four seniors, is led by 13th-year head coach Sal Buscaglia. He plans to retire after this season, ending his 38-year head coaching career.
SERIES HISTORY
? Iowa leads Robert Morris, 2-0, in the all-time series.
? This weekend's game is the third matchup between the teams in the last four years.
? Every game of the series has been played at Iowa inside Carver-Hawkeye Arena.
? The Hawkeyes defeated the Colonials, 85-67, last season, and won, 58-44, in 2012-13.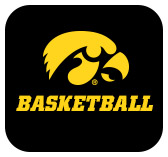 HOME STREAK RANKING
? Iowa women's basketball has won 21 consecutive games on Mediacom Court in Carver-Hawkeye Arena.
? The streak began when the Hawkeyes posted a perfect 18-0 mark at home in 2014-15 and has continued into the 2015-16 season.
? The 21-game win streak is the third longest home win streak in program history.
? Iowa's longest home win streak lasted 46 games, including the final 13 home games of the 1986-87 season, all 14 home games in the 1987-88 season, all 14 home games in the 1988-89 season, and the first five home games of the 1989-90 season.
? The second longest home win streak lasted 25 games. It began when the Hawkeyes went 17-0 at home in 1992-93 and stretched eight home games into the 1993-94 season.
? Twelve home contests remain on the 2015-16 schedule, including nine against Big Ten opponents.
? Iowa was one of 13 teams nationally to finish undefeated on its home court with an 18-0 mark last season, a program record for wins at home in a single season.
BIG WIN FOR THE B1G
? The Hawkeyes did their part for the conference, winning their Big Ten/ACC Challenge contest at Virginia, 85-73. Iowa has won two of its last three challenge contests.
? The Iowa offense was firing on all cylinders, shooting a season-high .527 from the floor and netting a season-most 10 three-pointers. The Hawkeyes also out-rebounded the Cavaliers, 36 to 25.
? Junior Alexa Kastanek led the charge for Iowa, matching her career-high with 22 points. She scored the first 12 points for the Hawkeyes in the second half, and led the way with four three-pointers in the contest. The guard was 8-for-11 from the floor and 4-for-7 from beyond the arc.
? Junior Ally Disterhoft (18) and freshman Tania Davis (12) joined Kastanek in double figures. Disterhoft has scored in double figures every game this season and in 53-of-59 career starts.
? Freshman Megan Gustafson had defensive success inside against the Cavaliers, posting a new career-high with five blocks.
DISTERHOFT NAMED TO WBCA ALLSTATE GOOD WORKS TEAM
? Junior Ally Disterhoft was named to the 2016 WBCA Allstate Good Works Team this week.
? Student-athletes are recognized for making outstanding contributions in the areas of volunteerism and civic involvement, and for their leadership on and off the court.
? Disterhoft was nominated for raising helmet awareness for moped riders in the Iowa City area and has a close connection to Live Like Line (#LLL) cause.
? The team elected co-captain and three-year starter has used her platform as a Hawkeye student-athlete to speak out about the importance of wearing a helmet throughout her career.
2 TOURNAMENTS, 2 TEAM TROPHIES
? The Hawkeyes have taken home the hardware in every tournament so far this season, beginning with the Hawkeye Challenge, Nov. 13-15, and continuing at the Lone Star Showcase, Nov. 26-28.
? Iowa topped North Dakota and UT Martin at its annual tournament in Iowa City opening weekend to secure its first team championship with a 2-0 record.
? Ally Disterhoft (MVP), Kali Peschel, and Megan Gustafson earned Hawkeye Challenge All-Tournament team accolades.
? The Hawkeyes edged out the competition in their bracket at the Lone Star Showcase over Thanksgiving break. The squad recorded wins over Wright State and Houston, but fell to No. 23 George Washington in double overtime.
? Iowa and George Washington both posted 2-1 records, but the Hawkeyes earned the team title by the margin of victory tie breaker.
LONE STAR SHOWCASE NOTABLES
? Iowa won its bracket at the Lone Star Showcase with a 2-1 record.
? With a win over Wright State on opening day, Iowa was off to a 5-0 start on the season.
? Freshman Tania Davis set a career-high with 13 points, sophomore Chase Coley scored a career-high 22 points, and junior Alexa Kastanek netted a career-high six three-pointers against Wright State.
? Iowa's double overtime loss ended the team's five-game win streak. Coley posted her second career double-double with 22 points (matching her career-high) and 10 rebounds in the contest.
? Iowa closed tournament play with a 14-point win over Houston.
? Sophomore Carly Mohns posted a career-high 11 points of the bench, reaching double figures for the first time. Three others scored in double figures, including junior Ally Disterhoft (15), Kastanek (13), and freshman Megan Gustafson (11).
CAREER DAYS LEAD IOWA TO 1ST ROAD WIN
? Iowa defeated UNI on Nov. 22 to record its first road win of the season, 80-65, in Cedar Falls, Iowa.
? Sophomore center Chase Coley had the best game of her career, notching her first-ever double-double (16 points, 14 rebounds) and setting career-highs in points (16), rebounds (14), assists (5), and blocks (4).
? Junior Alexa Kastanek had a perfect afternoon on the floor, hitting 8-of-8 field goals. She set career-highs in points (22) and 3-pointers made (4). She was 4-for-4 from beyond the arc in the contest.
? Junior guard Ally Disterhoft also reached double figures with 15 points in the win. She leads Iowa with 16.1 points per game and has reached double figures in all eight contests this year.
? The 15-point win at UNI is the largest margin of victory over the Panthers in Cedar Falls since 1978-79 when the Hawkeyes won by 35 points, 90-55.
DISTERHOFT MAKES HISTORY
Junior Ally Disterhoft became the 34th player in Iowa women's basketball history to reach the 1,000 career points mark. The Iowa City, Iowa, native scored 20 points in season-opening action against North Dakota and surpassed the 1,000-point threshold with 11 points against UT Martin.
Disterhoft has since moved up to 30th all-time in scoring with 1,106 career points. The guard, who is averaging 16.1 points per game to lead the Hawkeyes, is 24 points from surpassing Lisa Anderson (1980-84), who is 29th with 1,129 points.
NCAA STREAK ATOP THE BIG TEN
Iowa is the only Big Ten team, and one of only 10 teams in the country, to appear in the last eight NCAA Tournaments. There are 349 Division I teams.
The Hawkeyes advanced to the program's first Sweet Sixteen since 1996, and the sixth overall, a season ago. It was the first Sweet Sixteen appearance for Iowa under head coach Lisa Bluder. Iowa, a No. 3 seed in the 2015 NCAA Tournament, defeated 14th-seeded American in the First Round, 75-67, and 11th-seeded Miami in the Second Round, 88-77, inside Carver-Hawkeye Arena to advance.
TOP 15 IN ATTENDANCE
In 2014-15, the University of Iowa ranked 11th in total attendance nationally after drawing 95,417 fans to Carver-Hawkeye Arena. With an average of 5,301 fans per game, the Hawkeyes were 14th in national attendance among Division I teams. It is the sixth-straight season Iowa has ranked inside the top 25 in attendance.
The Hawkeyes were 15th in average attendance (5,213) and 13th in total attendance (83,406) in 2013-14, 22nd in attendance (4,395) in 2012-13, 19th in both 2011-12 and 2010-11, and 13th in 2009-10.
SEASON TICKETS
Season tickets are on sale for the 2015-16 Iowa women's basketball season. General public season tickets are $100. UI faculty/staff can purchase tickets for $80. Senior tickets (50 and older) are also $80, while youth season tickets (18 or younger) are $25. UI students are admitted free to women's basketball games.
Tickets are available by visiting the ticket office at Carver-Hawkeye Arena, calling 1-800-IA-HAWKS, or online at hawkeyesports.com.
IOWAWBB.COM
Check out the Iowa women's basketball team's website, iowawbb.com, devoted to everything on-and-off-the-court surrounding the program. Iowawbb.com, allows fans a chance to go behind the scenes with the Hawkeye basketball program. The site is complete with exclusive videos, photo galleries, and content featuring the basketball program.
ON DECK
Iowa is back on the road to face Iowa Corn Cy-Hawk Series rival Iowa State in Ames, Iowa, on Friday, Dec. 11. Tipoff is scheduled for 7 p.m. (CT).