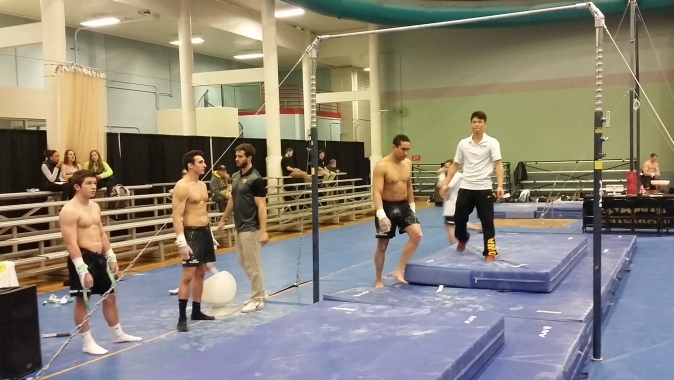 Dec. 5, 2015
Complete Results

IOWA CITY, Iowa — Five freshmen made their debut for the University of Iowa men's gymnastics team at the annual Black and Gold Intrasquad today at the UI Field House.
With former Hawkeye Lance Alberhasky judging the event, the Gold team defeated the Black team 253.250 to 252.600.
"The guys did fantastic tonight," head coach JD Reive said. "We had a lot of new skill and a lot of new routines that we put out there and that is what this event is for. They handled everything better than I anticipated. There was a lot of resiliency and new skills that made it in. By far this is the most successful Black and Gold since I have been here."
Two freshmen, Ryan Ruckdaschel and Kevin Johnson, kicked off the meet for the black and gold teams on floor exercise and pommel horse, respectively. Senior co-captain Matt Loochtan led the Black team with a score of 14.100 on floor exercise, followed by junior Mark Springett (13.800) and freshman Jake Brodarzon (13.250).
Freshman Wesley Estrada made his Iowa debut on pommel horse for the Black team during the second rotation, but senior Cyrus Dobre-Mofid and junior David Spanier tied for the top score on floor with a 14.400 to take the lead for Gold team.
After two rotations, Gold team led the Black team 81.950 – 80.850.
Loochtan took the top spot on rings with a 14.550 during the third rotation, but the gold team kept it close with freshman Todd Beyer II scoring a 14.500 on vault to lead the Gold team.
"The freshman were awesome," Reive said. "They were ballers tonight and that's what you want to see. They made my job a lot harder because we have to pick five guys to compete from this group. It's a fantastic position to be in."
The fourth rotation placed Gold team on rings and Black team on vault. Junior Andrew Botto and sophomore Dylan Ellsworth both scored 14.9 on their respective events to pace their teams as they headed towards the final two rotations.
Heading into the last two rotations, Gold held a slight lead on Black, 168.600 – 167.600.
Junior Cory Paterson tied a career-high on high bar and led the Black team with a score of 15.100. Junior Jack Boyle led the Black team with a score of 14.700 on parallel bars followed by Botto (13.750) as both teams kept it close going into the final rotation.
The final rotation proved to be the deciding one as sophomore Austin Hodges (14.550) and Brodarzon (14.250) led the way for the Black team on high bar, but it wasn't enough as Boyle (14.700) and Dobre-Mofid (14.200) proved to be enough to separate the two team on parallel bars. The Gold team outlasted the Black team 253.250 – 252.600.
"We have done what we've been doing in practice," Brodarzon said. "There are still some mistakes, but I am really excited for how the season will go for us."
Next up for the Hawkeyes is the Windy City Invitational in Chicago, Illinois on January 17 at 3 p.m. (CT).