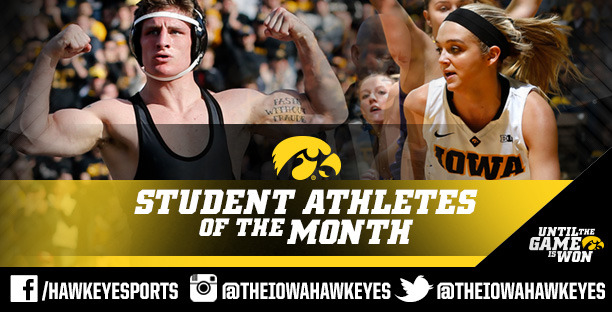 Dec. 7, 2015
IOWA CITY, Iowa — The University of Iowa's Student-Athlete Academic Services has recognized juniors Sammy Brooks and Ally Disterhoft as November's male and female Student-Athletes of the Month.
Voted on by their peers, this honor recognizes those student-athletes who have excelled not only in their sport, but in the classroom as well.
Brooks remains unbeaten on the mat this season (7-0), helping the second-ranked Hawkeyes to a 7-0 record. The Oak Park, Illinois, native has won four matches by fall and two by tech fall.
Brooks was recognized for his performance at the "Grapple on the Gridiron" on Nov. 14, earning USA Wrestling Athlete of the Week honors on Nov. 16. He was also named Big Ten Wrestler of the Week by the conference on Nov. 17. Brooks used four takedowns and eight nearfall points to earn a 17-2 technical fall over Oklahoma State's Jordan Rogers and spur the Hawkeyes past the then top-ranked Cowboys, 18-16. Brooks' bonus points at 184 pounds gave Iowa a 15-13 lead and proved to be the difference in the dual.
Disterhoft has scored in double figures in all nine games this season. The co-captain and three-year starter for the Hawkeyes became the 34th player in program history to score 1,000 career points in the second game of the season, and has since moved up to 30th on Iowa's all-time scoring list with 1,122 career points. Through nine games played, Disterhoft leads the team in points per game (16.1) and assists (32). She was named to the Big Ten Honor Roll for her role in two Hawkeye victories last week.
Disterhoft was recognized as a preseason All-Big Ten honoree by league coaches and was named to the Hawkeye Challenge All-Tournament team for the second consecutive season. Most recently, the 6-0 forward was recognized by the Women's Basketball Coaches Association (WBCA) and Allstate Insurance Company for her contributions in the community. Disterhoft was named to the Allstate WBCA Good Works Team for her involvement in helmet awareness on mopeds in the Iowa City area and the Live Like Line (#LLL) organization. She has used her platform to raise awareness and call for legislation changes, which would require moped operators and passengers to wear a helmet.