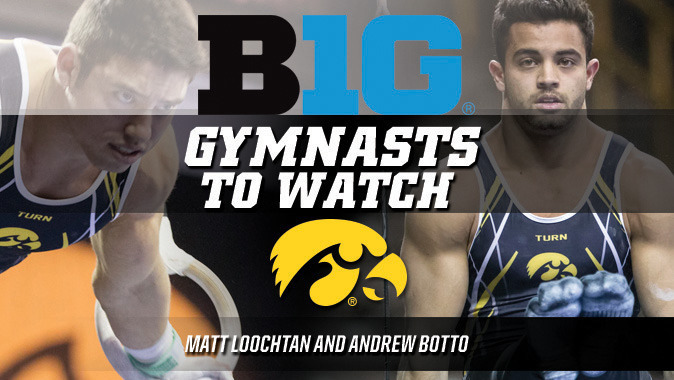 Dec. 10, 2015
IOWA CITY, Iowa — A pair of University of Iowa gymnasts were included on the Big Ten Men's Gymnasts to Watch List, as announced by the conference office Thursday afternoon. Senior Matt Loochtan and junior Andrew Botto were two of 14 athletes recognized.
It is Loochtan's second time earning the honor, as he was included on the list as a junior. The Hawthorn Woods, Illinois, native capped that season with a 10th place result on floor and seventh place finish on rings at the NCAA Qualifier. At the Big Ten Championships, Loochtan cracked the top five with a fourth place finish on rings, finished 10th on parallel bars, and placed 24th on floor exercise. He holds the Iowa school record on floor exercise with a 15.650 effort, and set a new career best score on vault (15.150).
Botto, a native of Redwood City, California, is included on the list for the first time in his Hawkeye career. He set a new career best on vault with a score of 14.300 at Nebraska last season, and placed fifth on vault and ninth on rings in session two of the NCAA Qualifier. He went on to finish 22nd on vault and 26th on rings at the NCAA Championship. Botto, an academic All-Big Ten honoree in 2015, finished 21st on vault and 27th on rings at the Big Ten Championship last year.
Iowa, a team that earned a sixth place finish at the 2015 NCAA Championship, was picked to finish sixth in the Big Ten preseason poll.
The Hawkeyes open their regular season on Jan. 17 at the Windy City Invitational in Chicago, Illinois, and are in action at home for the first time in 2016 against Big Ten foe Illinois on Jan. 23.
BIG TEN MEN'S GYMNASTICS PRESEASON COACHES' POLL
1. Ohio State
2. Penn State
3. Illinois
4. Michigan
5. Minnesota
6. Iowa
7. Nebraska
BIG TEN MEN'S GYMNASTS TO WATCH LIST
Bobby Baker, So., ILL
Chandler Eggleston, So., ILL
Matthew Loochtan, Sr., IOWA
Andrew Botto, Jr., IOWA
Dmitri Belanovski, So., MICH
Emyre Cole, Fr., MICH
Paul Montague Jr., Sr., MINN
Yaroslav Pochinka, So., MINN
Ethan Lottman, Sr., NEB
Sam Chamberlain, Sr., NEB
Sean Melton, So., OSU
Jake Martin, Jr., OSU
Trevor Howard, Sr., PSU
Dominic DiFulvio, Jr., PSU