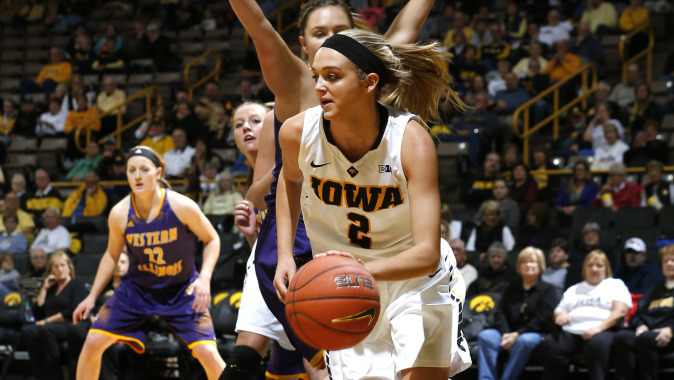 Dec. 11, 2015
Editor's Note: The following first appeared in the University of Iowa's Hawk Talk Daily, an e-newsletter that offers a daily look at the Iowa Hawkeyes, delivered free each morning to thousands of fans of the Hawkeyes worldwide. To receive daily news from the Iowa Hawkeyes, sign up HERE.
By JIL PRICE
IOWA CITY, Iowa — She is a team-elected co-captain and a three-year starter, who leads the University of Iowa women's basketball team in scoring and assists and surpassed the 1,000 career point mark this season.
Her fire is evident on the court to Hawkeye fans, who regularly hear her yell out, 'Let's go!' to her teammates.
What people may not know about junior forward Ally Disterhoft is her dedication to a cause that hits close to home.
Disterhoft, a native of Iowa City grew up with and became close friends with Caroline Found. They played club softball for a local team based out of Iowa City, and attended elementary, junior high, and Iowa City West High School together. In August 2011, prior to her senior year of high school, Found tragically passed away in a moped accident in Iowa City.
"Caroline and I grew up together playing on the same club softball team, the Jaguars," Disterhoft said. "She was a very close friend of mine. Simply, Caroline has inspired me to be a better person. She taught me to love a little harder, laugh a little more, and not to fret the small stuff. I think that her story has inspired hundreds of other people as well, and that is truly amazing.
"I am a better person today because I knew Caroline, without a doubt. To know her was to love her, and I feel blessed to have had the opportunity to do both."
Many in the community have joined together to make a difference in Found's memory, stressing the importance of helmet safety on mopeds and encouraging everyone to "Live Like Line" by caring and loving those around you.
Disterhoft has used her platform as an Iowa student-athlete to speak out and raise awareness on helmet safety to moped riders in the local community. Whether it is on social media or in public, she takes a strong stand on the issue.
"As a student-athlete at the University of Iowa, I am fortunate to have access to a platform that allows my voice to be heard, on many different levels," Disterhoft said. "It may just be a single voice, but if someone out there can be influenced through the sharing of Caroline's story, I'm going to continue to share it each and every day.
"I helped give a presentation to our Career Leadership Academy class on the importance and necessity of helmet laws. I have also had the opportunity to speak with countless other students and voice my opinion on the matter."
The Iowa women's basketball team has since implemented a helmet rule, and many other student-athletes have made the commitment to wear helmets.
To Disterhoft, this is a small victory, but there is a long way to go.
"The state of Iowa's lack of a universal helmet law is, in my opinion, ridiculous," Disterhoft said. "Only three states across the country do not have existing helmet laws, and Iowa is one of them.
"That is something that I am not proud of, and it's something I hope will be changed in my lifetime. I am a firm believer that helmets save lives, and it is hard for me to comprehend why lawmakers and other judicial professionals in the broader Iowa City area do not feel the same. I personally own and drive a moped around campus, and you will never catch me not wearing a helmet."
Her passion for the cause has turned more than a few heads locally, but most recently Disterhoft was named to the WBCA Allstate Good Works Team for her dedication.
The award is given to college basketball players who have made outstanding contributions in the areas of volunteerism and civic involvement in their communities, and display strong leadership skills on and off the court — a perfect description of Disterhoft.