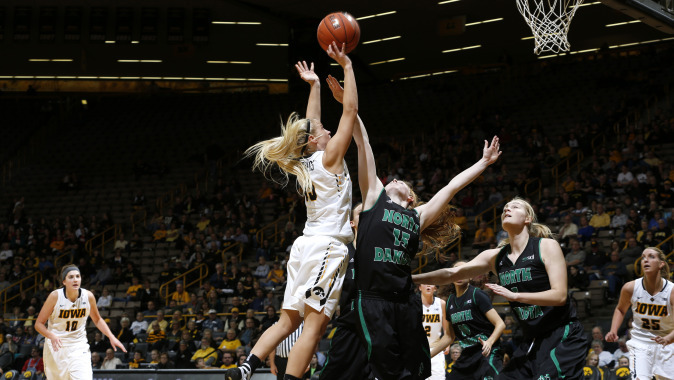 Dec. 17, 2015
Game Notes – vs Bradley

HOME AGAIN
No. 24 Iowa returns to Mediacom Court in Carver-Hawkeye Arena on Saturday, Dec. 19. The Hawkeyes (8-2) tip off against Bradley (4-4) at 5 p.m. (CT).
PROMOTIONS
? The Hawkeyes will sign autographs following Saturday's game. It is the only autograph opportunity this season.
? Saturday is also Four Pack Night. Fans who order the deal ahead can get four tickets, four hot dogs, and four drinks for just $35.
? Elite Chevy Kids Zone is available pregame.
GAME COVERAGE
? Saturday's contest will be shown live online through BTN Plus available at btn2go.com.
? Audio of the game is also available on select Hawkeye Radio Network stations and online through Hawkeye All-Access. Brent Balbinot and Stacy Schlapkohl will call the action.
? Balbinot is in his 12th year as Iowa's play-by-play voice.
? Schlapkohl, who played in 104 games with 49 starts, helped Iowa to three NCAA Tournaments. She scored in double figures in 22 games.
? Links to video, audio, and Gametracker (live stats) are available on the women's basketball schedule page at hawkeyesports.com.
SERIES RUNDOWN
? Iowa leads Bradley, 5-1, in the all-time series.
? The Hawkeyes won five games in a row, before the Braves won the most recent meeting on their home court, 96-88, in the 2011-12 season.
? Iowa is 4-0 against Bradley on its home court in Carver-Hawkeye Arena.
SCOUTING THE BRAVES
? Bradley, a team that returned four starters from last season, was picked to finish ninth in The Valley.
? The Braves own a 4-4 record, most recently defeating Kent State, 68-60. The team's other three wins came at Detroit, 75-67, against Eureka, 87-47, and at Chicago State, 66-60.
? Iowa is the second ranked opponent Bradley has faced this season. They fell to 17th-ranked Oklahoma, 79-46, on Nov. 22.
? As a team, Bradley averages 63.8 points per game. Anneke Schlueter (13.1) and Leti Lerma (10.1) average in double figures through eight games. Lerma is also the leading rebounder, averaging 7.3 per game.
? The Braves are led by fourth-year head coach Michael Brooks. The roster is comprised of four freshmen, six sophomores, three juniors, and two seniors.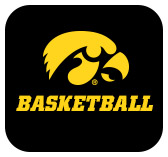 HOME SWEET HOME
? Iowa women's basketball has won 22 consecutive games on Mediacom Court in Carver-Hawkeye Arena.
? The streak began when the Hawkeyes posted a perfect 18-0 mark at home in 2014-15 and has continued into the 2015-16 season.
? The 22-game win streak is the third-longest home win streak in program history.
? Iowa's longest home win streak lasted 46 games, including the final 13 home games of the 1986-87 season, all 14 home games in the 1987-88 season, all 14 home games in the 1988-89 season, and the first five home games of the 1989-90 season.
? The second longest home win streak lasted 25 games. It began when the Hawkeyes went 17-0 at home in 1992-93 and stretched eight home games into the 1993-94 season.
? Eleven home contests remain on the 2015-16 schedule, including nine against Big Ten opponents.
? Iowa was one of 13 teams nationally to finish undefeated on its home court with an 18-0 mark last season, a program record for wins at home in a single season.
DISTERHOFT'S CAREER NIGHT
? Junior Ally Disterhoft had one of the best statistical games of her career at Iowa State on Dec. 11.
? The 6-0 forward set new career-highs in points (26), steals (4), and blocks (3), and paced the Hawkeyes in points, rebounds (8), steals, blocks, and assists (3).
? The Iowa City, Iowa, native moved from 30th to 26th on Iowa's all-time scoring list in the contest, surpassing Cara Consuegra (1,147), Jolette Law (1,137), Johanna Solverson (1,130), and Lisa Anderson (1,129) with 1,148 career points.
? She is 13 points from surpassing Tia Jackson, who scored 1,160 career points in her career, and moving up to 25th all-time at Iowa.
LONG RANGE SUCCESS
? Junior Alexa Kastanek is shooting 47.4 percent from 3-point land through 10 games this season. She is third in the Big Ten and 25th nationally in the category.
? The 5-10 guard has knocked down 27 out of 57 3-point shots. Her 27 makes are the third-highest total in the Big Ten Conference, and the 31st-highest total nationally.
? The Lincoln, Nebraska, native is three 3-pointers from doubling her previous career total of 30 makes (20 in 2013-14, 10 in 2014-15).
? Kastanek has made three or more 3-pointers in six of 10 games this year. She sunk a career-high six against Wright State on Nov. 26 and was a perfect 4-for-4 at UNI on Nov. 22.
LEADERS FROM THE CHARITY STRIPE
? The Hawkeyes lead the Big Ten Conference with a .781 free throw percentage. Iowa has netted 143-of-183 attempts from the charity stripe through 10 games.
? Eight of 11 Iowa players who have made trips to the free throw line this season own a free throw percentage of .750 or higher.
? Christina Buttenham leads the way, hitting both of her foul shot attempts this season (1.000), followed by Ally Disterhoft (.852), Tania Davis (.833), Kali Peschel (.824), Alexa Kastanek (.800), Chase Coley (.778), Megan Gustafson (.750), and Claire Till (.750).
B1G STATS SUMMARY
? Iowa ranks fourth in the Big Ten Conference with an 8-2 record. Maryland and Northwestern are tied for first, beginning the season 10-0.
? Freshman Megan Gustafson is fourth in the conference in field goal percentage (.589) and 13th in blocks shots per game (1.2).
? Senior Kali Peschel is tied for 12th in rebounds per game (6.5) and is 15th in defensive rebounds per game (4.6).
? Sophomore Chase Coley is 10th in blocked shots per game (1.3) and 14th in field goal percentage (.537).
? Junior Ally Disterhoft is 10th in the conference in free throw percentage (85.2%), 14th in points per game (17.1), and 15th in assists per game (3.5).
? Junior Alexa Kastanek is third in the conference in 3-point field goal percentage (47.4%), seventh in 3-point field goals made per game (2.7), and 29th in points per game (12.5)
? Senior Claire Till is tied for seventh in the conference with a 3.0 assist to turnover ratio.
MOVING UP THE CHARTS
? Junior Ally Disterhoft is 26th on Iowa's all-time scoring list with 1,148 career points and 29th all-time with 480 career rebounds.
? She has played in every game of her Hawkeye career with 61 consecutive starts.
? Disterhoft has scored in double figures in every game this season, and in 55 of her 61 career starts.
? The co-captain leads Iowa in points per game (17.1) and assists per game (3.5).
UP NEXT
Iowa hosts its third and final in-state opponent Drake on Tuesday, Dec. 22 at 5 p.m. The game will be played in Carver-Hawkeye Arena. The Hawkeyes have nine days after that to prepare for their Big Ten Conference opener at Nebraska on Thursday, Dec. 31. Tipoff is set for 1 p.m. in Lincoln, Nebraska.