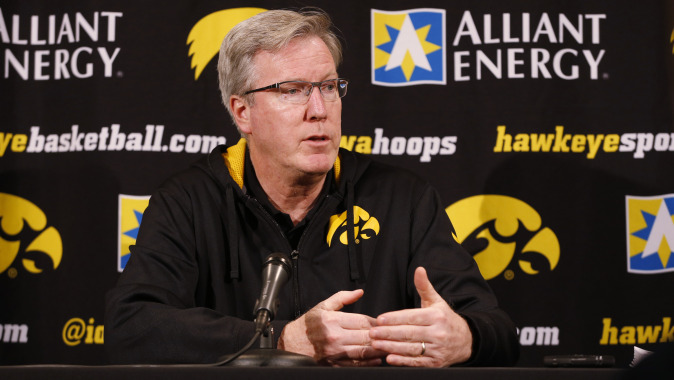 Dec. 28, 2015
By JAMES ALLAN
hawkeyesports.com
IOWA CITY, Iowa — The University of Iowa men's basketball team's Big Ten Conference opener begins by facing the nation's top-ranked team.
The Hawkeyes host No. 1 Michigan State on Tuesday at 8:06 p.m. (CT) on Mediacom Court. The game is sold out and it's a `Be Bold, Wear Gold' night inside Carver-Hawkeye Arena.
The Spartans sit atop The Associated Press and USA Today Coaches' Poll, bringing a 13-0 record into Iowa City. Michigan State rolled through the nonconference season, posting victories over the likes of Kansas, Providence, and Florida en route to 13 straight wins.
"When you're playing the No. 1 team in the country, there is a much smaller margin for error," UI head coach Fran McCaffery said during a Monday teleconference. "That's where mental toughness comes in, limiting mistakes, giving yourself a chance to score every time down, and not turning it over."
The Hawkeyes catch the Spartans at a good time, relatively speaking, with all-everything forward Denzel Valentine being sidelined with an injury. Valentine leads the team with 18.5 points, 8.3 rebounds, and 7.1 assists per game.
"They're going to be different because (Denzel) has the ball so much," said McCaffery. "You're going to see a much more aggressive Eron Harris and Bryn Forbes. They rotate so many front court guys; they'll all be more active. They were a team that was playing 13 guys, now they'll play 12."
A much more aggressive Forbes and Harris translated to a 59-point production in the first post-Valentine game — a 99-93 overtime victory over Oakland on Dec. 22. Forbes scored 32 points, making 7-of-9 3-point field goals, while Harris had a line of 27-5-5.
Michigan State averages 81.2 points and defensively limits opponent to 59.7 points on 35.3 percent shooting. The Spartans live on the glass, where they are plus-14.5, including averaging 12.5 offensive rebounds.
"Those are staggering numbers," said McCaffery. "Sometimes you'll see a team that is plus-5, plus-7, but rarely do you see a team that is plus-10 or higher. They're doing that by being a tremendous offensive rebounding team and they are causing their opponents to shoot a low number.
"You have to execute your offense and limit their ability to get second-chance opportunities because it seems like every time they do, they score."
McCaffery believes it's important for Iowa to get off on the right foot in league play because there isn't an off night in the Big Ten. The Hawkeyes open Big Ten action with a five-game stretch that includes two games against Michigan State (Dec. 29, Jan. 14), a road game at Purdue (Jan. 2), and home dates against Nebraska (Jan. 5) and Michigan (Jan. 17).
"Once you get into league play you can lose to anybody or beat anybody, no matter who you are," he said.
McCaffery can lean on his starting five — all upperclassmen — to guide the ship.
"These guys have been through the Big Ten many times," he said. "There is an awareness that there is one way to work and prepare and that's with incredible professionalism. We know whoever we play next week is every bit as capable of beating us as Michigan State."
Tuesday's game will be televised on BTN with Kevin Kugler and Shon Morris on the call.